While it is 'confident' the errors were accidental, global governing body says it will look into how to prevent further issues.
World Rugby has "unreservedly" apologised to Hong Kong over the "accidental" mislabelling of the Chinese national anthem during the broadcasts of two games, pledging to take steps to prevent such blunders from happening again.

In a brief statement on Wednesday, the sport's governing body apologised to the city's residents, the government and the Hong Kong Rugby Union.

"While World Rugby is confident the unfortunate error was accidental, World Rugby is reviewing the circumstances that led to the error and will implement steps to prevent any future issues," the statement read.

Last week, it emerged that the Chinese national anthem was mislabelled as the 2019 protest song "Glory to Hong Kong" during the broadcasting of two matches in July and November.

A similar mix-up happened earlier this month where the protest song was played instead of "March of the Volunteers" at a tournament in South Korea organised by Asia Rugby.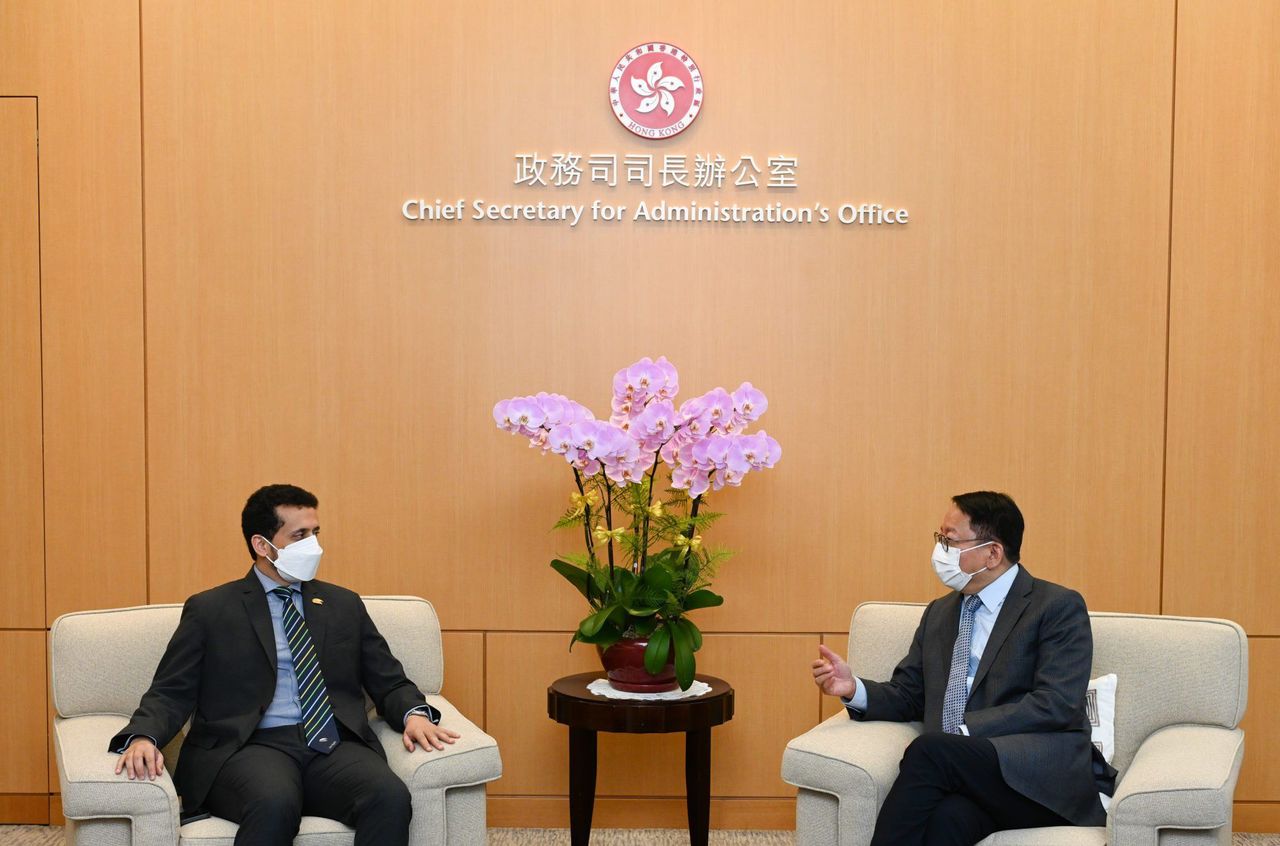 Asia Rugby's president Qais Abdulla al-Dhalai (left) speaks to Chief Secretary Eric Chan.
On Tuesday, Asia Rugby's president Qais Abdulla al-Dhalai flew to Hong Kong from Dubai to apologise in person to Chief Secretary Eric Chan Kwok-ki.
He told Chan the incident was the result of human error on the part of a junior staff member with the local organiser and was without any political or malicious intent.
After discussing the mix-ups with government officials, the Sports Federation and Olympic Committee of Hong Kong, China, issued guidelines on Tuesday to associations under its wing on how to avoid repeat incidents.
The guidelines set out how the sports associations should ensure the correct use and description of the national anthem and the Hong Kong flag when competing overseas.
Hong Kong athletes should also make a "T" sign with their hands if they notice anything amiss when the Chinese national anthem and the city's flag are used at international sporting events.
If their demand is not heeded, the team head should lead the team out of the ceremonial venue. After the correction is made, the team can line up again to attend the ceremony.
Any sports associations that fail to comply could be subject to sanctions, including suspension of membership by the committee and loss of government funding.
Secretary for Culture, Sports and Tourism Kevin Yeung Yun-hung on Wednesday said the guidelines had been put together after discussion between the government and the sports federation.
"We think the guidelines can help the sports associations know what to do when taking part in overseas matches," Yeung said. "Now the guidelines set out clearly what they should do under which circumstances, it can instead ease their pressure."