Widow thanks donors for support and care but says she has enough money for now and there are others who are also in need of help.
The cancer-stricken widow of an electrician killed in a tower crane collapse in Hong Kong has said she feels uneasy about accepting further donations after finding out that some of the good Samaritans were also struggling to make ends meet.

Elaborating on her surprise appeal for the public to stop donating money to her – about two days into the donation drive – Jiang Hui, 42, on Monday also appealed to the public not to overlook the plight of other families in need.

Jiang's husband, Hui Man-ming, 41, was one of three men killed when a crane collapsed at a construction site in Sau Mau Ping on September 7. Hui was the family's breadwinner. Jiang is battling late-stage breast cancer and the couple has two young daughters, aged four and seven.

In a message issued on Monday through the Association for the Rights of Industrial Accident Victims, Jiang explained that she decided not to accept further donations after a recent school gathering where she met a parent in need herself who offered her and her daughter food.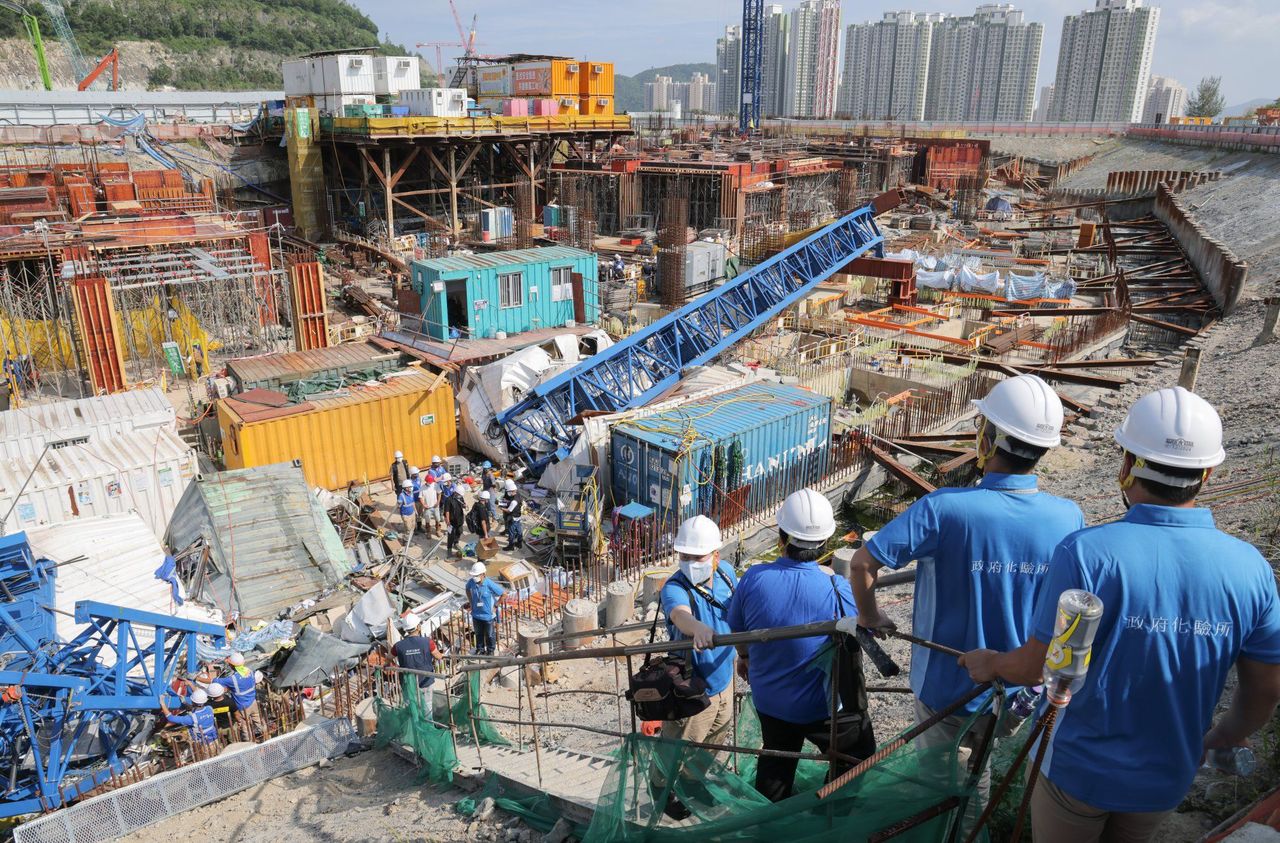 Construction workers at the site of the accident that killed three and injured six.

"She said she knew what had happened to my family and wanted to show care," wrote Jiang, "But I declined it. I know that her family is not better off than ours. I don't think it is appropriate to accept her offer. I thanked her and explained my stance. She did not insist and said she would pray for me. I replied: 'That is very much enough for me, maybe even a better way.'"

The incident led her to decide to stop the donation drive, launched last Friday with the help of the association, which is supporting the victims and their families.

Jiang said on Sunday said she had received a lot of help and she did not want others to be affected because of the donations.

"There is no need to make donations to me for the moment. And please use your donation to make an impact by giving to others who are also in need," the Sunday message read.

She said ever since her plight was reported by the media, she had received "big support" and "meticulous care" from the entire Hong Kong community that was "beyond my imagination".

On the donations, she thanked the big donors and said their donations undoubtedly offered enormous help to her family. "But there were some who gave, say, HK$50 (US$6). I felt a bit uneasy," wrote Jiang, who believed the small donations were probably from the less well-off who might have had to squeeze the family budget to help her.

She said she now had to find a way forward without her husband, but added: "I hope that besides grief, his departure could bring some positive elements to this incident, or even to the Hong Kong community as a whole. If this can end up like that, it can also help me heal from the loss."

Calling her idea "a bit too idealistic", Jiang wrote that she hoped all relevant parties could look at the accident from a constructive perspective and find a win-win way to settle it, "like, having a system that can minimise risks but at the same time would not make the operation of enterprises too difficult".

She added that "holding a party responsible", imposing a "heavy penalty", or pursuing "legal means" might not necessarily lead to good results and may not be the best way to deal with the situation.

Siu Sin-man, chief executive of the association, declined to say how much had been raised for the Hui family. "But the response had been unexpectedly good," said Siu.

She said her group had been flooded with calls from donors and over 1,000 messages were left over one night, with many offering to donate money to Hui's family, while others offered to subsidise education, childcare, and food for the children.

"Mrs Hui has a kind heart and, as she felt the donations were enough for her to ease their hardship for the meantime, she did not want the media attention only focused on her. There are other victims in the accident and there are even more people who are in need in the society. That is her stance," said Siu.

The tragedy happened last Wednesday. A 65-tonne tower crane suspected to have had "obvious faults" at its base collapsed, killing three workers and injuring six others at a Housing Society construction site in Sau Mau Ping.

The other two who died were engineering assistant Poon Ho-yuk, 22, and engineer Chui Hok-pui, 26. Six other workers were injured in the accident.

Separate investigations by the Labour Department and the police were under way and officials promised to hold anyone found responsible to account.

The Housing Society has said it would provide a lump sum of HK$300,000 to the families of each worker killed, and HK$100,000 to those injured. The main contractor, Aggressive Construction Company, also agreed to offer an undisclosed sum of money to the bereaved families.

Other charities, including Community Chest, the Lok Sin Tong Benevolent Society Kowloon, Sik Sik Yuen Emergency Relief Fund, and Tung Wah Group of Hospitals, also announced they would offer cash help to the families of the dead and injured.

Earlier on Monday, Secretary for Home and Youth Affairs Alice Mak Mei-kuen visited the Poon family. Mak said she told them that the government was concerned about the incident and that relevant departments were investigating.