A scheme in south London is trying a new approach to property ownership: flats that are only for sale to local people, at prices set according to what local people earn.
"My old landlord actually hugged me, she was so happy for me when I finally got my own place," says Alex Ingram.

The 41-year-old civil servant is delighted with his new one-bedroom flat in Lewisham, in the recently completed Citizens House, a four-storey block of 11 homes.

For the past 18 years Alex has either rented, lodged or lived in flat-shares in London.

This flat cost him £215,000, about 35% cheaper than similar places nearby.

That's because he didn't buy it on the open market. He bought it through a community land trust (CLT).

About 500 locals developed his building with the help of Lewisham Council, the Greater London Authority (GLA) and London CLT, a non-profit that helps neighbourhoods set up and run CLTs.

The locals decided issues like planning, design and, perhaps most importantly, sale prices.

This is calculated by looking at average local income levels, which the flats will continue to track.

Only people who can prove a strong connection to Lewisham for five years - through living or working there - can apply.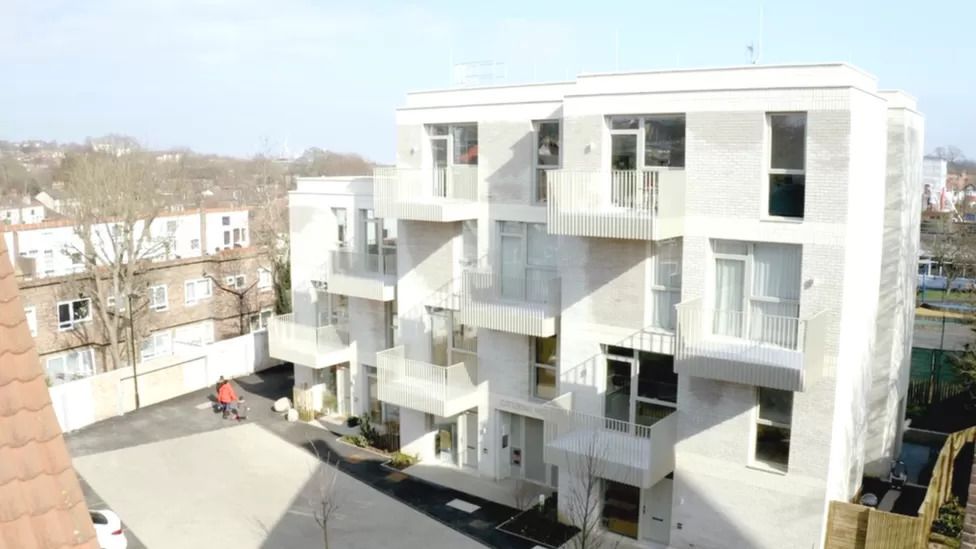 New residents have just started moving in to Citizens House in Lewisham, south London

Alex has lived in Lewisham for eight years. Also in his favour, he has been involved with a local charity called Wheels for Wellbeing, which helps disabled people get into cycling.

Other qualifying criteria include being able to get a mortgage, having a child in a local school and showing a demonstrable housing need.

The initiative aims to help people who are priced out of their local area but who aren't eligible to be on the council's housing priority list.

An independent panel decides on the applications.

Because the prices are fixed, these flats are unlikely to appeal as an investment or "nest egg".

An "asset lock" means the flats can only be sold on the same terms on which they were bought.

"I didn't have another option," says Alex. "The existing model of investing in a home doesn't work for me.

"But I think it's better that I have a home that has a stable value. I now have something to start from."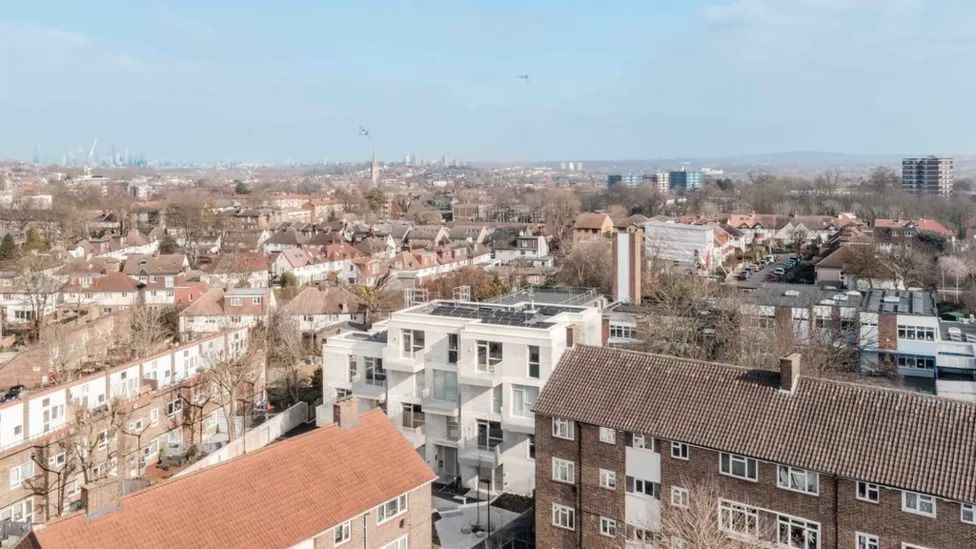 Flats in Citizens House (centre) are around 35% cheaper than similar properties in the surrounding area

The site for Citizens House was donated for free by Lewisham Council, one of the reasons the scheme is financially viable. The land had previously been occupied by a set of disused garages.

It has taken a decade of community campaigning to get the building completed.

However, London CLT believes it can speed up the process and is developing six other projects in the capital, in areas such as Greenwich, Shadwell and Lambeth.

There are 350 legally incorporated CLTs in England and Wales, according to the CLT Network, with 200 more forming. However, the vast majority of these trusts offer properties for rent rather than for sale.

The open market leaves property prices open to speculation, and can result in foreign buyers investing in flats which then lie empty.

But at least it is clear who has the right to purchase properties in this system - the person who bids the most money.

What if CLT flats are oversubscribed and someone feels they were wrongly passed over?

"A robust, fair and transparent process for deciding what sort of homes will be created and who will live in them is vital," says Beth Boorman of CLT Network, "and housing needs can differ from area to area."

Each CLT draws up its own rules and some even use a lottery system to whittle down appropriate candidates.

"No system for buying houses is perfect," points out property expert Henry Pryor. He believes CLTs, which have cross-party political support, are part of the solution to the UK's housing shortage.

There are some obstacles to them becoming a significant part of the housing mix though, he adds.

They rely on finding redundant land that is not available for development.

And, when residents move out, they will find that house prices in the open market have appreciated more than their homes, which may be an issue if they wish to buy elsewhere.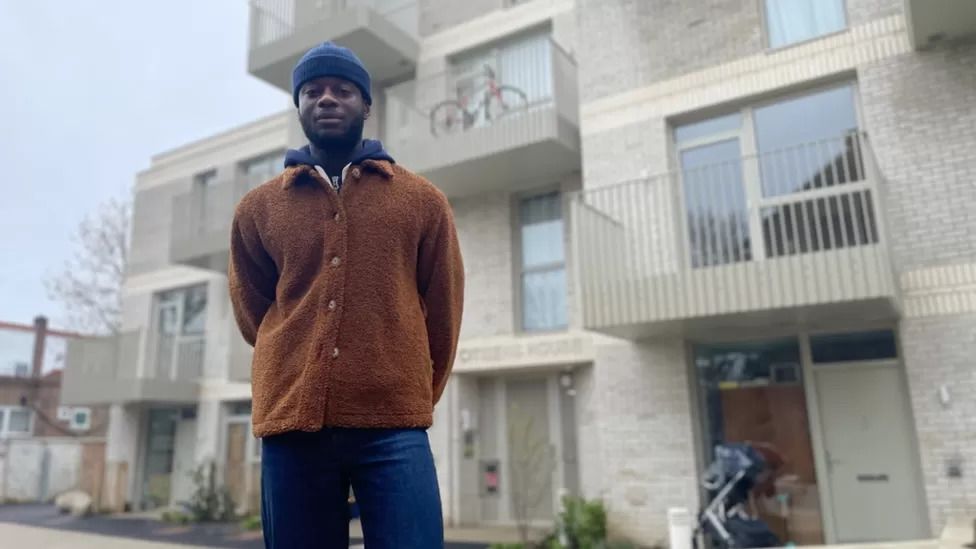 Christian Codjoe is moving into a two-bed flat in Citizens House with his brother. He says he is grateful for the scheme

Christian Codjoe, 30, is due to move into his flat in a few weeks.

He currently lives with his parents. He had saved for a deposit but feared he would have to move to Croydon or Kent to buy a home.

"Interest rates are crazy right now, but even with high mortgage payments the CLT flats are 100% worth it and get me on the housing ladder," he says.

Christian thinks his application was successful because he has lived in Lewisham his whole life, attends a local church and his current home is due to be demolished for a private development.

Fellow resident Kes Gill-Martin, 35, has just moved into a one-bedroom flat with his partner, and agrees.

"Affordable housing is very scarce and finally owning a home is transformative for us.

"This place feels like a massive change in our personal world, but such a small change in terms of what society needs."