Veteran investors in Hong Kong property, anticipating a deeper correction in prices amid dwindling buying activity, the coronavirus pandemic and worsening US-China relations, are rapidly cashing out of their holdings.

Albert Wong Kam-hong, the former deputy chairman of real estate company Midland Holdings, for instance, sold his adjoining flats in The Coronation Tower near Kowloon Station for HK$22 million (US$2.8 million) last month. The 1,206 sq ft property, which he had bought eight years ago, netted him a profit of HK$4.85 million.

He is now renting a unit in the same building, which he was able to secure for 24 per cent cheaper than its peak mid last year.

"Hong Kong's current economic state is even worse than it was in 1997 [during the Asian financial crisis] and 2003, when the city was gripped by Sars [Severe acute respiratory syndrome]," said Wong, founder of Traffic Light Management Consultancy which provides consultancy services to listed firms.

"Why hold on to property if I see higher chances of prices falling than an appreciation in value?"

The overall number of property deals, including homes, commercial and industrial buildings, and car parking spaces, dropped about 34 per cent month on month to HK$45.6 billion in August, according to Land Registry data. It was the lowest since the HK$38.35 billion worth of deals in April.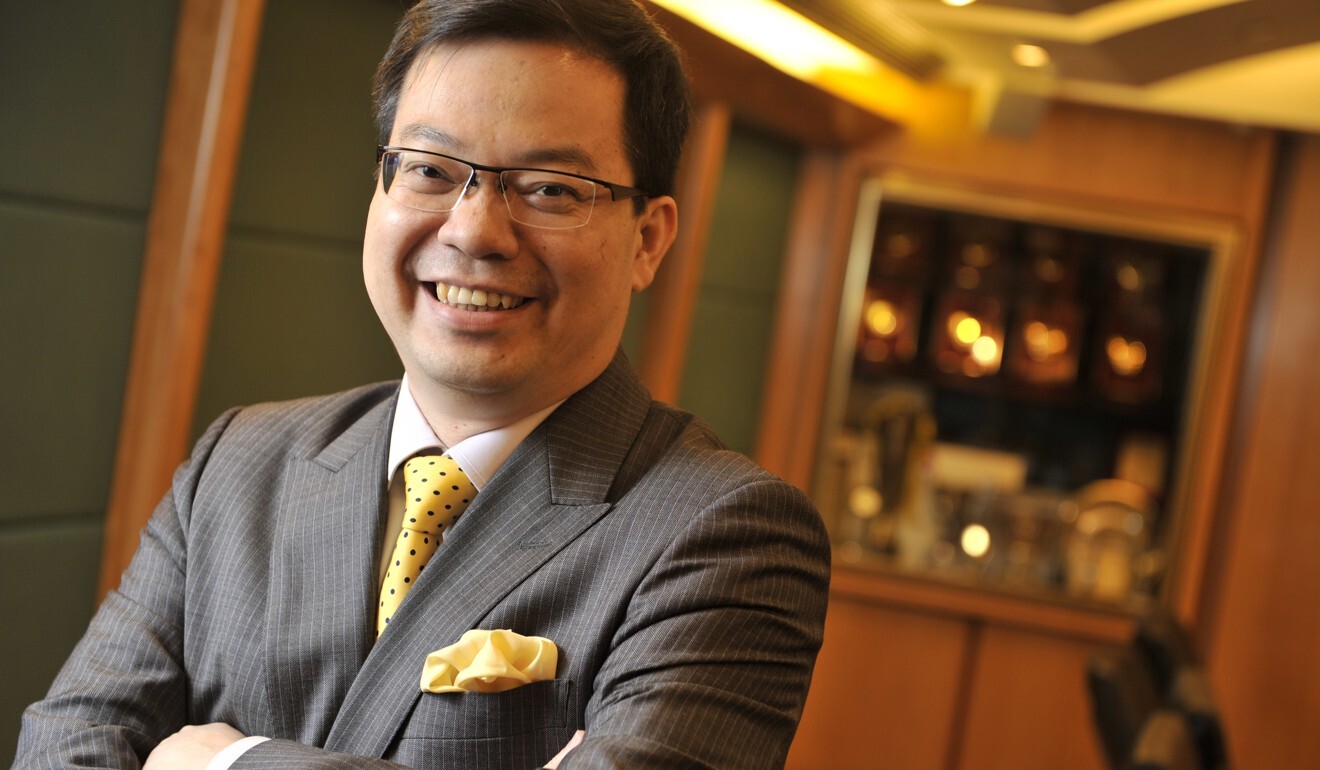 A file photo of Albert Wong Kam-hong, the former deputy chairman of Midland Holdings, from August 2011.

Transactions for properties worth more than HK$100 million have been similarly hit, plunging by 30 per cent to 109 deals in the first eight months of the year, according to Cushman & Wakefield.

Demand is shrinking, and given that Hong Kong's housing shortage will no longer be a key factor supporting property growth, Wong said he would rather invest in the Greater Bay Area. "I prefer buying property in Greater Bay Area, which has greater growth potential than Hong Kong," he said.

Savvy investors are making a call to sell as they expect prices to start losing value.

Chan Ching-pak, who holds a multimillion-dollar portfolio, said he started selling his assets a couple months ago to lock in profits before the situation takes a turn for the worse. "It will get more difficult to sell in the coming months as the economy deteriorates further," said Chan.

He expects individual buyers who bought at the peak of the market two years ago to incur steep losses if they are looking to sell.

Last week, Addy Wong, Asia-Pacific chairman at Centaline Property Agency, made a profit of HK$21 million on the sale of two luxury flats after holding them for nearly 15 years. He sold a 1,263 sq ft, four-bedroom unit at Miami Mansion in Causeway Bay for HK$24 million, and a 875 sq ft unit at The Oakhill in Wan Chai for HK$21.63 million.

He said he sold the flats as the properties were getting old and were in need of constant repair and maintenance.

Wong, however, believes that Hong Kong's property market has bottomed out and expects prices to increase by five to 10 per cent in the next 12 months.

Cassette tape and CD magnate David Chan Ping-chi, one of 10 ultra wealthy investors who paid US$5.15 billion for The Center in late 2017, has sold an estimated HK$800 million worth of luxury homes, shops, offices and industrial units since January, according to agents.

One notable transaction was the sale of a 70 per cent stake he held in the 42nd floor of The Center for HK$400 million. Chan could not be reached for comment.

"Their moves can be seen as a kind of risk management," said Joseph Tsang, chairman of JLL Hong Kong, attributing the sales to practically closed borders between Hong Kong and China, coronavirus pandemic and rising US-China tensions that have badly affected the city's economy.

He believes the market will remain shrouded in uncertainty until the second half of next year.

"Ten out of 10 investors do not want to make a decision to buy unless owners are willing to give massive discounts," Tsang said.

Meanwhile, "shop king" Tang Shing-bor is offering Bay Bridge Lifestyle Retreat, a 436-room serviced property in Ting Kau and the 11-storey Jim's Commercial Building in Central for tender at a combined valuation of HK$3.23 billion.