Ukraine President appeals to EU for rapid response over feared Putin offensive
Ukraine pleaded with the West on Thursday to speed up the delivery of battle tanks ahead of a new offensive expected to be launched by Vladimir Putin within weeks.

Volodymyr Zelensky was also urging European nations to supply more long-range missiles and artillery to force back Russian troops. After visiting Britain on Wedesday, where he stepped up the demand for fighter jets, Ukraine's president flew to Paris to urge Emmanuel Macron and German Chancellor Olaf Scholz to boost their military support for Kyiv. Speaking at the European Parliament in Brussels this morning, Mr Zelensky told MEPs: "We are defending ourselves in the battlefield, we Ukrainians, together with you."
He was then due to attend a meeting of the European Council where he was going to step up his plea for more powerful weapons and munitions supplies, according to a Ukrainian official. "We badly need as of now, as of yesterday, long-range artillery, all types of artillery ammunition," he said.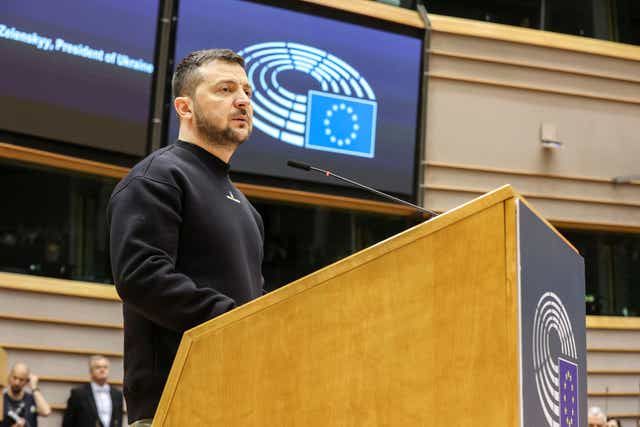 "Battle tanks — the decision has been taken by several member states, but we have no tanks for now. This needs to be speeded up."
Britain has led the West in supplying main battle tanks to Ukraine, with Germany and other European nations then agreeing to send Leopard 2 tanks and the US the Abrams model. As Russia is stepping up its attacks in the east of the war-ravaged country, Ukrainian tank crews are being trained as quickly as possible in the UK to use Challenger II tanks, with 14 of them set to be sent to the battlefield.
Captain Sam Upward, head of tank training of Ukrainian armed forces in the UK, told LBC Radio: "They are absolutely obsessed with getting on the platform and learning everything that they can do, and milking every bit of knowledge out of our instructors." Pressed on their determination to return to Ukraine to fight, he added: "They are absolutely obsessed with that, and working long hours. They just want to get these things back and defend their homeland."
Lord Dannatt, former head of the British Army, predicted that a Russian offensive in coming weeks will "probably fail in a rather bloody fashion," leaving Putin's army vulnerable to a counter-offensive which could break its morale and lead to its defeat.
One Ukrainian official said Putin's offensive could be launched within 10 days. Lord Dannatt told Talk TV: "We are going to see a fresh Russian offensive in the coming weeks and months, probably as winter eases in Ukraine.
"With the equipment that has already been provided to the Ukrainians and their own determination, that Russian offensive will, in all probability, fail and probably fail in a rather bloody fashion.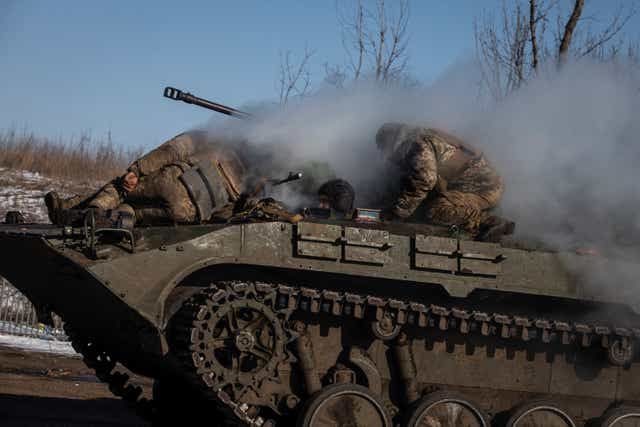 Ukrainian service members ride atop of a BMP-2 infantry fighting vehicle near a frontline in Donetsk region
"That's then the moment for the Ukrainians to mount a counter-offensive, to strike while the Russians in a sense are reeling from their own imminent defeat." He added: "They will have to go with what they have got. It sounds as if from what we heard yesterday that British tanks will be available. Let's hope that the Leopard 2s are also available to combine with the existing tanks, armoured infantry fighting vehicles, self-propelled artillery that the Ukrainians have either got or are being given to mount an effective counter-offensive in the spring."

He added: "If they were able to do that with a sound operational plan, with their characteristic determination, and the weapons and ammunition we have got for them, there is every prospect that the very fragile morale of the Russian army will crack. When the morale of an army cracks, then that is tantamount to losing."

Russian forces were reported to have significantly stepped up attacks in eastern Ukraine and were trying to break through Ukrainian defences near the town of Kreminna.

Serhiy Haidai, governor of the Luhansk region, said Ukraine's military were holding their ground near Kreminna but they needed more weapons and ammunition to hold out.

"I can confirm that there has been a significant increase in attacks and shelling. And it is in the direction of Kreminna that they are trying to build on their success by pushing through our defenders' defences," he told Ukrainian television.

"So far they have had no significant success, our defence forces are holding firmly there."

Kreminna, which is about 62 miles north-west of the regional capital Luhansk, had a population of about 18,000 before Russia's invasion in February last year.

Breaking through Ukrainian lines near Kreminna would take Russian forces a step closer to the much larger city of Kramatorsk. "(We need) heavy equipment and artillery ammunition — then we will not only be able to maintain the defence, but also make a good counter-offensive operation," Mr Haidai said.

Kyiv says Russian forces were trying to take full control of the Luhansk and Donetsk regions in Ukraine's industrial Donbas region. Some Western military analysts say the new Russian offensive has already begun.

After major Ukrainian gains on the ground in the second half of last year, Russia has recovered momentum, sending tens of thousands of recently mobilised troops to the front.

Rishi Sunak announced yesterday that Britain is investigating if any of its fighter jets could be supplied to Kyiv, with Ukrainian pilots being trained in the UK on Nato-standard modern aircraft. However, military experts say that F-16 jets from other European nations including Poland and the Netherlands, or the US, may be more suitable to be supplied to Ukraine, rather than the British Typhoons and F-35s.

After spending the night in Paris where he had dinner with Mr Macron and Mr Scholz, Mr Zelensky boarded the French president's plane for the short flight to Brussels.

Josep Borrell, who chairs EU summits, said the European bloc would promise more military support for Ukraine. At the meeting in Paris, Mr Macron and Mr Scholz also vowed continued support for Ukraine and heard Mr Zelensky's pitch for advanced arms.

"France and Germany have the potential to be game changers and that's how I see our talks today," the Ukrainian president said.