The United States' top envoy to Hong Kong and his husband have announced the birth of a son, drawing congratulations online and prompting renewed calls from the city's LGBT community for the government to introduce policies friendlier towards "rainbow families".

"Eric and I are proud to announce the birth of our son Julian Hanscom Lu Smith," US consul general Hanscom Smith said in a Facebook post on Wednesday featuring a photo of the couple and their newborn in front of Mount Rushmore. "We are happy to be parents, and looking forward to returning to Hong Kong and introducing Julian to his new home."

Smith made headlines in 2016 – when he was serving as consul general in Shanghai – after photos of his wedding in San Francisco to Taiwan native Ying-tsung Lu, who also goes by Eric, generated widespread interest in China.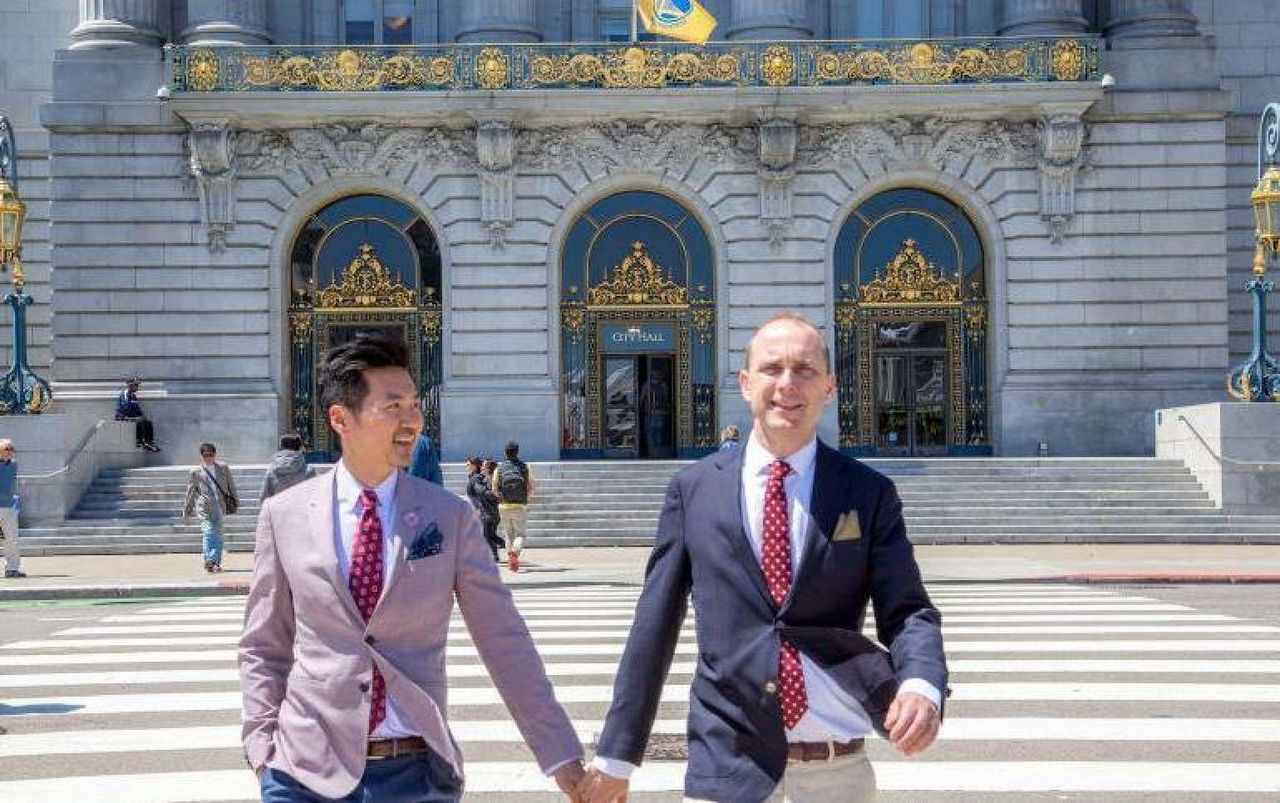 Hanscom Smith (right) and Ying-tsung Lu's wedding in 2016, when the former was serving as consul general in Shanghai, sparked a conversation in China.

China, like Hong Kong, does not allow same-sex marriage, and advances on LGBT rights locally have been piecemeal.

Jerome Yau Ming-lock, chief executive of the LGBT rights group Pink Alliance, said he was very happy for the couple.

"Same-sex couples do raise families, and if our society really cherishes family values, then it should treat same-sex couples equally," Yau said.

"Rainbow families are nothing new in Hong Kong, and hopefully more rainbow families will feel comfortable sharing their experience so that more people can understand that rainbow families are just like traditional families."

LGBT rights activist Billy Leung said same-sex parents in Hong Kong continued to face many struggles.

"The low awareness and sensitivity on many levels, from health care to education to making use of public services, all make it difficult for same-sex couples to enjoy their rights while bringing up their children in Hong Kong, and many opt to bring family abroad," he said.

"The government should look to policies that will create family-friendly environments that address the needs of diverse families to encourage them to stay and grow in Hong Kong."

While Hong Kong does not allow same-sex marriages, it does recognise overseas ones in some situations, including for spousal visas and benefits for partners.

The High Court in May also granted a lesbian couple that split up after 20 years joint custody of their children, recognising both had equal rights as parents – a significant victory in the LGBT community's nearly 15-year legal fight for official acceptance.

Previously it had been uncertain whether the parent who had not given birth to the child enjoyed any parental rights.

Brian Davidson, who succeeded Andrew Heyn as the British consul general to Hong Kong and Macau in July, also has a rainbow family, and has three children with his husband, Scott Chang.

The couple's wedding in 2014 was one of the first same-sex marriages performed at the British embassy in Beijing.