ByteDance, the developer of TikTok and its Chinese sibling app Douyin, has put its initial public offering plan on the back burner for now, as it has difficulties coming up with a business structure that can please both Beijing and Washington, according to two people familiar with the matter.

One of the sources, who declined to be identified as the information is not public, said the Chinese start-up has yet to find a satisfactory way to restructure its business to meet regulatory requirements in China and the US. One major challenge lies in separating Douyin's China-based operations from TikTok's global operations because both apps share the same algorithm, the person said.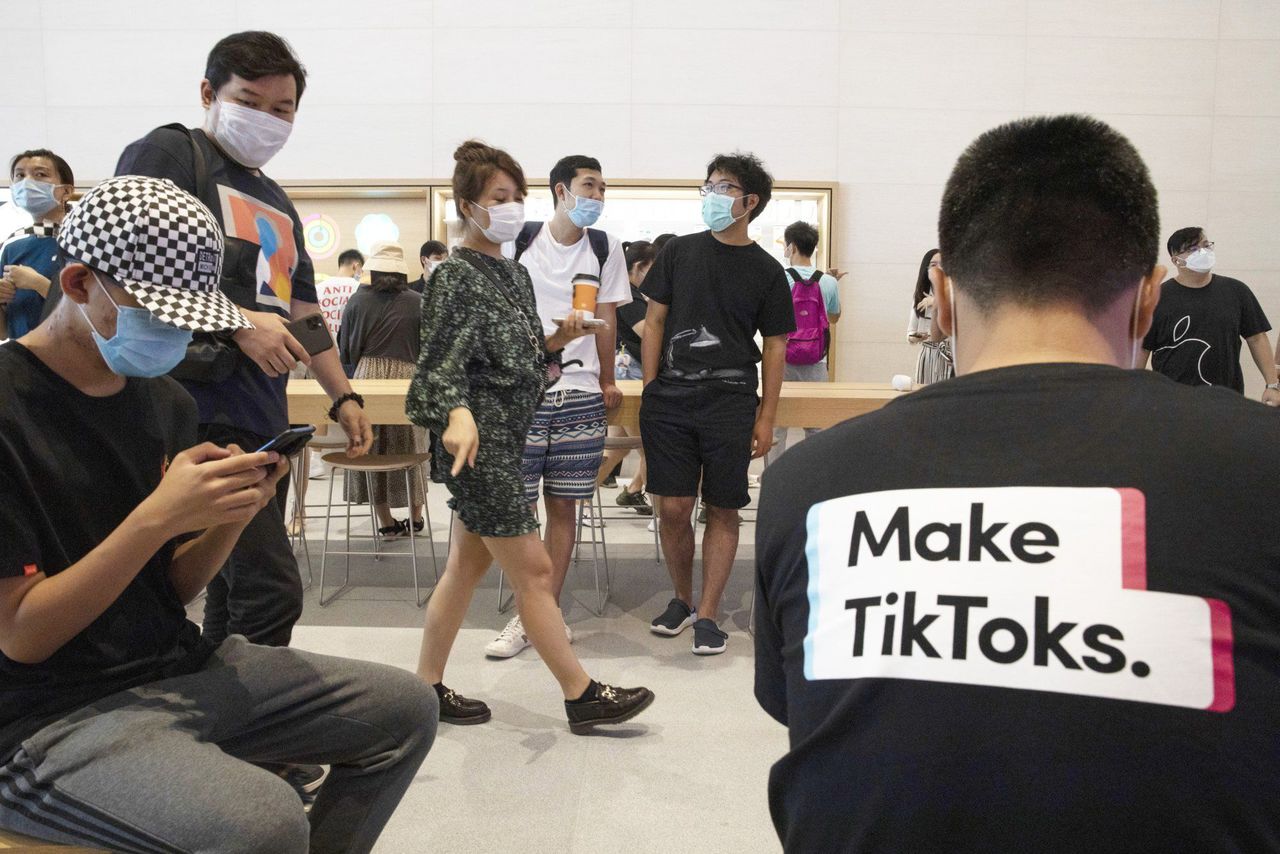 A visitor to an Apple store wears a TikTok shirt in Beijing, China, on July 17, 2020.

Meanwhile, ByteDance's management has also found it hard to balance the interests of various stakeholders. "Many people with different agendas are trying to have a say in the IPO plan," the person said.

Another source, a Beijing-based government official involved in regulating ByteDance who declined to be named, said the company has to postpone its plan to go public because of the US-China geopolitical tensions.

"ByteDance's IPO plan will involve US investors and the US market, but the broad China-US mood is unfavourable," the person said.

ByteDance and TikTok declined to comment on this article on Saturday.

Beijing-based ByteDance said in a brief statement late on Friday that it was not ready to file an IPO "at this stage" and it has no imminent IPO plans, without elaborating.

The announcement followed feverish market speculation that the nine-year-old start-up founded by Zhang Yiming, currently the world's most valuable unicorn, was considering a public listing.

The South China Morning Post reported in February that ByteDance was in preliminary discussions to raise capital in the US by listing the shares of Douyin in New York, although Hong Kong was also an option, citing a source familiar with the plan.

Talks of a ByteDance IPO heated up last week after Bloomberg reported that the company had kicked off preparations to float some of its main businesses, including Douyin, and was in the process of choosing between Hong Kong and the US as the listing venue, citing people familiar with the matter.

The China Securities Journal, an official newspaper affiliated with the Xinhua news agency, reported last week that ByteDance had kick-started a process to go public in Hong Kong, citing unidentified sources, only to pull the story from its website a few hours later. Chinese magazine Caixin also reported last week that ByteDance would file for an IPO in Hong Kong in the second quarter, floating all its assets. The report was also later pulled, without explanation.

While ByteDance's value was said to be approaching US$400 billion in the private market, sources told the Post earlier this month, the company had not disclosed any information about its IPO plans until Friday.

Regulatory risks remain one of the biggest hindrances to ByteDance's IPO plan, according to analysts.

"It's becoming increasingly complex and risky [for ByteDance to meet regulatory requirements]," said Alex Capri, a visiting senior fellow at the National University of Singapore. "ByteDance sees what has happened to Ant Group and Alibaba, and [it] has elected to keep a low profile."

Ant Group, the world's largest financial technology company and an affiliate of this newspaper's owner Alibaba Group Holding, abruptly suspended its blockbuster IPO last November. The company was later instructed by Chinese financial regulators to rectify its business practices.

"The big problem [for ByteDance] is the Chinese government, which is constricting the market options and freewheeling behaviour of China's Big Tech companies," said Capri.

"The risks of a listing are obvious. It is a timing issue … ByteDance must comply with the rules and regulations of different countries [if it goes public]. It is a massive project for the young enterprise," said Zhang Yi, chief executive of consultancy firm iiMedia Research.

Despite the challenge, ByteDance is expected to keep pursuing a public listing, said Zhang, because "the capital raised from the IPO will enable the company to carry out its global business strategy and improve its global influence."

"The firm is highly attractive to investors, as it has an innovative business model, leading algorithm technology, and healthy profitability," Zhang added.

Still, the status of TikTok in the US remains uncertain after ByteDance shelved a deal to sell the video-sharing app's American operations to a group led by Oracle following pressure from former US president Donald Trump, the Post reported in February.

While the app has not been banned in the US as Trump had threatened, the new administration under President Joe Biden is currently reviewing security concerns around Chinese apps operating on US soil.

TikTok, with 689 million daily users worldwide, contributed US$1 billion to ByteDance's total revenue of US$37 billion last year, according to data from Reuters and The Information