A British man has been killed while fighting in Ukraine.
Simon Lingard, from Great Harwood, Lancashire, died when his unit was attacked on Monday.

His family described him as "the bravest man" and a "true hero", who went to Ukraine to "stand up for what he believed was right".

A Foreign Office spokesperson said it was supporting the family of a British national who had lost his life in Ukraine.

"We are in touch with the local authorities in connection with his death," they added.

Paying tribute on social media, Mr Lingard's 17-year-old son Jackson said: "I can't put into words how much he is (and will be) missed.

"But I'm comforted to know that this happened doing what he loved and surrounded by friends.

"I love you dad, I'm so proud of you."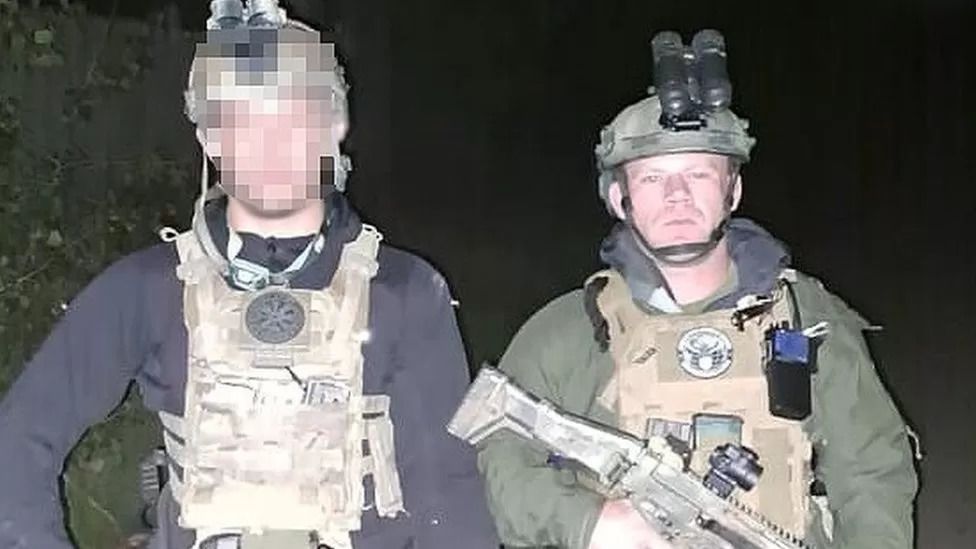 Mr Lingard (right) had been a soldier most of his life, his former partner said
Stacey Longworth, the mother of Mr Lingard's two children, told the BBC he had been a soldier for most of his life and was a former member of the parachute regiment.
She said she was "just waiting for him to tell me he was going to go" when the Russian invasion started.
Ms Longworth said she kept in touch with him when possible while he was in Ukraine before getting a phone call on Monday night to say he had been killed.
'Loved and adored'

"I'm aware they were under attack, and that it was shrapnel, and that it was instant," she said.

"I've been in contact with close friends of his in Ukraine. They are absolutely distraught."

She said telling his two sons their father had died had been "the most difficult thing I've ever had to do".

"We want people to remember him as a hero," she said.

She described Mr Lingard - who was known as Grimmy to his friends - as "very funny [and] an inspiration".

"He was loved and adored by so many," she added.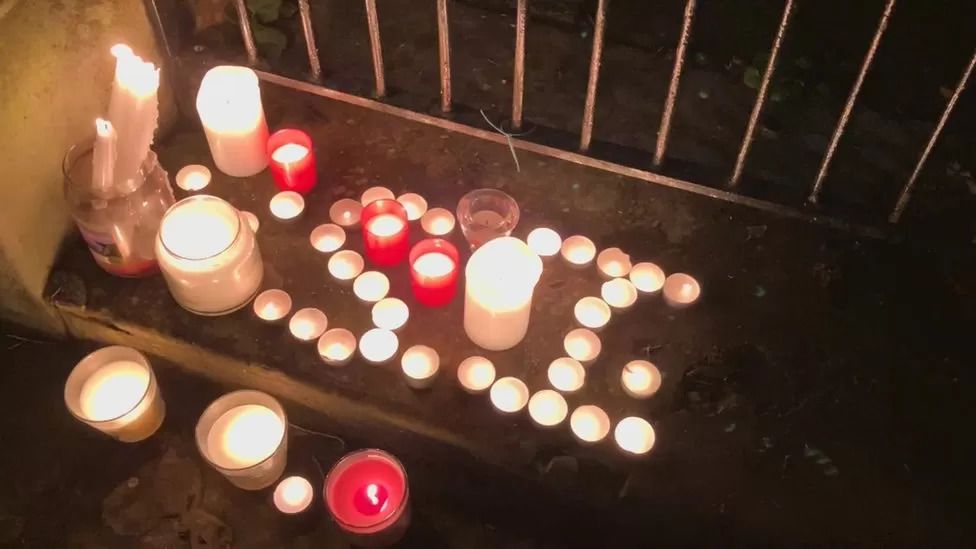 People paid tribute to Simon Lingard at a vigil held in Great Harwood

A vigil was held in Great Harwood earlier, where friends and family gathered to remember him.

Mr Lingard's friend Mickii Edwards, who attended the memorial, described him as an "all-round top guy".

"It was such a shame. We wanted him home but he didn't want to come," he said.

"He was just courageous. He was like a lion and I loved him to bits."

Mr Lingard's family have also set up a fundraising page, which has so far raised more than £14,000, to help cover the cost of the funeral with the remainder put into a trust for his sons.