UK house prices rose by 0.5% in April after seven consecutive months of falls, according to the Nationwide building society.
Economists had been expecting average prices to decrease during the month.

Prices had been falling since August last year, after Liz Truss's mini-budget sparked turmoil on financial markets and drove up borrowing costs.

Nationwide is predicting a "modest recovery" in the housing market as mortgage rates start to come down.

But it said any improvement would be "fairly pedestrian", as household finances remain under pressure and average earnings have been failing to keep pace with inflation.

The cost of an average home rose by 0.5% between March and April to hit £260,441, said the lender, which bases the findings on its mortgage data.

However, that was still 2.7% lower than a year ago.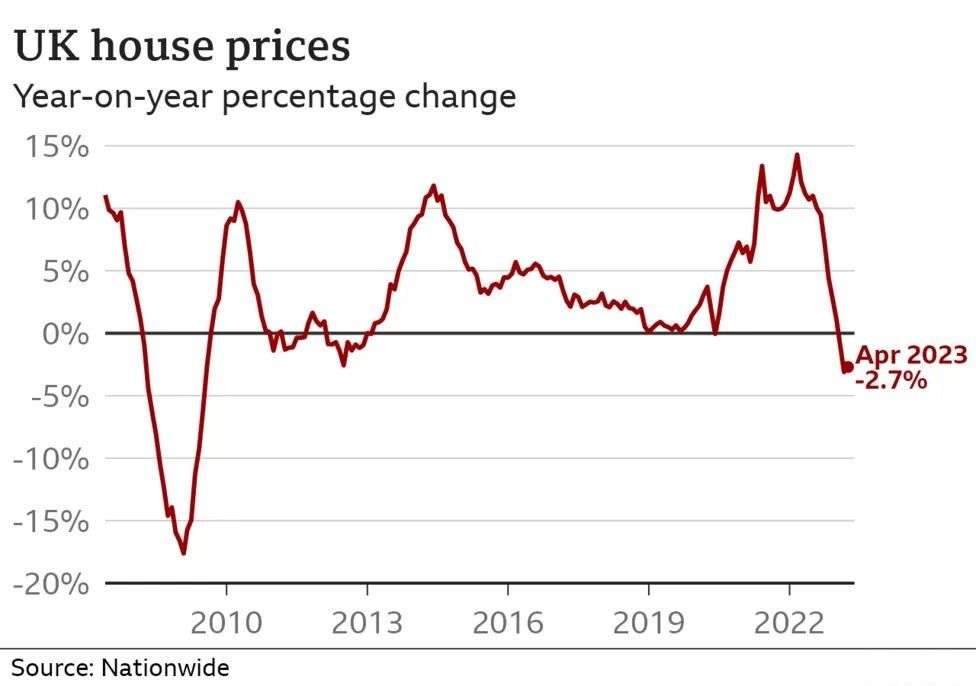 Conditions in the housing market have "taken a while to settle down" since the mini-budget, the lender said.

In September, former chancellor Kwasi Kwarteng promised billions of pounds of tax cuts without explaining how they would be paid for. It spooked financial markets and drove mortgage rates up to a 14-year high.

Rates are now "well below" those levels, but remain more than twice what they were a year ago, Nationwide said.

However, the number of mortgages being approved is picking up and households feel more confident about their finances, said Robert Gardner, Nationwide's chief economist.

"If inflation falls sharply in the second half of the year, as most analysts expect, this would likely further bolster sentiment," Mr Gardener said.

"This, in turn, would also be likely to support a modest recovery in housing market activity."

Rising prices will be a blow to potential first-time buyers, who are already facing rising rents. The continuing rise in many regular bills and food prices is also adding to the financial strain.

However, views among housing market analysts are mixed, with some suggesting that house prices are not guaranteed to rise.

Samuel Mather-Holgate, from advisory firm Mather and Murray Financial, said: "The housing market always sees a boost in the spring, but don't confuse this data with the green shoots of recovery.

"The annual figure is still down, and this is expected to get worse over the next few months, especially if the central bank increases rates again this month."

But Tomer Aboody, director of property lender MT Finance, said: "Buyers are finally making their move after months of waiting and stalling. More transactions are definitely needed for the overall strength of the housing market."