Thousands of people are without power after "extreme" temperatures caused equipment to overheat.
Almost 8,000 properties in Yorkshire, Lincolnshire and the North East do not have electricity, with some believed to have been off since Monday afternoon.

Northern Powergrid said it was working hard to restore supply to affected homes and businesses.

Temperatures approaching 40C (107.6F) have led to conductors sagging and transformers overheating, it said.

"We worked last night and into the early hours of today to restore power after yesterday's extreme temperatures," a spokesperson from the firm said.

The company is responsible for providing power to 3.9m homes and businesses but has said there are "a higher than usual number of faults on our network" after record-breaking temperatures.

Northern Powergrid's live power cut map showed almost 15,000 homes were without electricity at about 14:00 BST.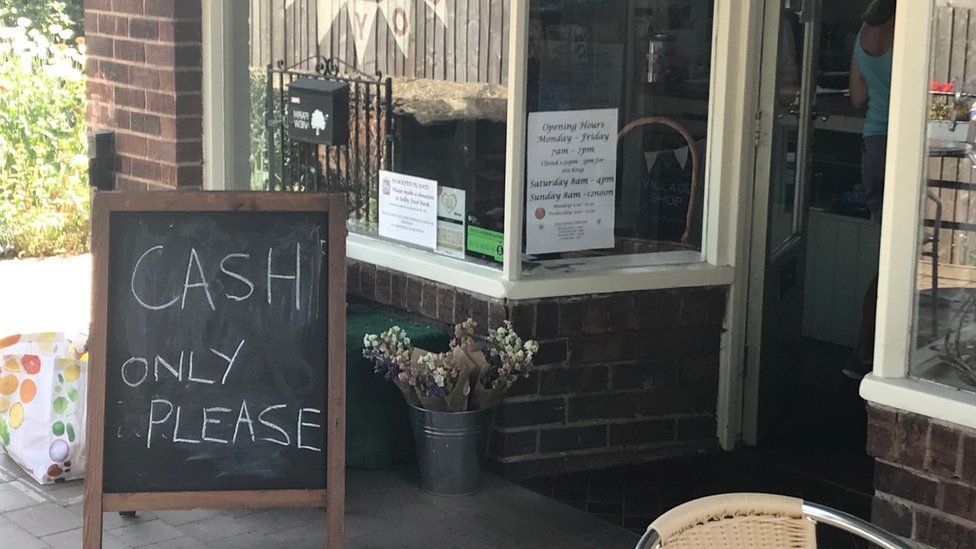 Some shops in Church Fenton, North Yorkshire, are cash only after their power went out

Moya O'Neil, from Church Fenton, near Selby, said her power went off at about 21:00 BST on Monday evening.

"Because we rely on electricity, it's been quite unfortunate. My freezer was full, it's now all melted. That's got to go in the bin," she told BBC Radio York.
"I had a meeting today but that had to be cancelled at such short notice."

'Absolute lifesavers'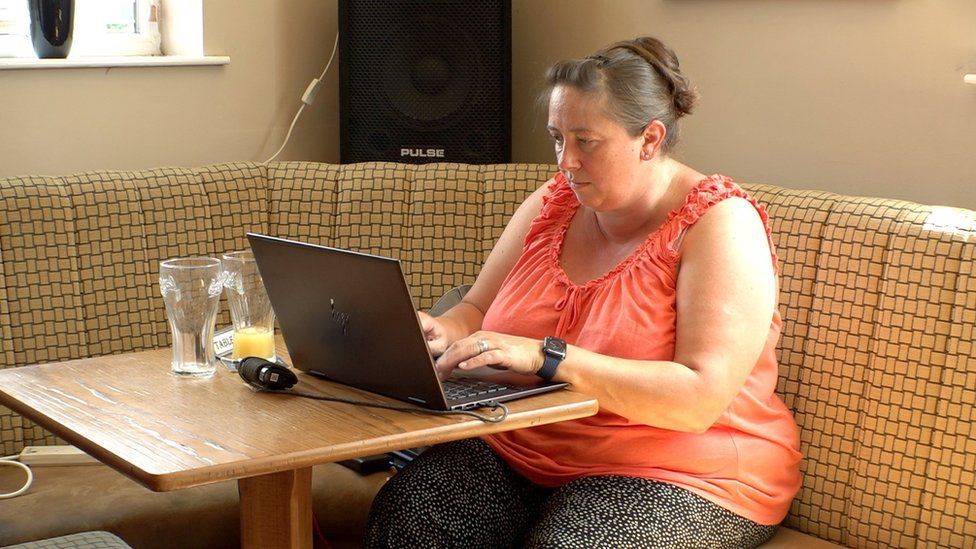 Jennie Marshall praised staff at the pub for allowing her to work from the bar

In Goole, East Yorkshire, the George and Dragon pub has been opening its doors to people without electricity for use as a makeshift office as their electricity supply has not been affected.

Jennie Marshall said the staff had been "absolute lifesavers", saying she would have had to travel to her company's office in Liverpool to work otherwise.

"I work at home so with no power, no internet, no phone battery, it's really limited. Yet again, local legends."

Philip Patterson, who lives in the village of Whitley, near Goole, urged Northern Powergrid to tell residents when they can expect their power to be restored.

"Myself and my family here are quite lucky, but other people in the area are vulnerable. They need that information to plan," he said.

"Our teams continued work this morning to restore power to the small number of homes who were still impacted, and our contact centre are offering advice and support to those who need it most," the Northern Powergrid spokesperson added.