The UK has had one of its hottest days on record, with a high of 38.1C (100.6F) - and forecasters are warning it will be warmer still on Tuesday.
The high was recorded in Santon Downham, Suffolk, on Monday, while 37C was exceeded in several places.

The Met Office has issued a red extreme heat warning for Monday and Tuesday in much of England, with temperatures of up to 41C forecast.

The current highest temperature in the UK is 38.7C, in Cambridge in July 2019.

A high of 38.5C was reached in Faversham, Kent, in August 2003, making Monday the third hottest day on record - and the hottest day of the year so far.

Hawarden in Flintshire hit 37.1C, making it the hottest day on record for Wales according to provisional figures from the Met Office.

The temperature is forecast to remain high with overnight temperatures in the mid-20s.

Tuesday could be a cooler day across the west of the UK but parts of the Midlands and east of England could see temperatures into the 40s - with a possibility of 42C in Lincolnshire, BBC Weather presenter Ben Rich said.

On Monday, a 16-year-old boy died after getting into difficulty in Maidenhead, Berkshire, while the Metropolitan Police said a 14-year-old boy went missing and is believed to have drowned after entering the Thames at Tagg's Island in Hampton, south-west London.

Some schools closed early during the day - or chose not to open at all - although the government has issued guidance designed to keep them open. One teaching union said most chose to stay open.

Network Rail said people should travel only "if absolutely necessary" on Monday and Tuesday, with some cancellations, and speed restrictions in place across the network.

No trains will be running north to Leeds and York from London King's Cross on Tuesday, Network Rail said, including LNER services.

The Ministry of Defence said aircraft were using alternative airfields after reports of the tarmac melting on the runway at RAF Brize Norton in Oxfordshire.

Flights were suspended at Luton Airport after a section of the runway lifted due to the hot weather, the airport said. EasyJet said several flights had been diverted to nearby airports, while some others were cancelled as a result.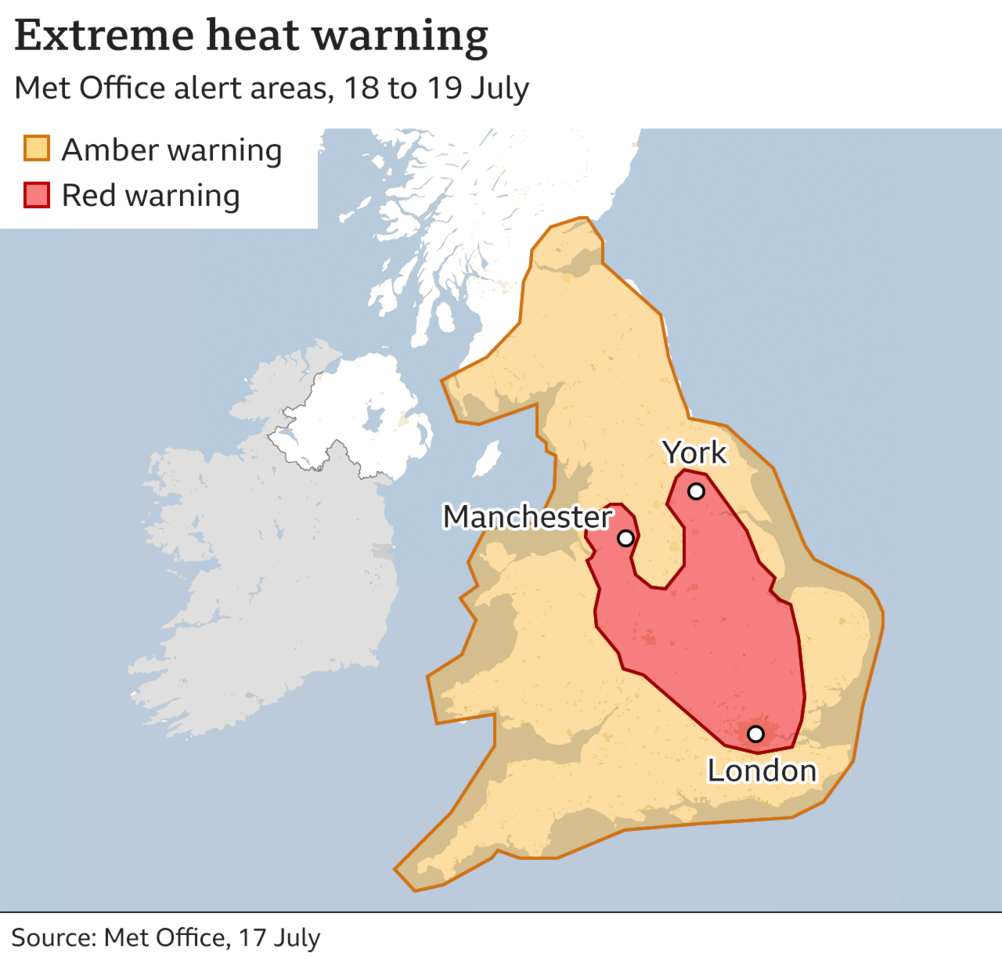 Scotland and Northern Ireland experienced their warmest days of the year on Monday with 31.3C recorded in Aboyne, Aberdeenshire, and 31.1C in Derrylin, County Fermanagh.

Temperatures above 37C were recorded in London, Cambridge, Surrey and elsewhere in Suffolk.

It was also a record day in Cornwall, with 36C measured in Bude in the county.

Amber warnings are in place across England and Wales, and parts of Scotland, covering an even greater area than the read warning which runs from London up to York and Manchester.

It is the first time the Met Office has issued a red warning since the system was introduced last year.

It means "widespread impacts on people and infrastructure" are expected, with "substantial changes in working practices and daily routines" required.

The National Fire Chiefs' Council had warned it was almost inevitable there would be wildfires in the next few days and a large blaze has broken out in woodland at Lickey Hills Country Park on the edge of Birmingham.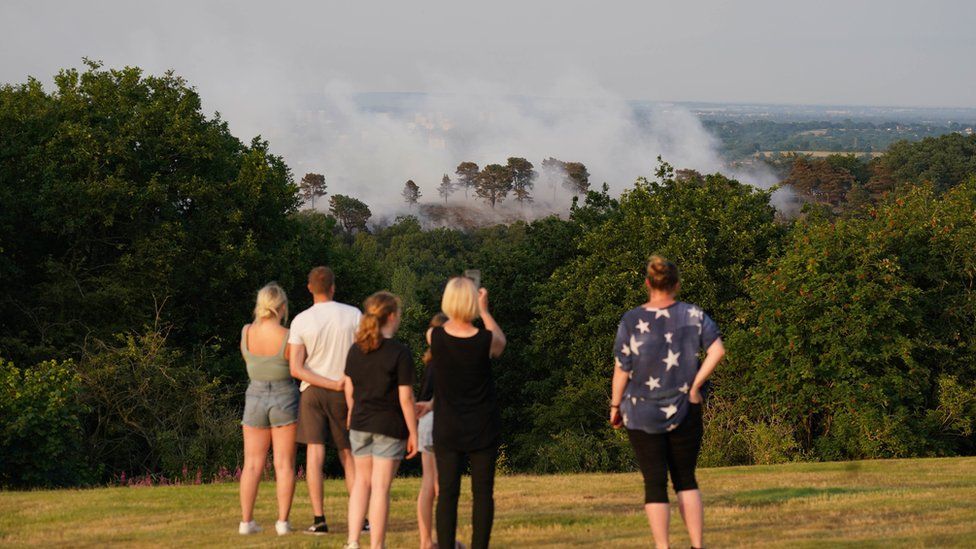 A wildfire has broken out in woodland on the edge of Birmingham

Responding to claims the UK has seen worse heat - such as during the prolonged heatwave in 1976 - BBC Weather's Simon King said the "dangerously high" expected temperatures were up to 10C above the extended heatwave and severe drought experienced then.

Alongside the Met Office's red and amber warnings, the UK Health Security Agency has issued a level four warning for England, which the government is treating as a "national emergency".

The extreme heat has also put pressure on the NHS but Health Secretary Steve Barclay said the government was "closely monitoring the situation", with the "highest point of concern" was on Tuesday afternoon.

Cabinet Office minister Kit Malthouse rejected criticism of Boris Johnson for not attending Cobra meetings on the heatwave, saying he had briefed the prime minister and it was his job to co-ordinate the response across the government.

Soaring temperatures are also having a devastating impact on much of Europe and north Africa, with authorities in western France warning of a "heat apocalypse" in 15 regions.

Wildfires have been raging from Greece to Morocco, with thousands being evacuated from and more than 1,000 deaths have been attributed to the heat in Portugal and Spain in recent days.

During a speech in Cornwall, the Prince of Wales said that the commitments around net zero had never been more vital as "we all swelter under today's alarming record temperatures across Britain and Europe".


The heatwave is happening when average world temperatures have risen by just over 1C from their pre-industrial levels.

We are living in the hottest period for 125,000 years, according to the UN's climate science body, the Intergovernmental Panel on Climate Change (IPCC).

We know what is behind this - greenhouse gas emissions caused by our burning of fossil fuels like coal and gas. Concentrations of carbon dioxide (CO2) in the atmosphere are at the highest level for two million years and rising, according to the IPCC.

If all the promises governments made at the UN COP26 climate conference in Glasgow last year are actually implemented then we're looking at temperatures rising by 2.4C by the end of the century.

But the bad news is that emissions of CO2 continue to increase. Without big cuts by 2030 we could see temperatures go even higher.

People have been warned to take care if they cool off in water, after several deaths.

The two incidents on Monday came after the deaths of a 16-year-old boy swimming in Salford Quays on Saturday evening and a 13-year-old boy who went missing in the River Tyne in Northumberland on Sunday.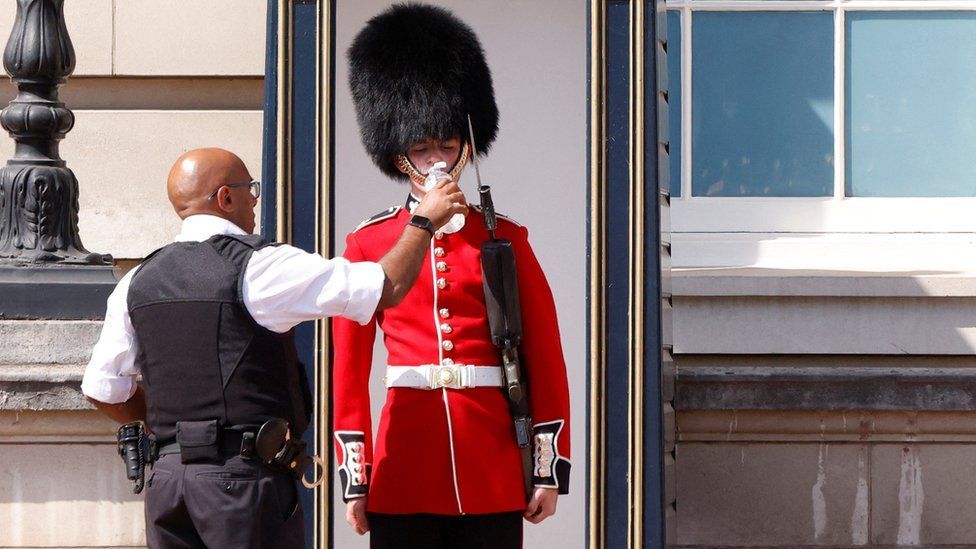 A Queen's Guard is given water while on duty outside Buckingham Palace on Monday

Water companies in southern and eastern England have warned increased demand is leading to low pressure - and even interrupted supply - for some households.

Experts have urged people to drink water, keep their curtains closed where possible, and to check on friends and relatives.

Chester Zoo will stay shut during the heatwave to keep its animals, visitors, and staff safe, while pigs are being covered in suncream at the UK's biggest agricultural show in Wales.

Battersea Dogs and Cats Home has advised people not to walk their dogs during the heatwave.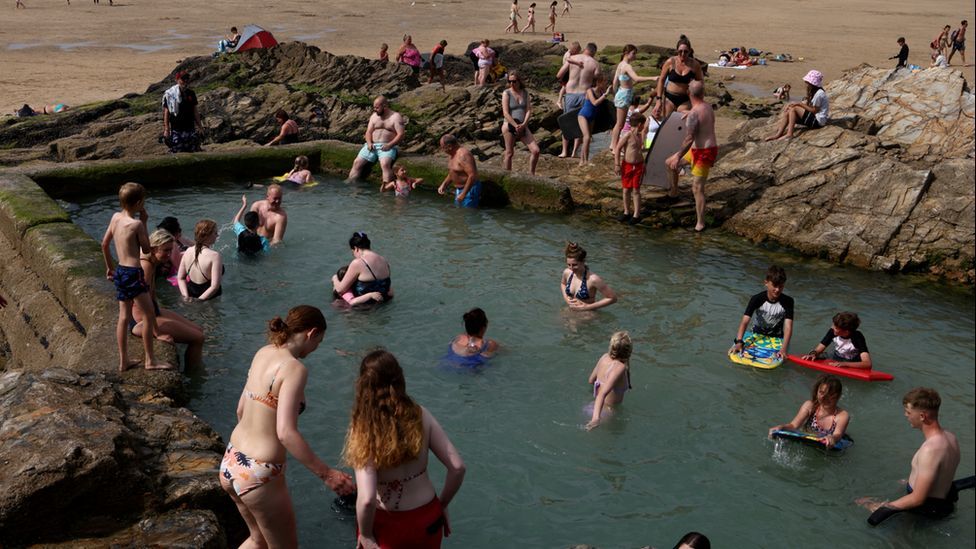 Some people made their way to the beach as they sought to cool off, like here in Perranporth, Cornwall
Food delivery firm Just Eat said it had suspended deliveries in areas badly hit by the heatwave on Monday and Tuesday, while some pub and restaurant kitchens have been closed.

Museums, including London's Victoria and Albert Museum and the British Museum, have closed some galleries or adapted their opening hours.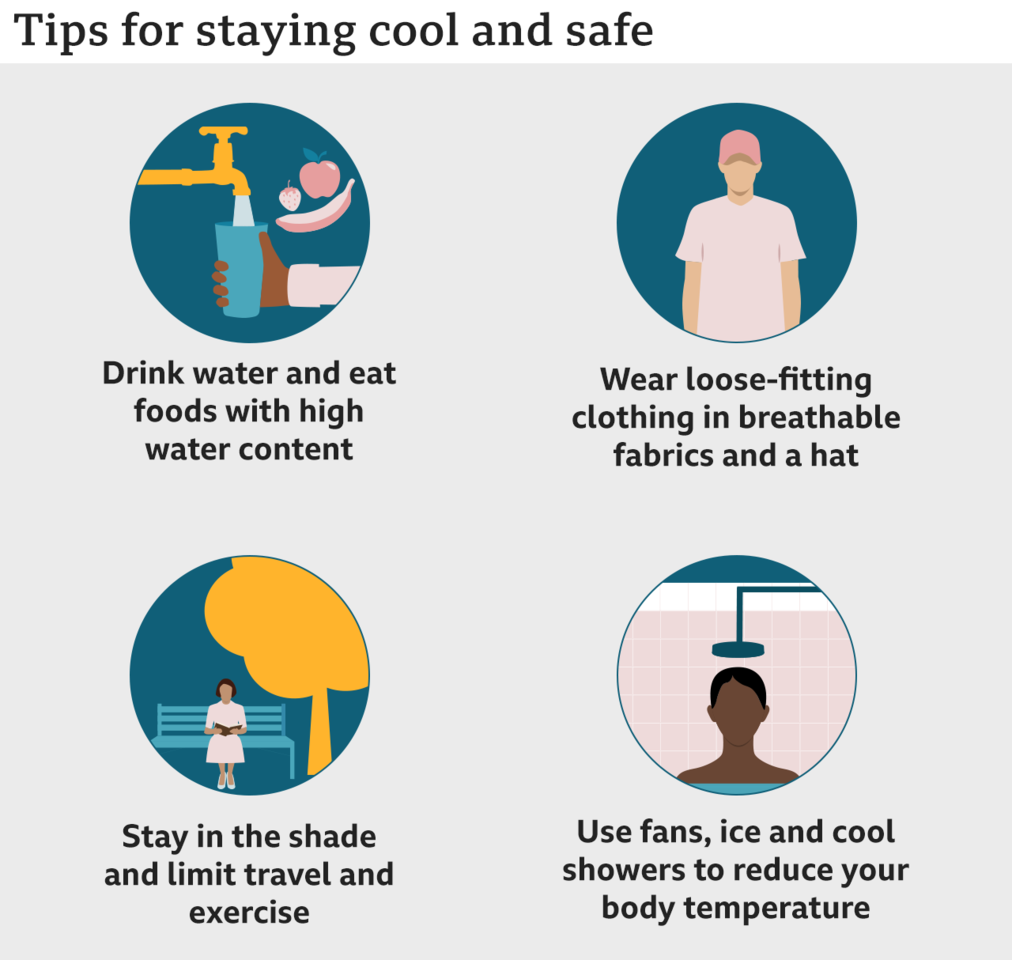 Watch latest forecast: An even hotter day on Tuesday
Heatwave: Top tips to stay cool in 60 seconds