Plans for a national flagship yacht to promote the UK abroad have been shelved, the defence secretary has announced.
Ben Wallace told MPs a competition to build the vessel, estimated to cost up to £250m, had been terminated.

The ship was commissioned by former PM Boris Johnson last year to host trade fairs and diplomatic events.

No 10 said it was right to "prioritise" spending "at a time when difficult spending decisions need to be made".

The move comes as the government searches for spending cuts ahead of an autumn statement on 17 November, also likely to include tax rises.

Labour's shadow defence secretary John Healey said he welcomed the news "the previous prime minister's vanity project has been scrapped".

The vessel, which was never given a name, would have succeeded the Royal Yacht Britannia, which was retired in 1997 after 44 years in service.

It was originally meant to cost £150m when first announced, but Mr Wallace last year put the price at between £200m and £250m.

The government had said it wanted the ship to be built in the UK, and enter service in 2024 or 2025.

Speaking in the House of Commons, Mr Wallace said the government was "accelerating" the development of research and surveillance ships.

He added that, after Russia's invasion of Ukraine, it was "right that we prioritise delivering capabilities that safeguard our national infrastructure".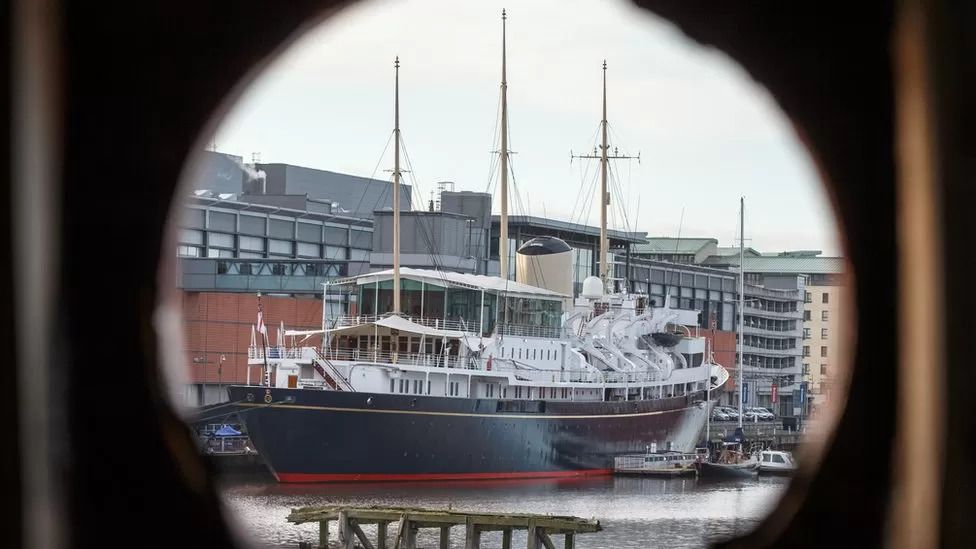 The retired Royal Yacht Britannia is today berthed in Leith, near Edinburgh
A spokesman for Prime Minister Rishi Sunak told reporters: "With Russia's ongoing illegal war, it is right that we prioritise our capabilities."
Mr Sunak "thinks it is right to prioritise at a time when difficult spending decisions need to be made," the spokesman added.
Speaking at an event to promote the flagship last year, Mr Wallace promised it would be the "jewel in the crown" of the government's shipbuilding strategy.
"Our ambition is for something special, not just a cutting-edge ship, but a truly national flagship," he said.
"I want the grandparents of the future, to boast to their grandchildren and say one day 'I helped to build that ship!'" he added.
In a report last year, the Commons defence committee estimated the flagship would require 50-60 personnel and cost £20-30m a year to run.
This would add to "ongoing pressure on an already constrained naval budget," the committee added.