Donald Trump's hour-plus appearance on a cable news town hall forum on Wednesday night was barely over when his political rivals - both announced and prospective - began firing out tweets, statements and press releases attacking the Republican front-runner for next year's White House election.
The forum, hosted by CNN's Kaitlan Collins, was a combative spectacle, with topics ranging from abortion to foreign policy to Mr Trump's unfounded claims of 2020 election fraud and sympathy for those arrested for the 6 January 2021 US Capitol attack.

Florida Governor Ron DeSantis, who is expected to launch his presidential campaign soon, honed in on the quarrelsome nature of the forum and his focus on relitigating the 2020 vote. A committee supporting his prospective bid released a statement calling the town hall an "hour of nonsense that proved Trump is stuck in the past".

It went on to highlight his sometimes muddled answers on abortion and gun control - two issues of high importance to Republican primary voters.

"How does that make America great again?" the statement asked.

For Republican voters who aren't solidly in the Trump camp at this point, the former president's fixation with the 2020 election results - expressed early and often during the town hall - has proven to be a point of concern.

Winning presidential campaigns typically present a candidate's vision for the future (Barack Obama's "hope and change" and Mr Trump's own 2016 "make American great again"), but Mr Trump's 2024 bid often begins and ends with relitigating his electoral defeat.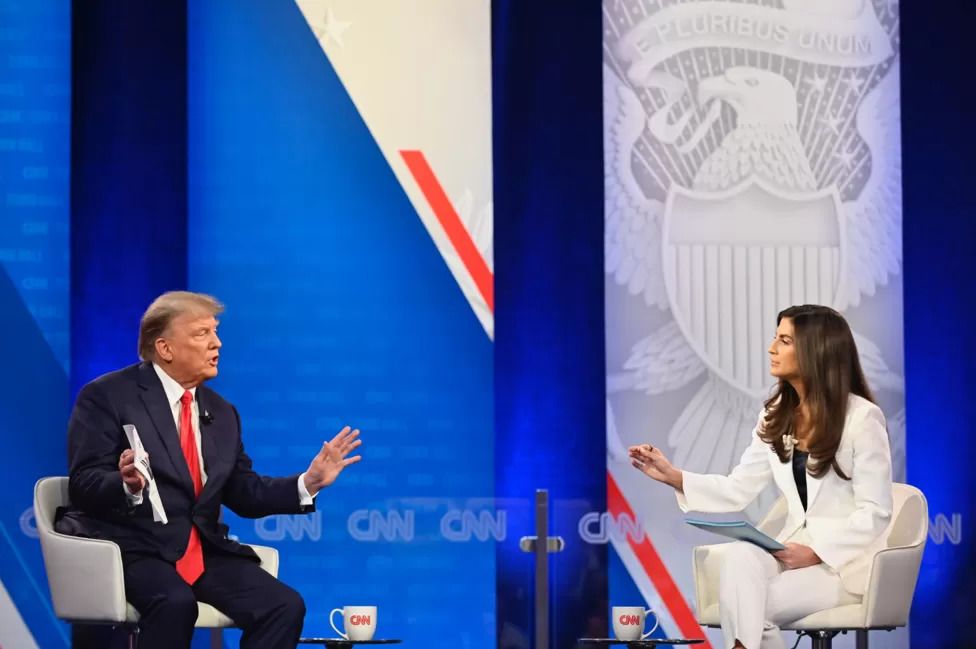 Donald Trump spoke at a CNN town hall with host Kaitlan Collins

Other Trump rivals found another target to attack. Former New Jersey Governor Chris Christie, who ran for president against Mr Trump in 2016, but became one of the first establishment politicians to endorse him, spotlighted the former president's refusal to say who he wanted to win the war in Ukraine.

"Donald Trump says he would end the war in Ukraine in 24 hours tonight on CNN," the possible 2024 candidate tweeted. "Despite how ridiculous that is to say, I suspect he would try to do it by turning Ukraine over to Putin and Russia. #Putin'sPuppet."

Former Arkansas Governor Asa Hutchinson, who recently launched his own presidential campaign, also targeted Mr Trump's Ukraine position.

"Trump reminded everyone tonight of his support of Russia and his willingness to sell out Ukraine," he tweeted. "A weak position that will not win the war."

Highlighting Ukraine is an interesting choice, however, given that polls show a growing number of Republican voters are sceptical of continued US support for the war effort. Mr Trump may be more in step with the Republican base on this issue than these two critics.

If Mr DeSantis' side viewed the whole event as nonsense, a number of media analysists and commentators agreed, although they placed the blame squarely on CNN for the format and setting of the event.

"Here's what CNN did tonight: They produced a global television event for an unhinged pathological liar in front of an audience of sycophants and called it 'news'," former Republican strategist and vocal Trump critic Steve Schmidt tweeted. "It was an abomination."

That was a view echoed by Democrat congresswoman Alexandria Ocasio Cortez, who wrote that CNN should "be ashamed of itself".

Other Democratic Party officials monitoring the proceedings responded with barely concealed glee, however, promising to use clips of the former president's performance in future attack ads. They also highlighted his abortion answer - taking credit for ending Roe v Wade's abortion rights - as particularly damaging.

"That was a disaster for Trump," a senior Democrat told CBS News. "The American people were just reintroduced to a wildly extreme and dangerous man who said he was honoured to overturn Roe. That's the clip of the night."

Mr Biden, responding on Twitter after the forum, kept it short.

"Do you want four more years of that?" Mr Biden asked. "If you don't, pitch in to our campaign."

For their part, however, Mr Trump's campaign team claimed the evening was a success. Their candidate had more than an hour of prime-time attention before a crowd that gave him a standing ovation upon arrival, laughed at his jokes and applauded as he sparred with Ms Collins.

"At the end of the day I thought it was a win for the president," Bryan Lanza, an adviser to Mr Trump, told the BBC. "He went into what was supposed to be a hostile environment, and he survived. I suspect that this town hall is going to make him stronger."