The UK sends 76 search-and-rescue specialists, complete with state-of-the-art equipment and specially trained dogs, to Turkey as international aid effort gets off the ground
Turkey and Syria are facing a growing humanitarian disaster as the death toll from devastating earthquakes continues to climb while an international rescue and aid effort struggles to get off the ground.

The region is facing up to one of the worst natural disasters in decades after a magnitude 7.8 quake brought down whole apartment blocks in Turkish cities and piled more devastation on millions of Syrians displaced by years of war.

As the official death toll passed 4,300 on Tuesday morning, a team of British search-and-rescue specialists was heading to Turkey to help the relief effort amid warnings the number of dead could pass 10,000.

Foreign Secretary James Cleverly said the impact of the quakes was "on a scale that we have not seen for quite some time".

The UK was sending 76 search-and-rescue specialists, complete with state-of-the-art equipment and four specially trained dogs, to Turkey, with a flight scheduled to leave Birmingham on Monday night.

They "should be on the ground shortly to give the Turkish authorities the help that they need to try to save as many lives as possible", he said.

Prime Minister Rishi Sunak said: "My thoughts are with the people of Turkiye (Turkey) and Syria this morning, particularly with those first responders working so valiantly to save those trapped by the earthquake.

"The UK stands ready to help in whatever way we can."

Hundreds of buildings collapsed due to the violence of the event, with many residents expected to have been asleep at the time of the pre-dawn earthquake.

The quake, which was centred on Turkey's south-eastern province of Kahramanmaras, was felt as far away as Cairo in Egypt and Beirut in Lebanon.

Rescue workers and residents in several cities searched for survivors, working through tangles of metal and giant piles of concrete.
A hospital in Turkey also collapsed and patients, including newborn babies, were evacuated from a handful of facilities in Syria.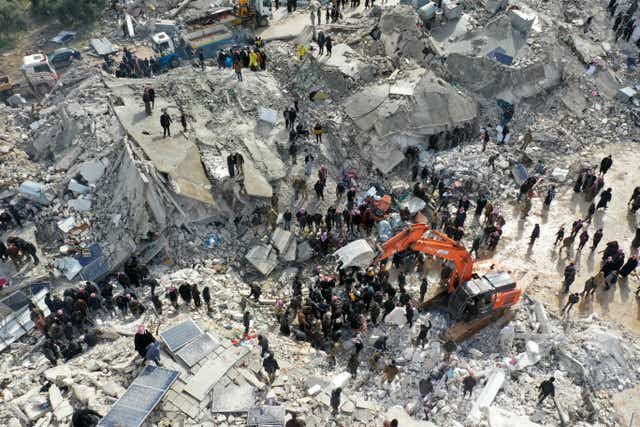 Residents aided by heavy equipment search for victims and survivors amidst the rubble of collapsed buildings in the Syrian village of Besnia
On both sides of the border, residents jolted out of sleep by the pre-dawn quake rushed outside on a cold winter's night.
"It was like the apocalypse," said Abdul Salam al-Mahmoud, a Syrian in the northern town of Atareb. "It's bitterly cold and there's heavy rain, and people need saving."
The second quake was big enough to bring down more buildings and, like the first, was felt across the region, endangering rescuers struggling to pull casualties from the rubble.
In Diyarbakir in southeast Turkey, a woman speaking next to the wreckage of the seven-storey block where she lived said: "We were shaken like a cradle. There were nine of us at home. Two sons of mine are still in the rubble, I'm waiting for them."
She was nursing a broken arm and had injuries to her face.
Syrian toddler Raghad Ismail was rushed to safety from the rubble of her home in the city of Azaz. But most of her family, including her mother, did not make it out alive.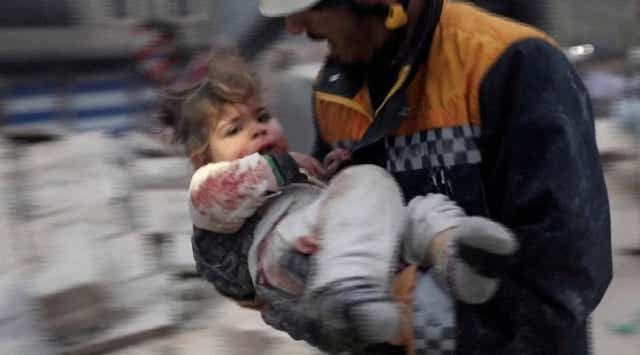 A rescuer carries a Syrian toddler, Raghad Ismail, away from the rubble of a building following an earthquake in Azaz

Cradled in the arms of a rescue worker, she emerged unscathed from the ruins at daybreak.

"The father is feared to have his back broken, his young daughter is fine. His pregnant wife, his five-year-old daughter and his four-year-old son have all been killed," the girl's uncle, Abu Hussam, said.

The United States Geological Survey said on Monday that the death toll could reach as high as 10,000.

Authorities feared the death toll would keep climbing as rescuers searched through tangles of metal and concrete for survivors in a region beset by more than a decade of Syria's civil war and a refugee crisis.

Freezing winter weather was adding to the plight of the thousands left injured or homeless and hampering efforts to find survivors.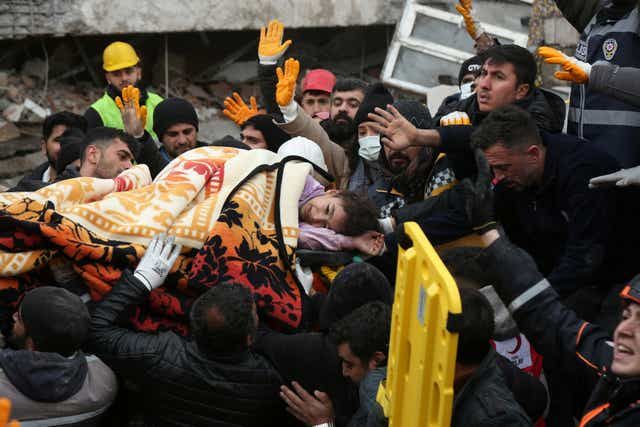 Rescuers carry out a girl from a collapsed building following an earthquake in Diyarbakir, Turkey

Turkish President Recep Tayyip Erdogan said: "Because the debris removal efforts are continuing in many buildings in the earthquake zone, we do not know how high the number of dead and injured will rise.

"Hopefully, we will leave these disastrous days behind us in unity and solidarity as a country and a nation."

Strained health facilities and hospitals were quickly filled with injured, rescue workers said. Others had to be emptied, including a maternity hospital, according to the SAMS medical organisation.

The region sits on top of major fault lines and is frequently shaken by earthquakes. Some 18,000 people were killed in a similarly powerful earthquakes that hit north-west Turkey in 1999.

The US Geological Survey measured Monday's quake at 7.8. Hours later, a 7.5 magnitude one struck more than 60 miles away. An official from Turkey's disaster management agency said it was a new earthquake, not an aftershock, though its effects were not immediately clear. Hundreds of aftershocks were expected after the two tremors, the official told reporters.