While this standoff between writers and producers is in the US, British writers say that 'many of their issues are our issues. Their fight is our fight'
Pay your writers or we'll spoil Succession." "Chat GPT doesn't have childhood trauma." "Don't you want to know how Yellowjackets ends?" You can count on a group of writers to deliver when it comes to protest sign slogans. On May 2, 11,500 members of the Writers' Guild of America put down their pens, turned off their laptops and headed to picket lines outside studio buildings in Los Angeles and New York, after weeks of negotiations with the Alliance of Motion Picture and Television Producers failed to reach an agreement.

America's late night talk shows have gone dark, and work has stopped on major projects like the latest Game of Thrones prequel and the final season of Stranger Things. Industrial action has loomed for months. "I've been hearing since January just how dead the market is," says Zack Arnold, a film and TV editor on Netflix's Cobra Kai, one of the shows now on hold. "Essentially all the studios, whether it's scripted or unscripted, have seen this coming… so they have not been greenlighting new projects." He describes the strike as part of "a once in a generation reckoning of the way that the studios have dealt with creative professionals".

Celebrities have come out to show their support, with the likes of Lin-Manuel Miranda, Pete Davidson, Amy Schumer, Tina Fey and Amanda Seyfried making appearances at pickets. Drew Barrymore stepped down as the presenter of the MTV Awards earlier this month, citing her "respect" for writers. "Everything we celebrate and honour about movies and television is born out of their creation," she said.

The strikes "tend to be about new technology, or the shaping of the new TV landscape", says Max Goldbart, Deadline's international TV editor. Fifteen years ago, writers wanted to be better paid for DVD sales and online downloads, resulting in a 100-day pause between 2007 and 2008, costing the industry an estimated $2 billion. You might remember delays to US shows, truncated seasons and Daniel Craig's dud second outing as Bond in Quantum of Solace, where the actor had to ad lib his way through an incomplete script.

Now, writers' "big fear is the streaming age could normalise a system of huge corporate profits and lower pay for creatives", says Jeremy Kay, Screen International's Los Angeles-based Americas editor. According to WGA statistics, half of TV series writers now work at the minimum salary level, up from one third in the 2013-14 season, and median pay has fallen by 4 per cent over 10 years; the union says that entertainment industry profits have skyrocketed from $5 billion in 2000 to around $28 billion in 2021.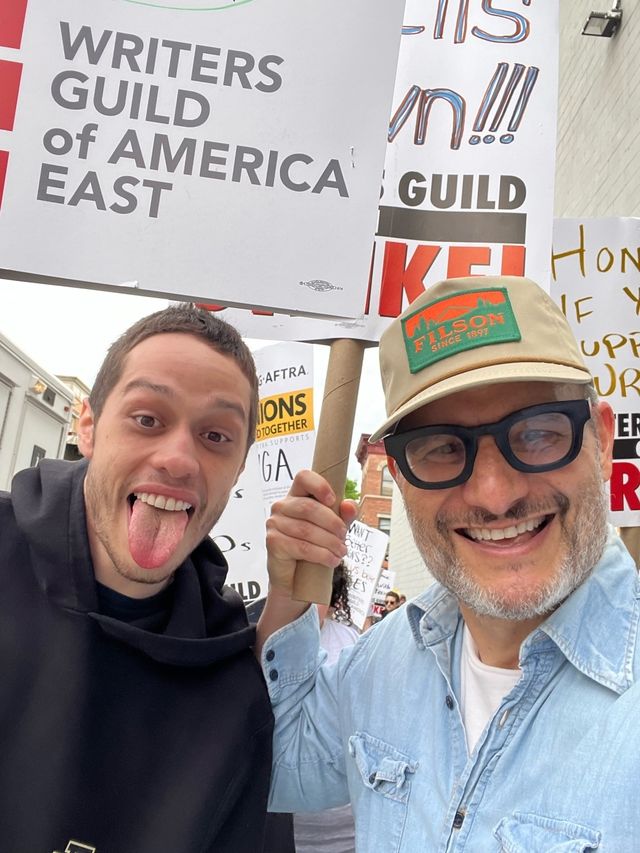 Pete Davidson and Judah Miller join members of the Writers Guild of America (WGA) and its supporters to picket on May 5, 2023 in New York City

"Lots of [screen]writers, especially the older you get, continue to make money from the work you've created,"says Jonathan Stewart, the co-writer of 2022 film Devotion. A British WGA member, he worked in LA for a decade before recently returning to the UK. When their work is repeated on TV, they receive residual payments, "like [you would] if you wrote a book, and people kept reading it". Residuals for streamers tend to be lower and less frequent - payment terms were previously agreed "as if [the streamers] were smaller, marginal players". The streamers, though, often pay up front, and writers receive little afterwards, even if their work is "shown all around the world for years", and the guild wants this to change.

Many entertainment giants are in a tricky financial position right now, as subscriber numbers stall and Wall Street piles on pressure for them to cut spending. "The streamers and the parent companies of studios… have been going through cost-cutting and staff lay-offs and will argue this isn't the time to pay writers more money," Kay says. However, he notes, "that argument is hard to reconcile with the recently reported massive 2022 compensation packages" for bosses like Netflix's Ted Sarandos and Reed Hastings (who both reportedly earned around $50 million) and Warner Bros Discovery's David Zaslav (around $39 million).

To cut costs, scaled-down 'mini rooms' of writers have become more common. That's another point of contention for the WGA, who, Stewart says, wants each room to have "a certain number of senior people and junior people". Previously, he adds, "if it [took] seven, eight months to write a 22 episode cop show on TV, then you would get employed for that time - you definitely had a job for eight months, that would probably allow you to pay your rent and live for a year". Now, "those contracts are lasting two to three months, there's no guarantee after that period", turning screenwriting into a gig economy. "The American writers I know are very concerned about the fact that the middle-class writer has just gone now," says British screenwriter Paul Alexander. "There used to be a good middle, where if you weren't a famous writer… you could make a living. Now it's much harder."

If writers are let go after just weeks on the job, and can't stick around for filming, they are unlikely to get the all-round skills they need to become the next, say, Shonda Rhimes, the creator Grey's Anatomy, Scandal and Bridgerton. "With the mini rooms and the speed at which they're creating content, there has been an absolute lack of experienced show runners," says Arnold. "It's such a myopic view to think, 'Well, we save a little bit of money now.' But look at how much money that's costing you later."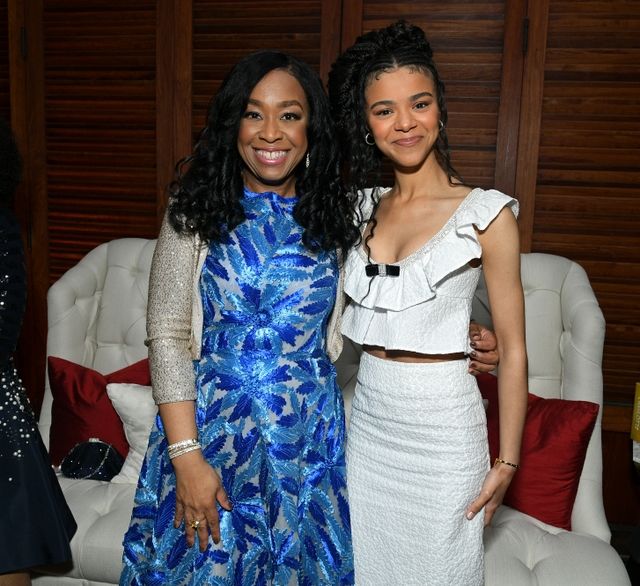 Writer and super-producer Shonda Rhimes, with India Amarteifio, star of Rhimes' Bridgerton spinoff Queen Charlotte

Thomas Golubić is an Emmy-nominated music supervisor who has worked on shows like Better Call Saul and Six Feet Under. Working on the latter show back in the early Noughties, "it was very important to [creator] Alan Ball that the writers would also go to set… They would be actively involved, so when they asked for something, they would know the repercussions of the work." When writers aren't part of production, he says, "it makes things less efficient, it makes things more scattered" and there's little space for "creative discussion".

The spectre of AI hangs over negotiations too. "The writers want this whole area to be regulated whereas the Hollywood companies are being fairly non-committal… and want to reconvene once a year to discuss [it]," Kay says. "AI-generated screenplays are already out there, so you can bet executives and producers are exploring this area." Goldbart reckons that AI is unlikely to become an issue for the creators behind "really unique" projects, like The White Lotus – but it might impact procedural series, "where a formula is followed. Those shows are breeding grounds for younger writers, who in no way want to see their work lost to a machine".

It's potentially a tricky area to legislate though, the Standard's film critic Charlotte O'Sullivan suggests. "If audiences start to enjoy shows that have basically been written by robots… that really is an existential threat. If [viewers] don't care whether shows are written by humans with unpredictable opinions, writers are going to disappear as a breed…. That comes down to this nebulous thing of popular taste."

How are the negotiations across the Atlantic being felt in the UK? The Writers Guild of Great Britain has declared solidarity: UK writers can't work for any companies that have signed the WGA's collective bargaining agreement (if so, they risk being blacklisted). If a project is "very clearly not an American project", for a British producer or broadcaster, Stewart says, "those can continue". But British writers are "keeping an interested eye on what's going on in America", Alexander adds, because in the streaming era, the business is increasingly international. UK scribes are "working on shows that will be seen globally, on Netflix, Amazon or wherever". As WGGB chair Lisa Holdsworth put it last month: "Many of their issues are our issues. Their fight is our fight."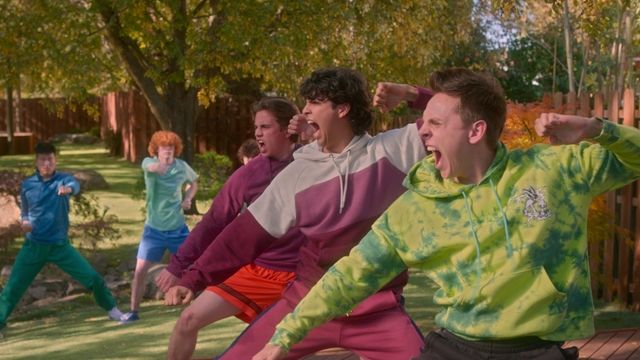 Tanner Buchanan as Robby Keene, Xolo Maridueña as Miguel Diaz, Jacob Bertrand as Eli 'Hawk' Moskowitz in Cobra Kai, one of the shows now on hold due to the strike

Strikers face an extended period without pay – and "most of the 11,500 striking writers aren't superstar earners", Kay says. It's likely to hit writers from marginalised groups hard. For disabled writers, who already often face higher living costs, "healthcare is a huge issue", explains Richie Siegel, who is co-founder of Inevitable Foundation, a non-profit dedicated to supporting disabled screenwriters. Guild workers have insurance benefits, but "when you're not working and not earning, you can't accrue those benefits for healthcare," he says. Still, the writers he works with "are largely supportive of the strike," Siegel says, "which I think says a lot about the valuing of the collective over the individual in this situation… There's a lot of braveness around, everyone saying – this is not about me as much as the overall survival of this profession."

Other parts of the industry are feeling a ripple effect too. "It has impacted [music supervisors] enormously," Golubić says. "Everyone is right now in the same panic mode, partly because productions have shut down in anticipation of the strike." Many have "had no income coming in probably for two months now", but "the majority of our community [is] very much in support of the writers and the WGA," he adds. "We're all suffering from the same problems." Arnold agrees. "People are universally showing up in solidarity… because this is representative of the way all creative professionals have been exploited," he says.

The WGA and AMPTP are currently worlds apart. The former's proposals would cost $429 million per year; the latter's current counter-offer stands at $86 million per year. It's a standoff that could last for months, and the landscape could become more complex yet when contracts for the Screen Actors' Guild and the Directors' Guild of America expire at the end of next month. Right now, The spotlight is on writers, Arnold says, "but really, this is a much bigger conversation about… how the studios are treating the people that create the work that they have benefited from and profited from". So while TV fans might be left hanging on an end of season cliffhanger for longer than they'd hoped, who knows – that pause might just future proof the career of their next favourite screenwriter.

Five productions on pause during the writers' strike

Stranger Things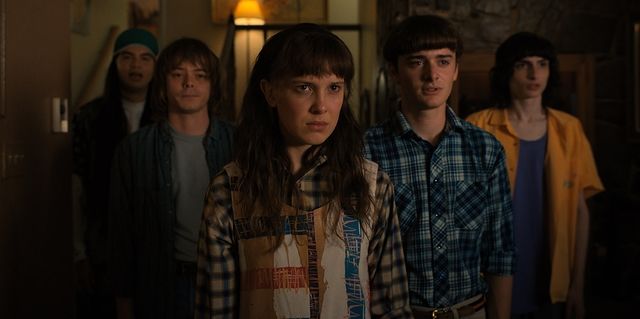 Stranger Things on Netflix

Filming on the fifth and final instalment of Netflix's retro sci-fi saga was slated to begin this summer, but it's now on hold. "Writing does not stop when filming begins," tweeted the Duffer brothers, the show's creators. "While we're excited to start production with our amazing cast and crew, it is not possible during this strike."

A Knight of the Seven Kingdoms: The Hedge Knight

Work on the latest spin-off series set in the Game of Thrones universe has paused, and author George R R Martin has thrown his "complete and unequivocal support" behind the strike. He's also railed against mini-rooms in a blog post, arguing that preventing writers from getting on-set experience is "not only wrong, it is incredibly short sighted".

Yellowjackets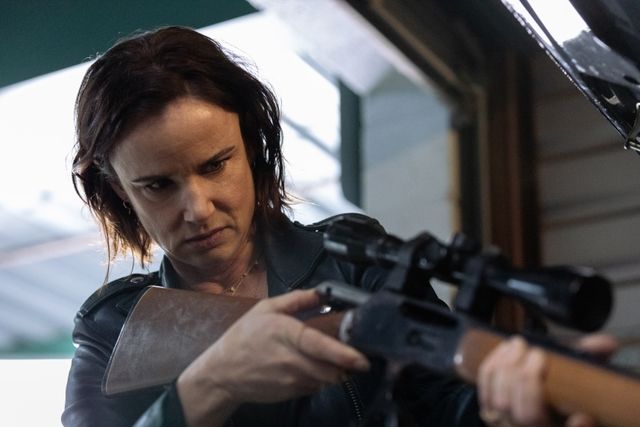 Juliette Lewis in Yellowjackets

Writers on the third season of this dark, gory survival drama went on hiatus after "exactly one day" of work, co-creator Ashley Lyle revealed on Twitter. "It was amazing, and creatively invigorating, and so much fun, and 'm very excited to get back to it as soon as the WGA gets a fair deal," she wrote.

Blade

The first tentpole movie to be affected by the strike is Marvel's Blade, which was previously due to start filming next month. It's the latest delay for the vampire superhero tale starring Mahershala Ali in the lead role – it previously paused production last year when director Bassam Tariq stepped back.

Hacks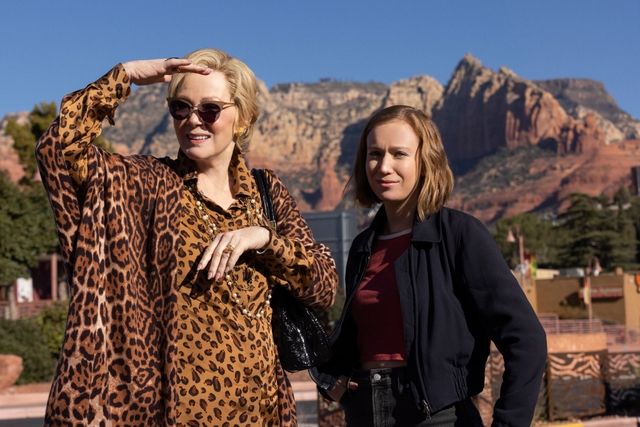 Jean Smart and Hannah Einbinder in Hacks

This spiky comedy puts writers front and centre, starring Jean Smart as an ageing comedian and Hannah Einbinder as the young screenwriter tasked with overhauling her material, and work on its third season has now shut down. "Writing happens at every stage of the process," said co-creator Jen Statsky. "It's what makes shows and movies good. It's what makes them possible."