Targeted strike action is taking place in the row over teachers' pay.
The Educational Institute for Scotland (EIS) is staging a three-day walk out in the constituencies of politicians close to the dispute.

Schools are affected in areas represented by First Minister Nicola Sturgeon, her deputy John Swinney, Education Secretary Shirley-Anne Somerville and Greens MSP Ross Greer.

Ms Somerville said she was focused on resolving the dispute.

She has also written an open letter to pupils that outlines the support available to them during industrial action.

The union rejected a new pay offer last week.

Teachers want a 10% pay increase which ministers say is unaffordable.

The latest offer included a 6% pay rise in the current year and a further 5.5% in the new financial year.
The Scottish government had found £156m to fund the two-year deal.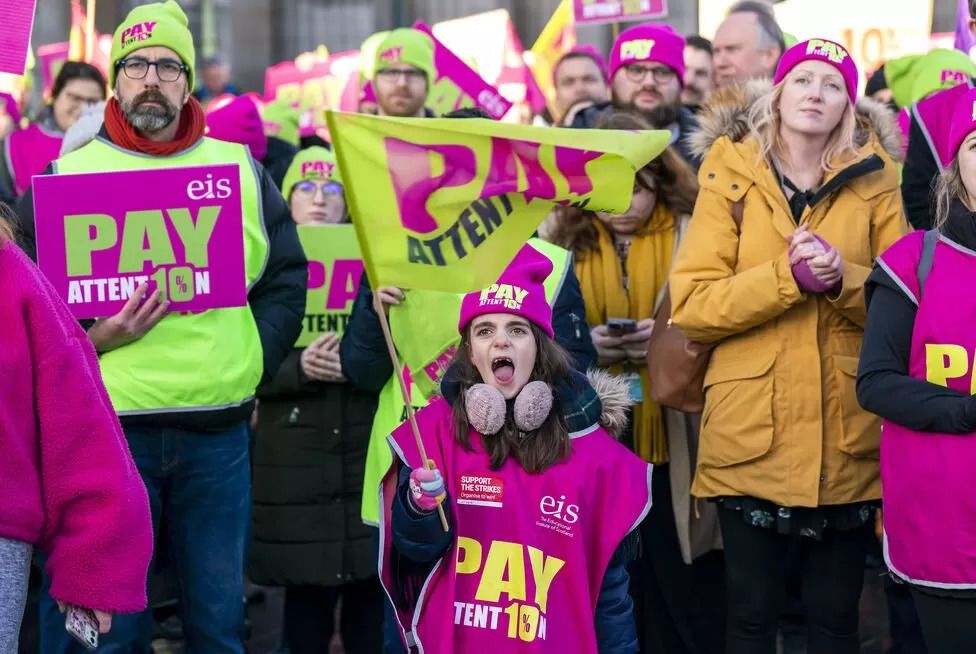 Teachers are calling for a 10% raise
While the EIS turned down the offer, the NASUWT and the SSTA unions said they would consider it.
The EIS said the 6% raise for 2022-23 was insufficient, as inflation is currently at 10.5%.
From 22 to 24 February, the EIS said its members would strike in the constituencies of:
* First Minister Nicola Sturgeon (Glasgow Southside)
* Deputy First Minister John Swinney (Perthshire North)

* Cabinet Secretary for Education Shirley-Anne Somerville (Dunfermline)

* Scottish Greens education spokesperson Ross Greer, MSP for West Scotland (action targeted in East Dunbartonshire)

A further three days of action from 7 March will target the four MSPs' constituencies and the ward of Dumfries and Galloway councillor Katie Hagmann.

She is resources spokesperson for council umbrella body Cosla but as councillor her ward is Mid Galloway and Wigtown West.

These targeted schools face 10 days of strikes in total over the next two months if the dispute is not settled.

Schools in the rest of the country face four days of action.

There are two days of national strike action on 28 February and 1 March.

A further 20 days of regional rolling strikes will also go ahead across all local authority areas between 13 March and 21 April with each school hit twice.

'Particularly concerning'

EIS members have already taken part in three days of strike action - one national strike, one day of rolling regional action and a second national strike over two days made up of primary one day, secondary the next.

Some schools have also been affected by a separate day of action by the SSTA and NASUWT.

Ahead of the action, Ms Somerville said: "I want to reassure pupils, parents and carers that my focus remains on resolving this pay dispute, delivering a fair and sustainable settlement for teachers and ending disruption in our schools.

"The threat of further disruption in the run up to the exam diet is particularly concerning.

"I have written to local authorities asking them to consider how secondary schools can remain open for pupils preparing for exams, and this is being reviewed by councils on a school by school basis."

She added the pay talks were ongoing and repeated her call for trade unions to suspend industrial action during the discussions.