The government could be on a collision course with millions of public sector workers after announcing this year's pay awards.
Pay deals covering 2.5 million workers, including teachers and NHS staff in England, and police in England and Wales, have been published.

Unions attacked the deals, saying they amounted to real-terms cuts that do not reflect the rising cost of living.

So who has been given what?

Teachers

Schools in England could find themselves caught up in industrial action after the biggest education union said it would ballot teachers.

Pay for most teachers in England will rise by 5% from September this year, an increase from the initial offer of 3% for 2022-23.

Teachers with more than five years experience will get £2,100 on the average salary of £42,400.

For teachers in the first years of their career the increase is bigger - 8.9% - but only because of a long-standing promise to raise the starting salary to £30,000 in England by September 2023.

This was a promise made long before the current cost-of-living crisis.

All of this has to be paid for by schools out of existing budgets. Schools in England are getting more cash, but after a long squeeze on their budgets many are worried about other cost pressures, such as rising energy bills.

The National Education Union has said it will ballot teachers over the 5% pay award, raising the prospect of industrial action in schools later this year.

Kevin Courtney, joint general secretary of the union, said the "biggest real-terms pay cut in a generation" left them with no choice but to seek the views of teachers.

The other main teaching union, NASUWT, said it was dismayed and would consider how to respond. The last national dispute over teachers' pay was in 2008.


Doctors, nurses and NHS staff

It looks unlikely that the pay award for NHS will be enough for staff - their unions had been looking for above-inflation rises. The Royal College of Nursing asked for 5% above inflation, which at the time of asking equated to a 12.5% hike.

It responded immediately, warning the government was making a "grave misstep" and it would be consulting its members.

Meanwhile, the joint group of NHS unions, which represent other staff including midwives, physios and porters, said a pay award like this would be "nowhere near enough".

The British Medical Association has yet to respond, but has already warned it was preparing to ballot junior doctors if more significant pay rises were not made.

As they agreed a four-year pay deal in 2019 when inflation was much lower, they are only entitled to just over 2% this year - not the 4.5% more senior doctors will receive.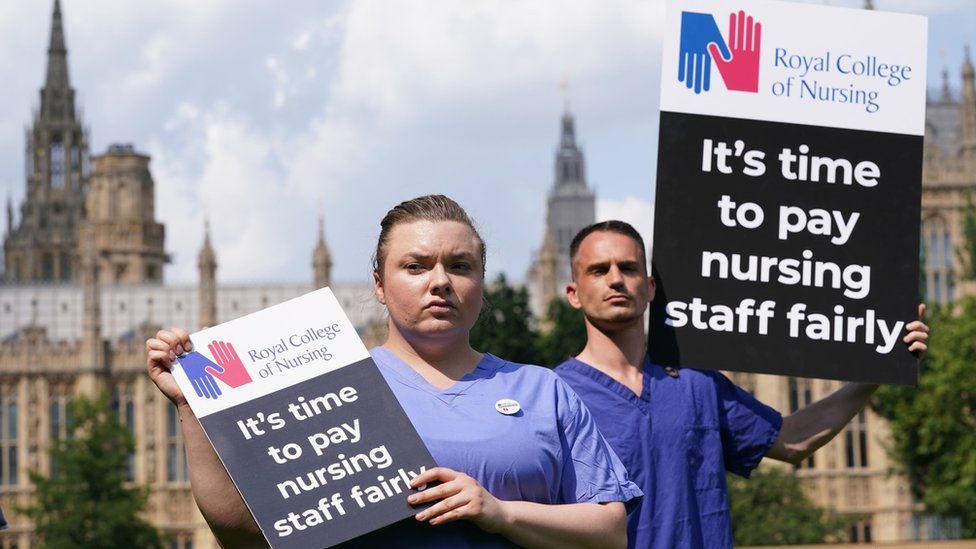 But beyond the threat of industrial action there is another problem for ministers.

The NHS budget was settled on the expectation that staff would only get 3% and therefore this award would add nearly £2bn extra to the costs the health service faces.

Managers are warning that unless that is covered by the Treasury, services will have to be cut.

Police and prison staff

With the government committed to employing thousands more police and prison officers, the real-terms pay cut for public sector workers in the criminal justice system will make those ambitions more challenging.

Police officers are to receive a £1,900 salary uplift - equivalent to a 5% overall pay award.

For new recruits, the increase is worth 8.8%, and ministers will be hoping that is enough to attract the 8,000 extra officers they are planning for this financial year.

For some more senior staff, the award is worth less than 1%.

Prison staff are to receive a base pay increase of at least 4%, but as with the police, new recruits will get more, around £2,500 extra. There is a plan to recruit an additional 5,000 prison officers in the next two years.

The courts system is under huge pressure at the moment, but Justice Secretary Dominic Raab has agreed only to increase the pay of judicial office holders by 3%.

Data published by the Office for National Statistics hours before the pay awards were announced show record levels of vacancies in public administration - 39,000 empty jobs in a sector which includes police and prison officers, as well as courts staff.

Competition for recruitment will be intense.