Talks with ministers aimed at resolving NHS strikes have made little progress, unions have said.
Unite said the meetings were "a missed opportunity", while the Royal College of Nursing said they were "bitterly disappointing".

Unison said there were discussions over pay but no "tangible concessions" which would enable Wednesday's ambulance strikes to be called off.

However, a government source described the talks as useful and constructive.

Ministers have also been meeting teaching and rail unions in a bid to avert further industrial action.

The formal agenda of the talks was next year's pay settlements, and they were not expected to lead to an immediate breakthrough for the current pay disputes.

Unions are calling for pay rises to keep up with the rising cost of living but ministers say any offer must be "affordable".

Speaking ahead of the meetings, Prime Minister Rishi Sunak did not deny that his government could follow Wales by offering a one-off payment to public sector workers to ease the cost of living.

Onay Kasab, from the Unite union, said the government had suggested during the talks earlier that any one-off payments would have to be based on "productivity savings".

He said that some of his members were working 18 hour shifts and that it was "an insult" to discuss productivity.

"We are extremely angry," he added.

No 10 later said the government was "not seeking to place extra burdens on NHS staff" but wanted to make their work "easier and simpler".

The Department for Health said Health Secretary Steve Barclay had requested further discussions on ideas to make the health service work better and save staff time, that could unlock additional funding.

Other ambulance worker union representatives leaving the meeting were slightly more positive, with Sara Gorton from Unison saying there had been progress.

She told the BBC's PM programme "the tone has changed", with Mr Barclay now willing to talk about pay and acknowledging that any resolution to the current dispute "would involve a reach-back into the current pay year".

However, she told the BBC there was no "tangible offer" of a one-off payment or backdated pay, which she said would allow the union to call off Wednesday's ambulance worker strikes.

"So it is progress, but it isn't significant until we match the new tone with some cold hard cash," she added.

The government has previously refused to discuss this year's pay offer for public sector workers, saying it has met the recommendations of independent pay review bodies.

Rachel Harrison, from the GMB union, said the talks "fell well short of anything substantial that could stop this week's strikes".

There was "some engagement on pay" but "no concrete offer", she said.

Joanne Galbraith-Marten, from the Royal College of Nursing, said there was "no resolution to our dispute yet in sight".

This week's strikes - which include planned walkouts by ambulance drivers, bus drivers, teachers and driving examiners - are all expected to go ahead.

Nurses in England are also set to walk out for two days next week.

Elaine Sparkes, from the Chartered Society of Physiotherapy, said the talks were "more constructive" than previous meetings but "there is nothing tangible on the table" and the union would announce strike dates later this week.

A government source said the health secretary discussed productivity and efficiency savings which would help decide what was affordable for the coming year's pay deal.

A one-off payment for health service staff was mentioned in passing, the source said.

Unions have repeatedly called for a better pay offer to be on the table before April and are said to have asked Mr Barclay to make that case to the chancellor.

The source said Mr Barclay had agreed to look at their request, without making any commitments.

Earlier, there were also meetings between Education Secretary Gillian Keegan and teaching unions.

Following the talks, Kevin Courtney, from the National Education Union (NEU), said "no concrete progress" was made and there was no new pay offer.

"There is nothing so far that would dissuade us from taking industrial action," he said.

However, in a statement he later said there was a promise of further discussions on changes to pay for this year.

Teaching unions covering England and Wales, including the NEU, the NAHT and the NASUWT, are currently balloting members on potential strike action.

In Scotland, teachers are striking for two days this week, with a week-long industrial action planned for next week.

The day of talks come as a ballot opens for junior doctors in England to decide on their own industrial action, which could begin in March.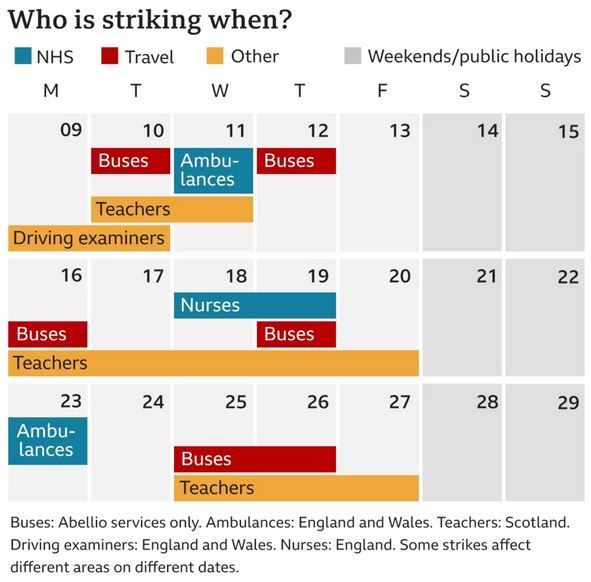 Watch: Unite negotiator on government talks being "missed opportunity"
Watch: PM asked about one-off payments for nurses