Key points:

Lower primary

• Learn how to sing and respectfully listen to the national anthem and observe flag-raising etiquette

• Know the people and institutions protecting Hong Kong (for instance, police, the People's Liberation Army and health care workers)

• Learn what the law is and the names of four main offences

Upper primary

• Learn about campus security as an analogy for national security

• Know the reasons behind the enactment of the law and the state institutions involved

• Learn about the importance of the central government agencies in Hong Kong

Lower secondary

• Learn the meaning of national security and the 13 areas involved as defined by the state

• Understand that rights and freedoms come with responsibilities

Upper secondary

• Learn about the opportunities and challenges faced by the nation on the world stage

• Understand what constitutes the four main offences

Education authorities have issued sweeping guidelines to bring Hong Kong's schools in line with the city's national security law, covering every aspect of schooling from management and teaching to pupils' behaviour even off campus, in a tough campaign to wipe out protests and instil patriotism.

According to the controversial new framework announced on Thursday, the youngest pupils at primary level will have to learn the basic concepts of national security and name the offences of subversion, secession, terrorism and collusion with foreign forces under it, while older pupils must learn that existing rights and freedoms are not unlimited.

The overhaul, coming after the anti-government protests of 2019 during which thousands of students were arrested for crimes ranging from taking part in illegal rallies to street violence, encourages schools to report offenders and call in police in situations deemed serious.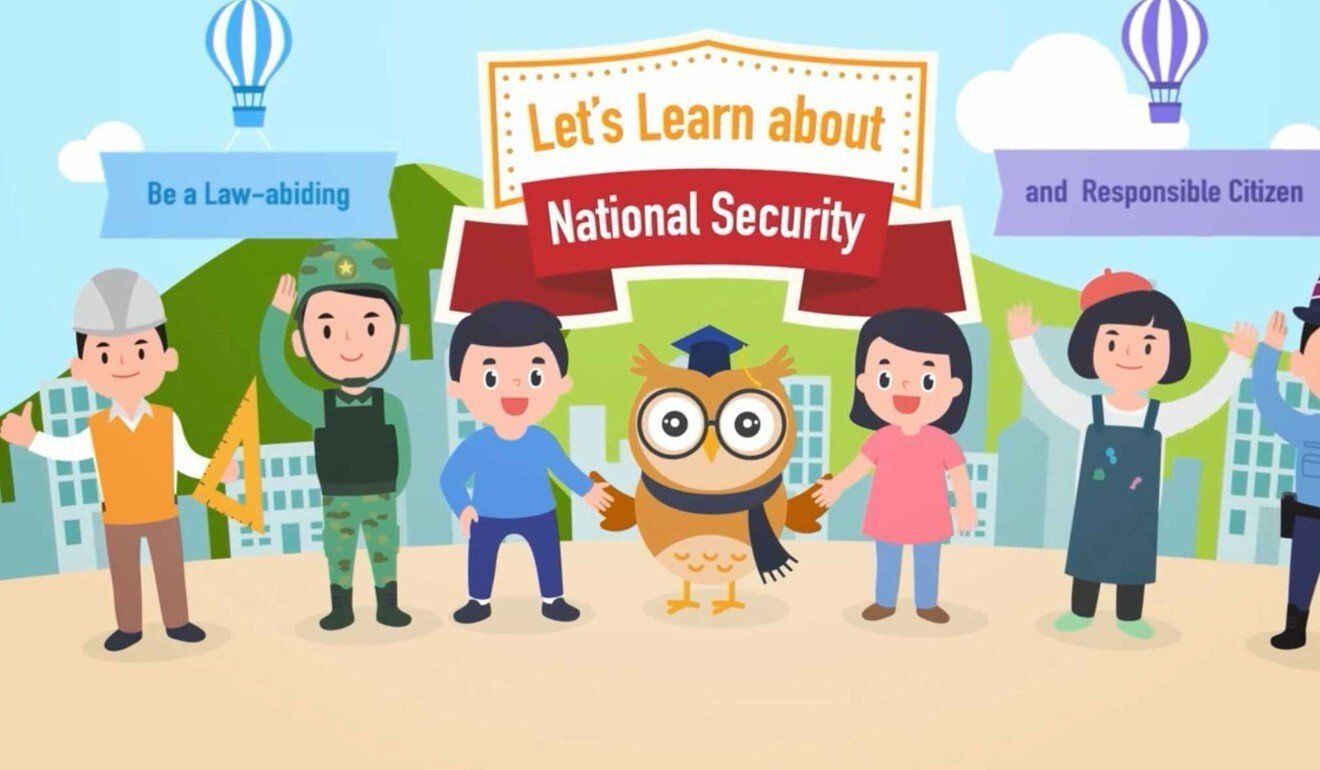 A screen grab from a teaching video introducing the different areas of the national security law to pupils, provided by the Education Bureau.

The guidelines, spelled out in seven documents covering all grades, specifically instruct schools to ban any display of words or material around campus that would constitute an endangerment to national security, prevent teachers from approaching national security as a debatable matter, and bar outsiders from conducting activities on campus involving political propaganda.

While public and government subsidised schools had to follow the programme, international and private schools must also refer to the guidelines and devise strategies to help students gain a correct understanding of national security, the Education Bureau's documents stated.

Critics reacted with alarm, seeing the prescriptive guidelines as "white terror" and invasive micromanagement of schooling, while proponents said they provided clearer guidance for educators.

A bureau spokesman stressed that the purpose of the law, imposed by Beijing last June, was to prevent, stop and punish acts that endangered national security, and schools had an important role to play in achieving the first goal.

"[Schools should] ensure all staff uphold professional ethics, abide by the law and the behavioural norms acceptable to society, as well as enhancing the prevention and stopping any unlawful teaching activities, while taking precautionary measures and handling any unlawful activities occurring on campus," he said.

The education sector came under the spotlight after many students were arrested during the anti-government protests. Teenagers had taken part in street demonstrations, joined citywide class strikes, formed human chains outside school gates, as well as chanted and displayed protest slogans on campuses. The pro-Beijing bloc has blamed educators for grooming disobedience.

While national security would not be an individual subject, it would be taught through different subjects such as general studies, Chinese history, civic education, geography, biology and music.

According to the teaching framework laid out in the guidelines, pupils as young as six years old are expected to learn about how the national security law was formed and its importance to the city, as well as identify the offences. Students in secondary school should know what acts constitute a breach of the law, the relationship between national security and terrorism, war and colonialism, and "the country's opportunities and challenges" in its participation in international affairs.

The guidelines suggested teachers hold activities such as puppet shows, board games and competitions to foster knowledge of the security law, while students could visit the office of Beijing's foreign affairs arm in Hong Kong, as well as mainland Chinese cities, to develop their national identity.

Kindergarten pupils could meanwhile learn about traditional festivals, music and the arts, and "develop an affection for the Chinese customs" through storytelling, role-playing and other activities, the documents said.

In situations where students were chanting slogans, singing political songs on campus or displaying separatist materials, the school could consult a police community relations officer if illegal acts were suspected. But in a "grave or emergency situation", the police force should be notified immediately and provided with details about the acts and suspects.

Teachers must not treat national security as a "controversial issue" in discussions and should stress "there is no room for debate or compromise".

"No activity should be exploited for political propaganda or making a political statement; and no hatred or violence should be promoted or expressed," one document read.

In cases when educators "committed any act of disrespecting the country", management was advised to give them advice or a warning. If they were suspected of breaking the national security law, police should be alerted. Schools should also form working groups or dedicate staff to formulating and overseeing the new education effort.

The 100,000-strong Professional Teachers Union's vice-president Tin Fong-chak, a veteran secondary school teacher, said the guidelines were stricter than expected and would affect teacher-student relations.

"The guidelines have gone into so much micro detail that the government is actually taking total control of the schools on how they should handle national security-related issues on campus," he said. Tin questioned whether the government trusted educators' ability to handle the subject.

Banning "outsiders" from entering the school for politically related discussions would create "white terror" on campuses, he warned.

"It is not unusual for schools to invite politicians, pan-democrats or activists from non-government organisations to give talks to students," he said. "Would that cross the red line now? Students would feel fear when talking about national security."

But Ho Hon-kuen, chairman of the pro-establishment concern group Education Convergence who is also a school manager at Elegantia College in Sheung Shui, welcomed the detailed guidelines as clear instructions for schools to follow.

Ho also backed starting national security education at the lower grade levels.

"Critics will of course like to say it is brainwashing," he said. "But national security is a very important concept. Young pupils should get to know some basics of it too."

Hins Tsang, a Form Six student and spokesman for the student group Hong Kong Ideologist, warned the new guidelines went against constitutional rights.

"Exerting political pressure on schools will not make students more patriotic," he said. "The Basic Law guarantees that we have freedom of speech, but now the guidelines say there is something we cannot debate in schools. How absurd it is!"

On banned books or posters, Hins added: "We would question if teachers or school headmasters have the ability to judge whether a word or a phrase in a book is anti-national security or not. Do we expect the schools to call police to judge for them?"