Survey finds ethnic minority youngsters who need special education struggle with Chinese language teaching; call for more classes in English.
More help is needed for Hong Kong schoolchildren and students from ethnic minority groups with special education needs after a survey funded by the city's equality watchdog showed that many faced language barriers, experts have said.

The team spoke to 15 families from South Asia with children aged from five to 21 who had special education needs, as well as seven professionals in the education field.

Kim Kwok, the principal investigator, explained most special educational training provided in public hospitals, subsidised schools and NGOs was carried out in Chinese, with few resources provided for English speakers.

"Less well-off ethnic minority students with special education needs could not enjoy the same education opportunities as other students and they became the 'forgotten kids' in the city," Kwok said.

Kwok added that although English might not be the first language for some of the South Asian families interviewed, the parents had said English was easier to understand than Cantonese.

She highlighted that the study found only one school and a handful of training centres in the private sector that offered lessons in English tailored to special education needs, but they charged fees that were too high for many parents to afford.

Kwok added a lack of assessment tools in English also posed problems, as exams for non-Chinese speakers with special education needs could be inaccurate.

The year-long research project was funded by the Equal Opportunities Commission and carried out by the Caritas Institute of Higher Education.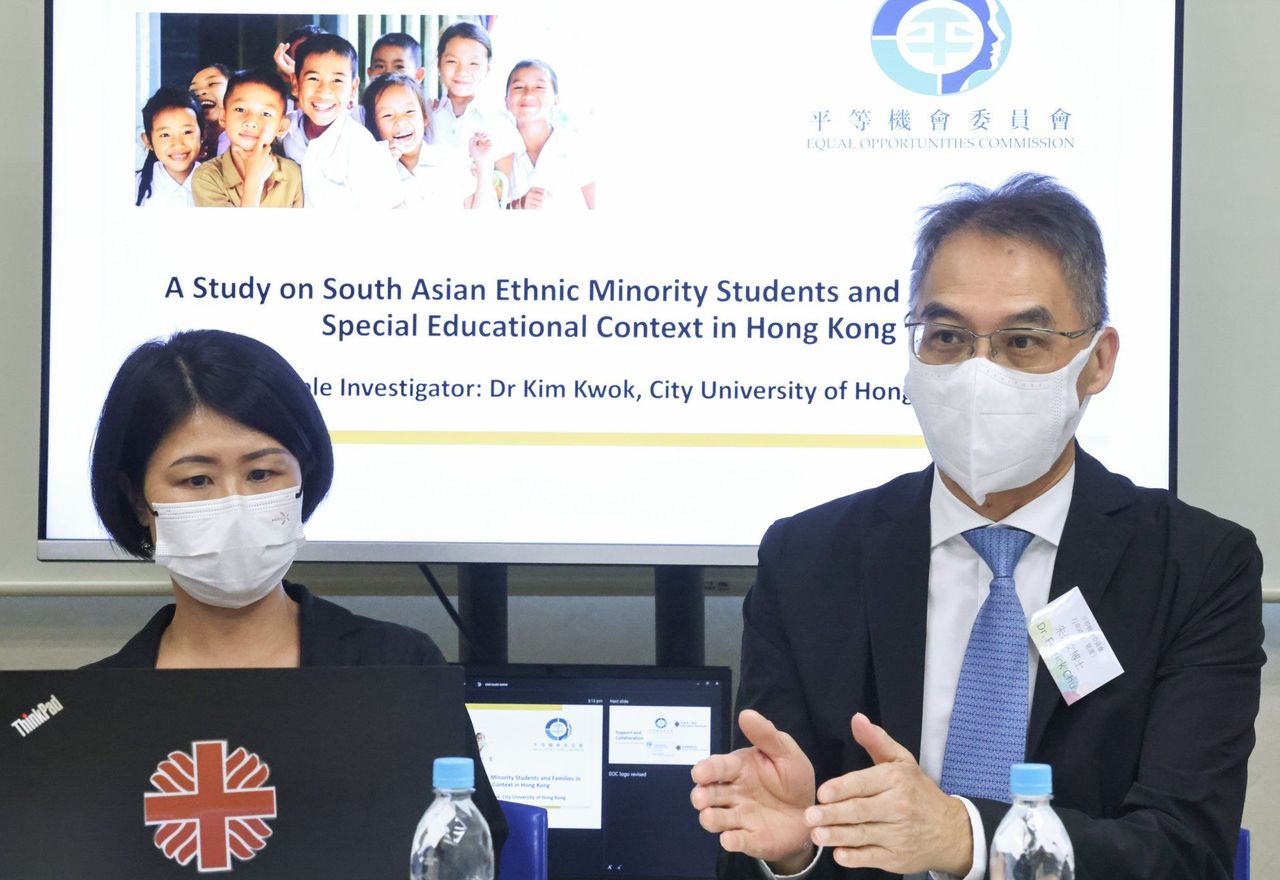 Dr Kim Kwok of City University and Ferrick Chu from the Equal Opportunities Commission launch a report on the problems faced in Hong Kong by South Asian youngsters with special educational needs.

The Education Bureau said there were about 800 non-Chinese speaking youngsters with special education studying in the city in 2021-22.

Ethnic minority groups make up 8.4 per cent of Hong Kong's population of 7.4 million.

Ferrick Chu Chung-man, the executive director of operations at the Equal Opportunities Commission, said that although English and Chinese were both official languages of Hong Kong, the Race Discrimination Ordinance did not extend to the medium of instruction in education.

"If Chinese has been selected as the language to teach in class, you cannot sue the school for not teaching in English," he said.

But Chu appealed to the Education Bureau and schools to make improvements despite the exemption.

"There should not be any language barriers in assessment and treatment of non-Chinese-speaking students with special education needs and their families," he said.

He added that the government could deploy extra resources to help parents more quickly identify signs their children had special needs and raise public knowledge on the rights of ethnic minority groups to have access to services and education.

The Education Bureau said it was committed to catering to pupils with special educational needs, including ones who did not speak Chinese.

It added that the grant for supporting non-Chinese speaking pupils with special education needs from 2019-20 had been allocated to public sector schools that admitted youngsters in the category.