Hong Kong's sole chief executive candidate John Lee Ka-chiu ended his 53-minute rally on Friday with his campaign team members raising their fists on stage, chanting slogans such as "support Lee Ka-chiu and "create a new chapter for Hong Kong together".

Despite the enthusiasm on display, some observers argued that Lee's messaging was not as impactful as previous candidates running for the top job and his rally lacked a human touch.

Wearing a black suit and a blue tie, the former policeman delivered his speech in a sombre mood at the Hong Kong Convention and Exhibition Centre in Wan Chai. He spent part of his time talking about how when he was young, his father saved up to buy a television for their family.

"At that time, even a radio was hard to get, so getting a TV was quite nice," he said. "My family invited some neighbours to come and watch TV together, and they were so happy. I realised that the relationship between neighbours can be so simple, direct and genuine. We can feel the warmth when we do one thing together."

Turning to his vision for the city, Lee said: "In the five years ahead of us, the Hong Kong that I will build with you will be a Hong Kong that is caring, inclusive, diverse and full of vibrancy and hope … If I am elected on May 8, I will do one thing with Hong Kong people, that is starting a new chapter for this city together."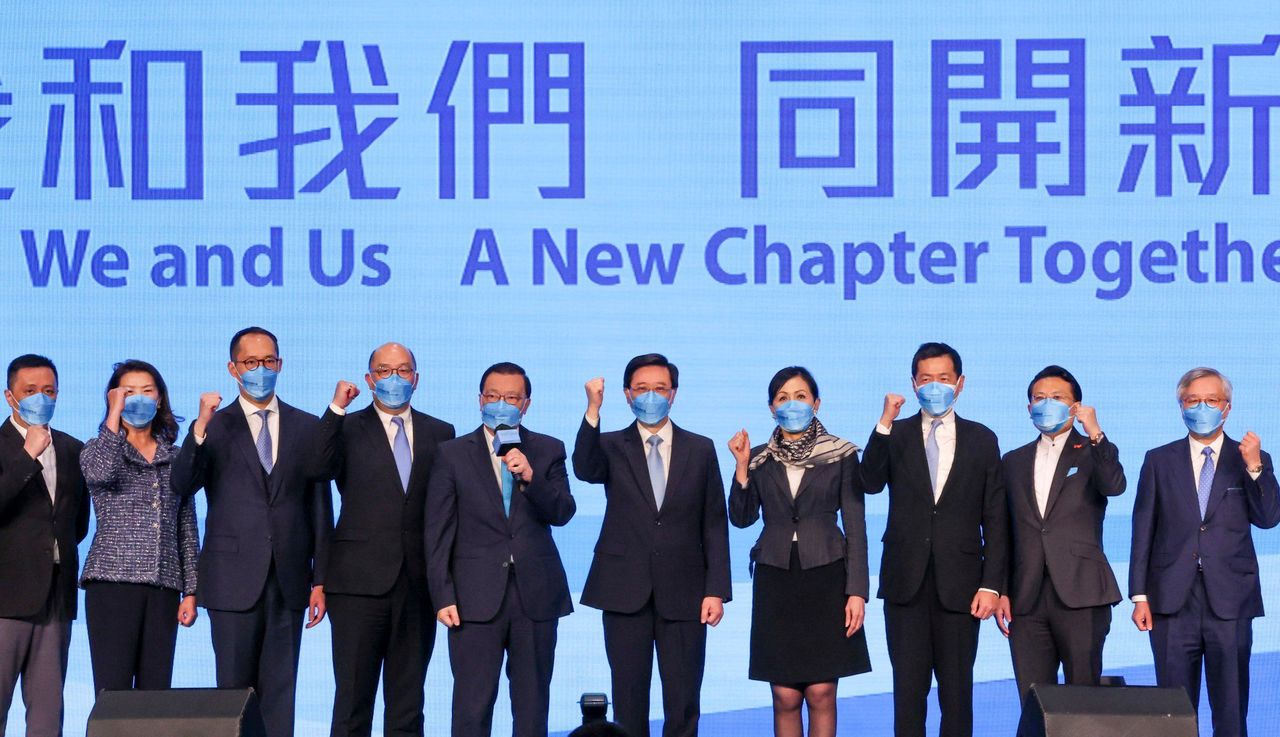 Hong Kong's sole chief executive candidate John Lee (fifth from right).

But neither Lee nor Chief Executive Carrie Lam Cheng Yuet-ngor could match former leader Leung Chun-ying in delivering emotion-laden anecdotes during the election rally.

Kicking off his campaign to be the city's third leader in November 2011, Leung said "a long and winding road" had brought him to this point.

Fighting back tears, he shared that his mother had her feet bound when she was a child.

"The image of my mother walking with bounded feet, carrying a load that weighed over 30 pounds to and from a rundown plastic flowers factory for over 20 minutes on each trip has left an indelible print in my mind."

Leung stressed that every step he had taken up to this point was "like the steps that my mother had taken. It symbolises my determination in pursuing my goals".

Observers said that Lee chose to play it safe by "doing the minimum" during the rally.

Comparing the former No 2 official's speech to Lam's, Chinese University political scientist Ivan Choy Chi-keung said Lee's presentation lacked a human touch.

Choy said Lee's decision to speak about his own experiences failed to create enough of an impact, noting that Lam had former lawmaker Lau Chin-shek share personal anecdotes about her during her maiden rally for the 2017 chief executive race.

Lau said at the time the outgoing leader had cared deeply about the unemployed as a student, while a graduate praised her for being approachable.

In a bid to signal Lam's connection with young people, some 15 youngsters stood on stage alongside her, with the candidate wearing a T-shirt and clapping along with them.

She did not confine herself behind a podium, but instead paced around the stage, while speaking through a tiny microphone attached to her face – a scene resembling how CEOs of tech companies give their presentations.

Choy argued that during the 2017 leadership election, Lam had to appeal to voters because she was losing to her rival John Tsang Chun-wah in public opinion polls and the atmosphere at the time encouraged engagement with youth following the 2014 Occupy protests.

"But in this day and age, the public opinion will not change much," he said.