LONDON rents have hit yet another record high, eating up 62 per cent of the average renting household's post-tax income, according to one estate agent. Meanwhile, another record: the number of private tenants facing eviction for falling behind on their rent.
So what can be done?

One option is to do nothing. We're familiar with this because it's been happening for years. But with private renting now the second largest tenure in England, accounting for a fifth of households, doing nothing is hardly the vote-neutral choice it once was.

Mayor Sadiq Khan yesterday joined forces with renters' charities to demand Government action to protect the capital's 2.6 million private renters from spiralling costs and the spectre of homelessness.

He also called for an emergency rent freeze, a policy unsurprisingly popular among renters, not so much among landlords. Buy-to-let mortgages require rental income to cover at least 125 per cent of mortgage payments, meaning landlords with mortgages must charge higher rents as interest rates rise.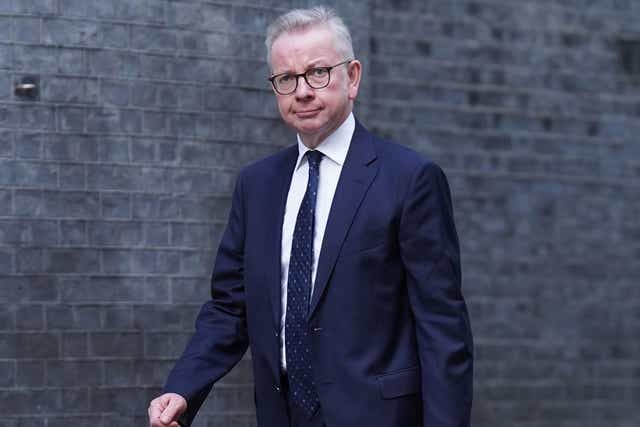 Housing minister Michael Gove
Still, as their profit margins decline, landlords do often sell up, decreasing the supply of rental homes without denting demand. Evidence from other cities suggests that rent controls can make it harder to find a home and may push up rents in other areas. Meanwhile, landlord lobby groups invoke the notorious Fifties slumlord Peter Rachman if landlords can't raise rents to cover maintenance costs. On the other hand, renters anecdotally already find it hard to get repairs and also find themselves summarily evicted if they even ask, such is the precarity of life under the two months' notice term spelt out under Section 21.
Rent controls, a possible solution, cannot happen in a vacuum. First, we need the proposed legislation banning no-fault evictions to be enacted. Then we also need investment in new social housing to ease competition for private rentals. The Government already pumps money into housing — Rishi Sunak's stamp duty holiday cost the Treasury £6.4bn, while new-build buyers were lent £20bn via Help to Buy.
So far all the tinkering with the housing sector — cutting tax relief and upping capital gains — has been about making it harder to be a buy-to-let landlord. The help this was supposed to provide to renters was that landlords would then sell up and renters could buy those properties. In fact house prices have continued to rise and millions remain locked out of their local housing markets.
Nothing, though, has been done for at least 30 years to help renters directly. Now is the time for the Government to make concrete interventions. A rent cap might be a blunt instrument but it's a start.