Six defendants have been acquitted of conspiracy to riot and gather illegally during the 2019 anti-government protests in Hong Kong, after a judge ruled the prosecution suffered from "hindsight bias" and a lack of evidence.

The District Court found on Friday that prosecutors had made a series of flawed assumptions over the group's intentions after police raided a Wan Chai flat on National Day that year and discovered paraphernalia commonly used at protests.

The six were on trial and jointly charged with conspiracy to take part in a riot, as well as an alternative count of conspiracy to take part in an unlawful assembly, between September 28 and October 1 in 2019. None among the group had criminal records and all denied the charges.

District Judge Sham Siu-man said while the prosecution believed the flat was used as a base to store protest equipment and for demonstrators to rest, there was not enough evidence to determine what activities the accused were engaged in before their arrest.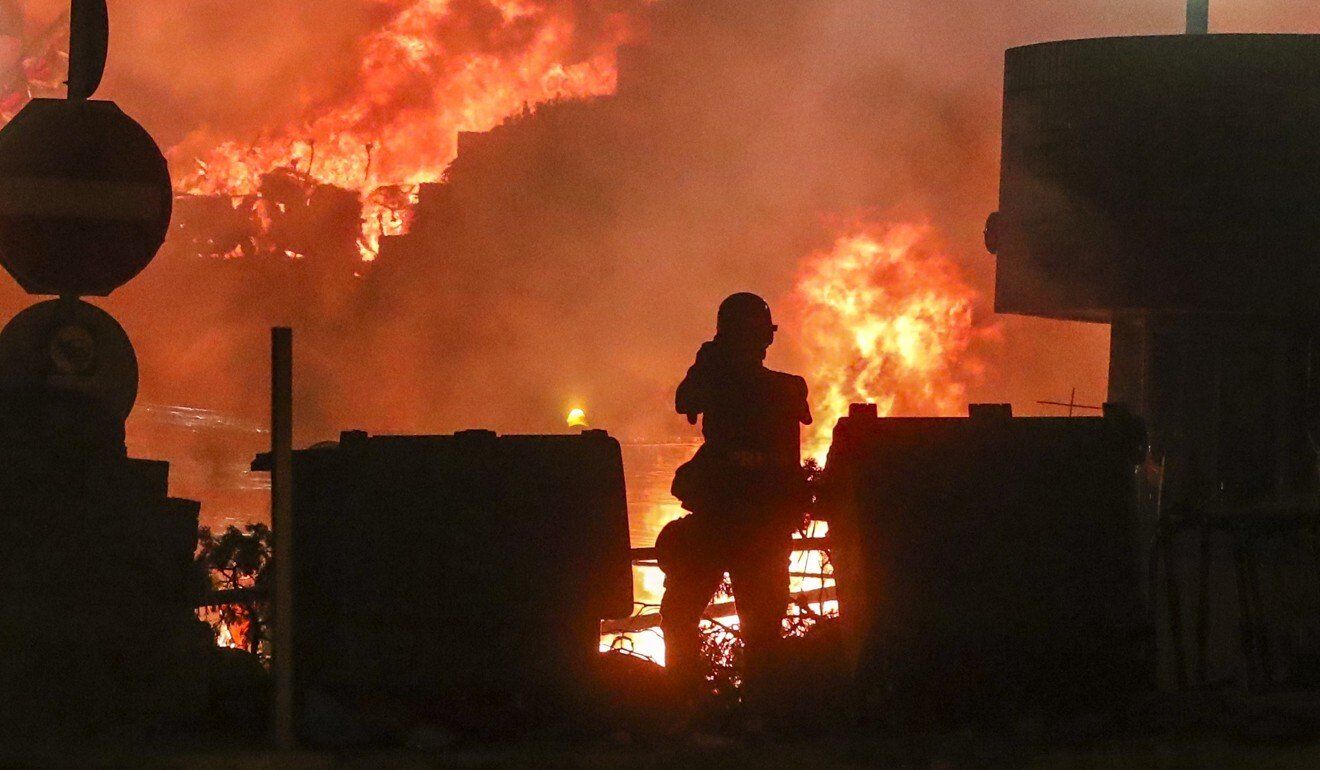 Clashes break out as Hong Kong riot police arrest protesters amid exchanges of tear gas and petrol bombs in November 2019.

Officers had forced their way into the flat on the ninth floor of Yan Wo Yuet Building on Hennessy Road, Wan Chai, at about 4.50am on October 1, 2019, finding three men and two women asleep inside.

In the flat, police found walkie-talkies, maps, umbrellas and raw materials for making petrol bombs, including flammable liquid, strips of cloth and empty bottles.

In the backpacks of the five occupants at the time, they also discovered gas masks, goggles, face coverings, gloves, face masks and black clothing, all items commonly seen during the protests.

Police arrested Cheung Ho-fai, Wu Hoi-fu, Chan Tsz-pan, So Mei-lee and Li Ying-lee at the flat. Shum Cheuk-kan was later detained on suspicion of renting the flat.

Delivering not-guilty verdicts for the six, Judge Sham referred to the prosecution's hindsight bias, a tendency for people to perceive past events as more predictable than they actually were.

"The prosecutor only assumed the defendants planned to take part in rioting based on the environment evidence, which was indirect evidence," he said.

"Although there were raw materials found, were they really used to make petrol bombs?" he asked, noting no petrol bombs were found at the site.

Sham also questioned evidence surrounding the suggestion that Shum was the tenant.

He said the prosecutor connected the defendant to the case based only on the pronunciation of a character in his Chinese name, Cheuk, and surveillance footage showing he appeared on the floor of the flat on three occasions on September 28, 2019, with Sham pointing out there were three homes on that level.

Friday's verdict brings to 24 the number of defendants cleared of riot-related offences connected to the 2019 social unrest.

Only five riot suspects have been convicted to date, while 11 people pleaded guilty without going to trial.

The Hong Kong protests were triggered in June 2019 by the since-withdrawn extradition bill, but later morphed into a broader anti-government movement.