For most of the conversation they're on an equal footing, whether reminiscing about their childhood or duelling over the vocals on Superstition. But then Sir Tom brings up Wonder's writing.

"It's great you can express yourself but I'm not a songwriter," he confesses. "I can't do that. I have to sing songs that are already there."

The moment is laden with pathos. Sir Tom is both in awe of Wonder's work, and humbled by his own inability.

But then Wonder retorts that Sir Tom is a "songwriter's dream" - someone who can inhabit a lyric, regardless of whether they wrote it.

It's why his recording of The Green, Green Grass of Home remains better known than Porter Wagoner's original; and why his version of She's A Lady eclipsed that of its writer, Paul Anka.

Twenty-eight years later, and the Welsh baritone acknowledges the truth of Wonder's reply. It's something he's leant into on his last three albums - which have found him singing gospel, country and folk standards, while shedding the ostentatious showboating of his 60s output.

On his latest record, Surrounded By Time, Sir Tom is once again re-interpreting some old favourites - from weather-worn ballads like The Windmills Of Your Mind, which won the Oscar for Best Song in 1969; to more obscure choices, like Terry Callier's nine-minute tale of rebirth and redemption, Lazarus Man.

It's a particularly personal album - the first one he's recorded in Wales, and the first since the death of his beloved wife Linda. The songs he's chosen are suitably reflective and intimate, with producer Ethan Johns stretching the icon's vocals over brooding electronics, and swirling psychedelic rock.

But whatever you do, don't call it a covers project.

"The word cover is widely used and it's not true, because it's my version of other people's songs," says the 80-year-old.

"You couldn't say to Sir Laurence Olivier that he's 'covering' Macbeth. It's his take on it. And if you hear somebody else do Macbeth, you know it's not going to be the same. That's the way I feel about songs."

Surrounded By Time opens with the slow and mournful I Won't Crumble With You If You Fall. Originally written by Bernice Johnson Reagon for the black civil rights movement, Jones turns it into a lament for his late wife, who died of lung cancer in 2016.

"I was there in the hospital room with her for the last 10 days," he recalls. "She was dying and she knew it. I said, 'Linda, I don't know what I'm going to do with myself and she said, 'You've got to carry on.'

"More or less, what she meant was, 'Don't crumble with me,' and that's what the song says to me."

The couple had been married since they were both 16 and, although Jones had several affairs, their marriage remained strong for six decades.

"She holds the connection to who I am," he wrote in his 2015 autobiography.

"That's exactly who she was," he says today. "Your head gets a bit large when you start to get hit records. You think, 'Oh yeah, I'm on my way now.' But she would pull me up. She'd say, 'You don't really think you're Tom Jones, do you?'"

'Like a tiger'

Linda never let him forget Thomas John Woodward from Pontypridd, south Wales, the teenager who worked in a glove factory to support their young family in the 1950s.

He'd always dreamed of being a singer, but his sonorous voice was almost too powerful (he was almost dropped from the school choir for drowning out his classmates) until rock 'n' roll came along.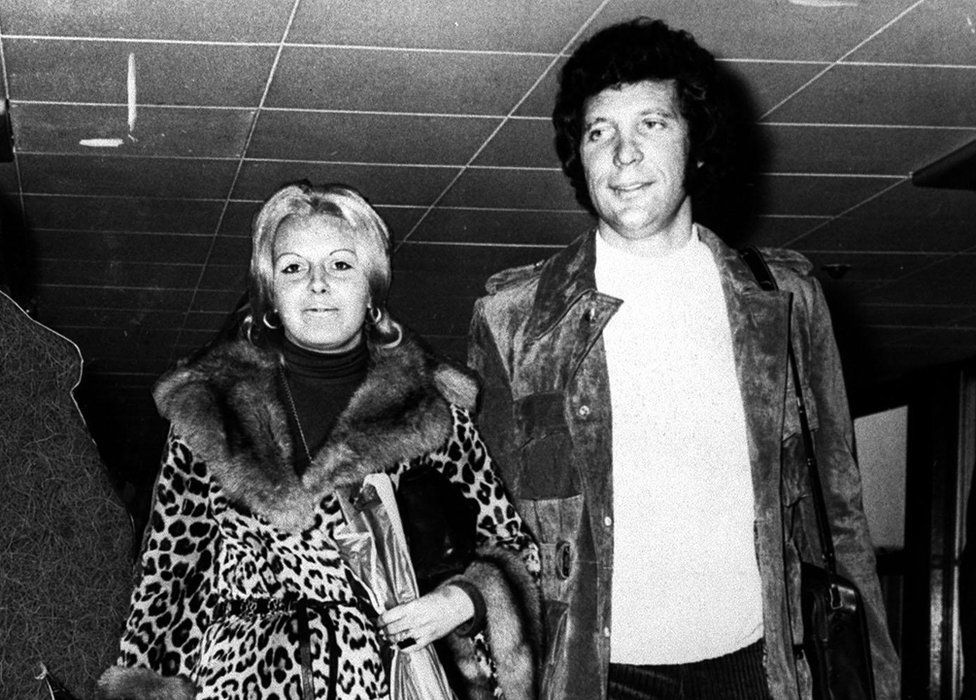 By 1963, he had changed his name to Tommy Scott and become the frontman for Welsh beat group The Senators, often downing 10 or 12 pints before hitting the stage for their raucous live shows.

A year later, he was discovered by former Viscounts singer Gordon Mills, who changed the youngster's name again to Tom Jones and negotiated a record deal with Decca.

His first single, Chills And Fever, failed to chart when it was released in late 1964. But a few months later, Sir Tom struck gold with It's Not Unusual, a swinging, big-band number delivered with all the subtlety and nuance of a hurricane.

It topped the charts in the UK, entered the US top 10 and made Sir Tom a household name. Not bad, when you consider he'd originally recorded the track as a demo for Sandie Shaw.

More hits followed - Delilah, Help Yourself, What's New Pussycat - and Sir Tom found himself swept up in the Swinging 60s scene. At one point, Eric Clapton even offered to be his guitarist.

Even so, he was never considered cool by the music press.

"Because It's Not Unusual had brass on it, and I did What's New Pussycat after that... the public thinks, 'Well that's what Tom Jones is,'" he says.

"And then I went to Las Vegas for a month straight, two shows a night. Elvis was there, Frank Sinatra was there, so it was a great place to be. But then you get labelled as a Vegas act. I'm not a Vegas act."

To his great discomfort, his ability to send female fans into a delirium detracted even more from his music.

According to legend, it was a New Yorker who first threw her knickers on stage, at the Copacabana in 1968. After that, nearly every show ended with an avalanche of underwear.

"The only problem I found with it was that your image sometimes overshadows your talent," he says. "Some reviews would say, 'The band struck up, Tom Jones came out, took off his shirt, and all the women screamed.' But not a bloody mention about what was I singing."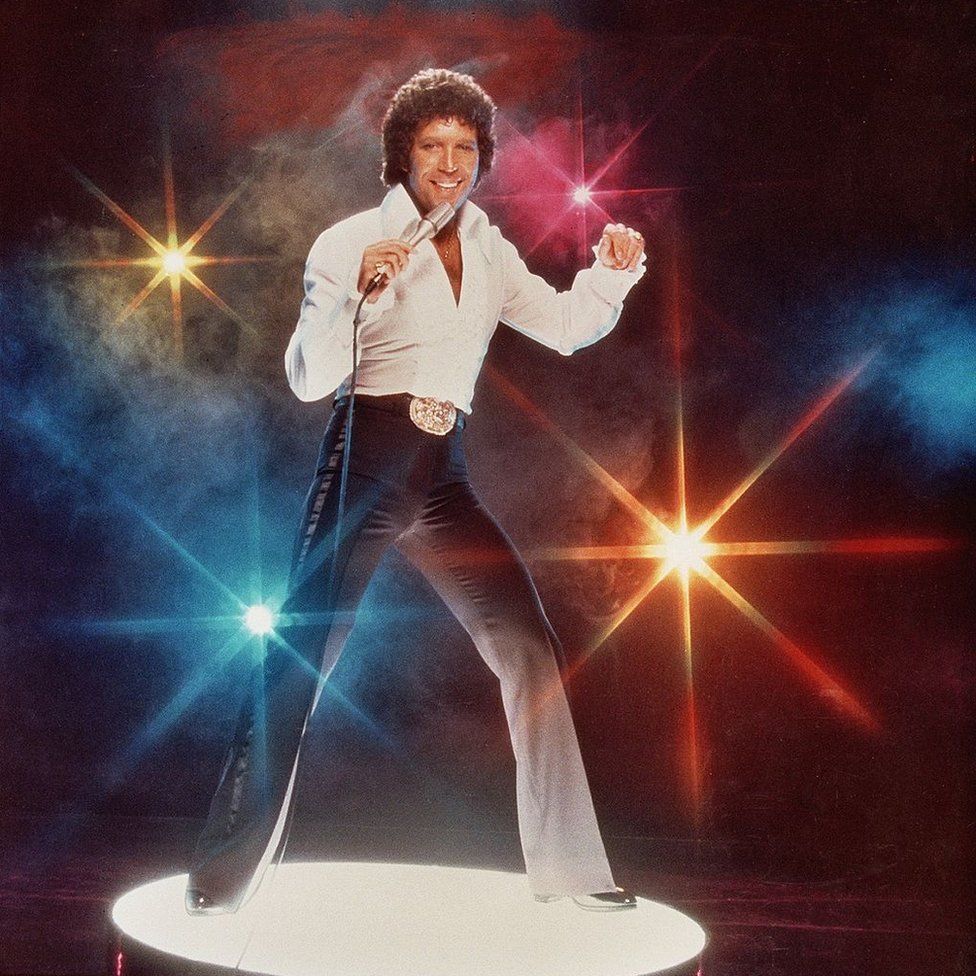 But his peers recognised his talent. "It's like you opened your mouth and a tiger leapt out," actor Dustin Hoffman once proclaimed.

One night in the late 1960s, Sir Paul McCartney even offered to write him a new song. Sir Tom leapt at the chance and, a few days later, he received a demo for The Long And Winding Road.

"Paul said, 'If you're going to do it, it's got to be your next single,'" he recalls. "But I already had a record coming out that Friday."

His manager, Gordon Mills, and producer, Peter Sullivan, laid out the options, telling the star: "You've already got a record, the publicity is all done, Decca is chomping at the bit for you to get it out before Christmas... but if you really want to, we'll stop the record. Just bear in mind that it'll take at least a month in order to set up a recording session, and all that business."

"So they put it all on me," he exclaims. "And I said, 'Well, what do you think? Give me some feedback here.' And Peter said, 'Well, Decca's really on our backs.' So we didn't [do it]. We put a song out called Without Love, which was a big hit. But I missed that bloody song, because the timing wasn't right, you know?

"I told Paul that. I said: 'I'm sorry, but you know I love the song. You were quite right to send me that one, it's fantastic.' And then I heard Ray Charles do it a bit later and I thought, 'Damn, that's exactly what I would have done with it.' But it was too late.

"And that's gone on with Paul ever since. He wrote me another song when I was doing the Reload album [in 1999] and I said, 'Well, look, this album I'm doing now is all duets.' And he didn't fancy singing on it - so again it was the timing."

Fighting the US censors

But if Sir Tom never got to duet with a Beatle, he still got to sing with dozens of his other idols. His 1960s TV show, This Is Tom Jones, saw him play host to the likes of Cher, Janis Joplin, Dusty Springfield, Ray Charles, Joe Cocker and Liza Minelli.

But the star ran into problems with the US TV network ABC, who bristled at his support of black artists - whether he was covering protest anthems like The Temptations' Ball Of Confusion, or inviting Aretha Franklin and Little Richard to appear as guests.

"They [ABC] didn't want black people on there for a start-off," he recalls. "And when I would do a song with a black female, the censor would say, 'Don't get too close to her, you can't touch her.'

"Well, I would do it on purpose. I'd say, '[Expletive] you, I'm gonna do it anyway.'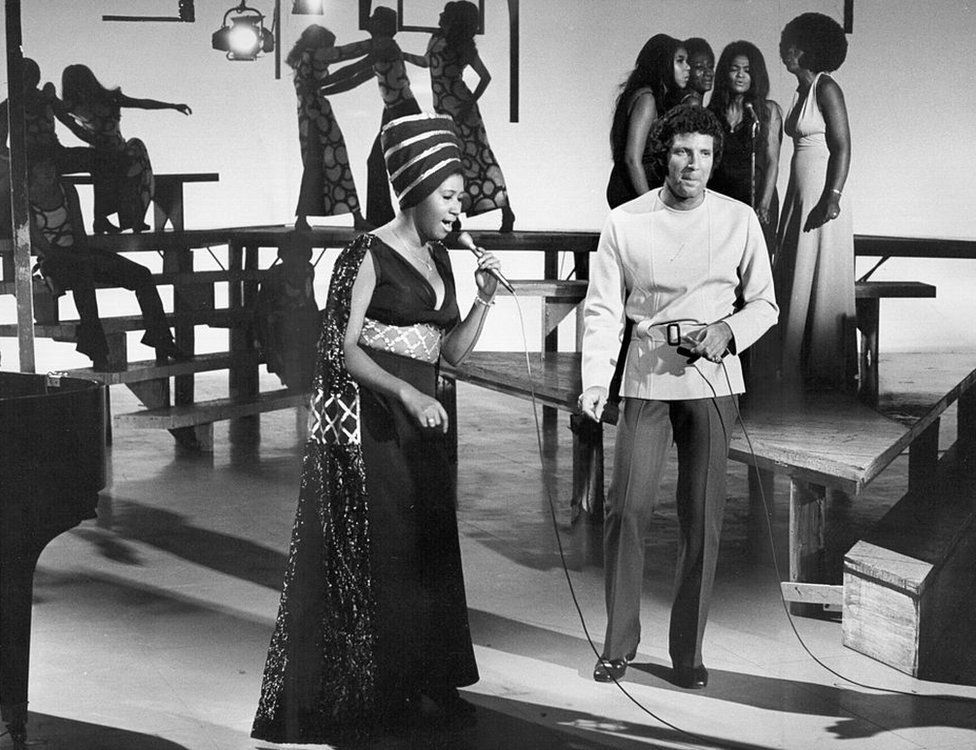 "I remember once I had Leslie Uggams on, she was the star of a TV show called Roots, and we did Somewhere from West Side Story.

"The censor said, 'You're looking at one another too much.' And I said, 'This is about one another. The song goes, there's a place for us. I'm not saying it to the audience. I'm saying it to the girl, and she's saying it to me.'

"So I was up against all that. I had to push it, to get certain things done. And when those episodes had big ratings, they realised that I was right."

First-take vocals

These days, Sir Tom is still a TV fixture in his guise as a mentor on The Voice. There, he plays the elder statesman of pop, revered even by the other judges. And, as he starts his ninth decade, he's still charting new ground.

His last few albums took Johnny Cash's American Recordings series as their template, mining the folk-blues canon and illuminating it with grizzled wisdom. But the musical choices on Surrounded By Time are more eclectic, and the star has discovered new shades to his voice.

On Talking Reality Television Blues, he takes on the role of narrator, tracing the history of the small screen from the moon landings to the coronation of Donald Trump, over a shuffling, Radiohead guitar riff.

"An old man with a comb-over came along and sold us the moon / And we stayed tuned in, now here we are / Reality killed by a reality star."

"I was there from the beginning of television, you see," says Sir Tom. "In 1952, I had tuberculosis and I was quarantined in my house for two years so my mother and father bought me a TV set, and we watched the coronation.

"And then I witnessed the Moon landing when I was in the States, and then Donald Trump, I used to sing at his hotels in Atlantic City. I thought he was just this playboy businessman.

"So I saw these things unfold - and that's why this song appealed to me."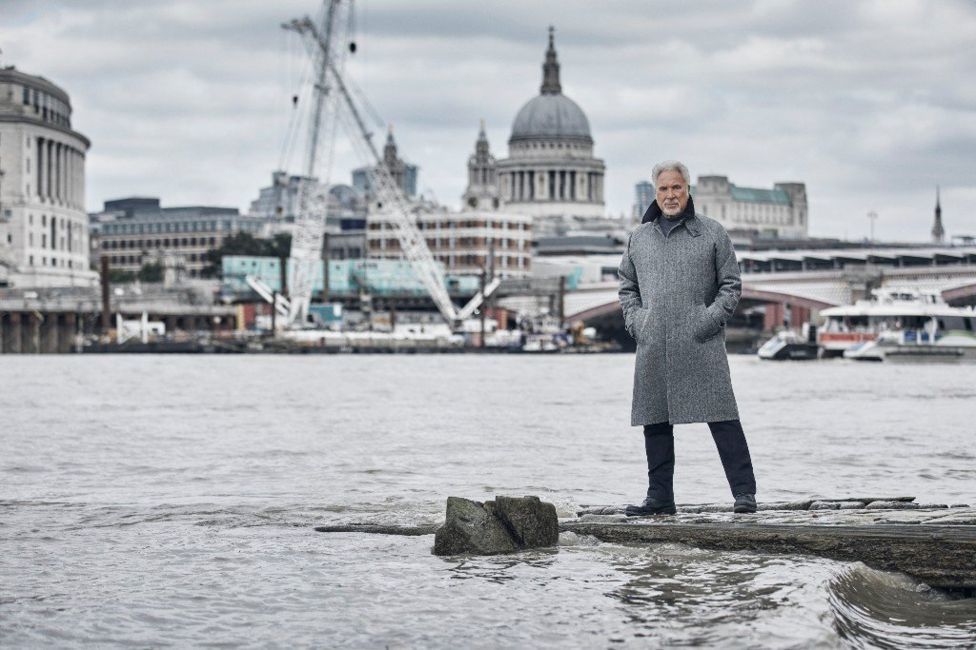 Throughout the record, Sir Tom's tone and control are impeccable. He says many of the tracks, including the seven-minute highlight This Is The Sea, were recorded in a single take.

"It was more or less a rehearsal," he says. "I was in the studio with the rhythm section - I hadn't even got into the vocal booth yet for separation - and we hit it right away."

So how does he keep those vocals in such good shape?

"It's luck. It's a God-given gift," he says, before conceding that cutting back his alcohol intake might have helped. Oh, and he works out every day, too.

"I've got an exercise bike in my bedroom. And I've got this inversion table, where I hang upside down for about five minutes every day. It gets the blood rushing to your head, which is great, and it elongates your spine as well - so if you've got any problems with your back, I highly recommend it.

"So I might be old myself but my voice is still young."