Jason Lowe's public display of affection was spray-painted on a bridge at Park Hill, Sheffield, in 2001.

His bid to woo girlfriend Clare Middleton formed part of the city skyline, inspired a track by singer Yungblud and appeared on a t-shirt worn by Arctic Monkeys frontman Alex Turner.

Urban Splash said the graffiti was removed for "essential repair work".

Sam Feeley, who lives in one of the renovated flats, said he noticed the writing - I Love You Will U Marry Me - had been removed on Sunday.

Describing it as "a piece of Sheffield history", he said: "It means a lot to the people of the city, so I was quite surprised to see it had gone."

"I would class it as a piece of artwork and famous artwork fades over the years.

"[Leonardo] da Vinci paintings fade and people touch them up and restore them, I wouldn't see why this isn't any different really."

'A quirky act of romance'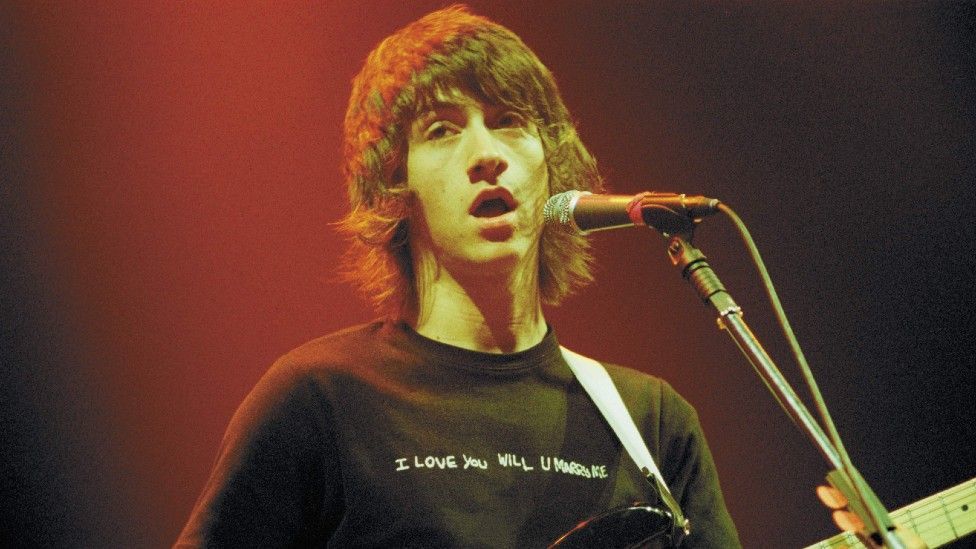 Alex Turner of the Arctic Monkeys sported a t-shirt bearing an image of the graffiti during gigs

Although Mr Lowe and his girlfriend never married, his romantic gesture has formed part of the city's skyline since, with many considering it an "iconic" piece of history.

In a BBC radio documentary, Mr Lowe explained how he braved his fear of heights to make a public show of proposing to Ms Middleton, who he had had been dating for a year.

He said: "You used to be able to see it from the Odeon cinema.

"I took her there, she thought she was going to see a film and I said: 'I've got something to show you'. I told her to look up and she read it.

"She said 'yeah'. She thought I was mad."

The pair split up three months later and Ms Middleton died in 2007 from cancer.

When Urban Splash started renovation of the flats in 2008, they decided to immortalise Mr Lowe's words.

Neon lights were placed over the writing and it formed part of the developer's marketing campaign.

Yungblud, real name Dominic Harrison, from Doncaster, described the graffiti as "a quirky act of romance" in his song I Love You, Will You Marry Me.

Alex Turner, lead singer of Sheffield band Arctic Monkeys, has also worn the slogan on a T-shirt during gigs.

Surriya Falconer, speaking on behalf of the developers, said there were "some structural issues" which meant the words had to be removed so a coating could be put on the bridge.

She said Mr Lowe would be involved in deciding upon a replacement and the meaning would "continue to be celebrated".

"I understand people may feel a sense of loss but we're talking about new futures and celebrating a piece of history. It's still going to be there but it needs to be safe," she said.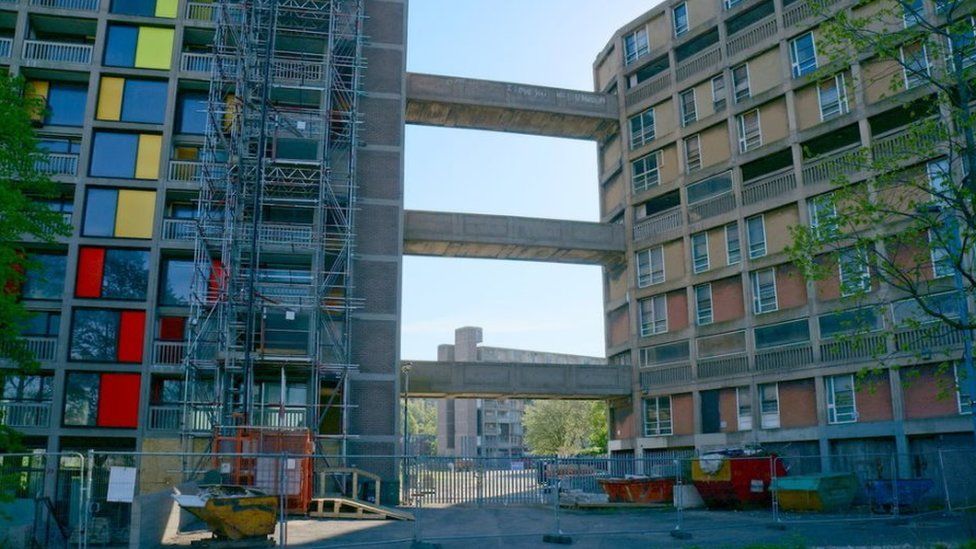 The renovation of the flats was one of the six short-listed projects for the 2013 RIBA Stirling Prize