Senior MPs including Prime Minister Liz Truss have sworn a new oath of allegiance to King Charles III in a special session of Parliament.
Commons Speaker Sir Lindsay Hoyle opened proceedings by taking the oath, followed by Sir Peter Bottomley, the longest-serving MP.

Sir Keir Starmer and former PM Theresa May were also pledging allegiance.

In a rare Saturday sitting, MPs and peers gathered for a second day of tributes to the late Queen.

MPs are sworn in after each general election so they can take their seat, speak in debates, vote and receive a salary.

The wording of the oath means MPs have already pledged their allegiance to the heirs and successors of the Queen, meaning they do not have to do it again at this point.

Sir Lindsay told MPs: "There will be further opportunities for all honourable members to take the oath or make the affirmation following her late majesty's funeral.

"There is no procedural requirement to do so."

Ms Truss was foremost among those taking the pledge, speaking the words: "I swear by almighty God, that I will be faithful and bear true allegiance to His Majesty King Charles, his heirs and successors, according to law, so help me God."

Following the taking of oaths, MPs took it in turns to pay their respects to Queen Elizabeth II and recount their memories of the late monarch.

Many MPs used their speeches to tell amusing and at times emotional anecdotes about the Queen's wisdom, sense of humour and ability to put people at their ease.

In all, 321 MPs spoke in the two-day session.

Commons Leader Penny Mordaunt made the final speech of the special two-day session, closing proceedings by praising the Queen's "devotion to duty" and public service.

"Our great Queen has entrusted us all with a living legacy of triumph and over tribulation, of cheerfulness over challenge, of dedication and determination," Ms Mordaunt said.

"She has left us, her values remain with us. Her example compels us to continued fidelity to our king and our country. God save the King."

Wrapping up, Sir Lindsay said a humble address - which is a message to the monarch - paying tribute to the King Charles would be presented to His Majesty.

With that Parliament was adjourned until after 21 September, during a period of national mourning.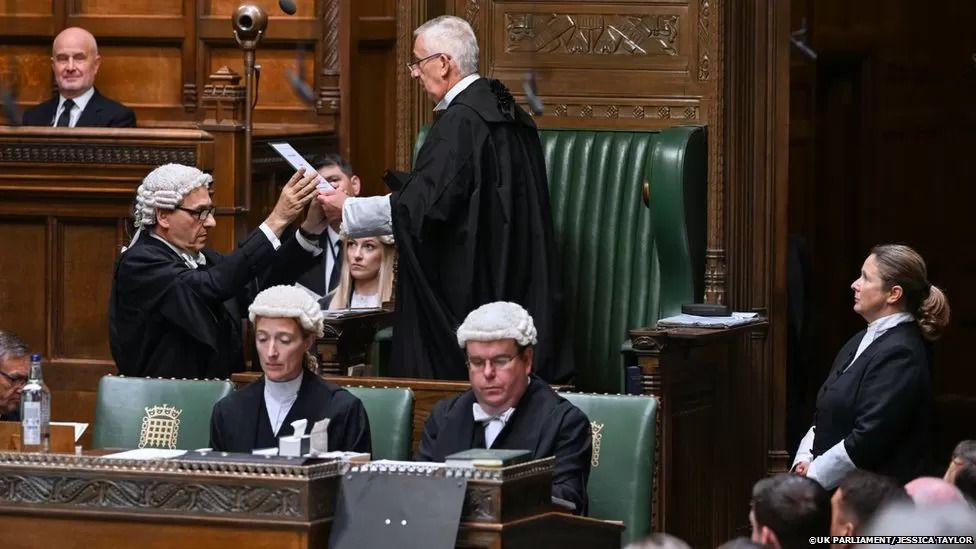 Speaker Sir Lindsay Hoyle was the first MP to take the oath

Ms Truss, who was invited to form a government by the late Queen on Tuesday, had her initial audience with King Charles on Friday.

The prime minister curtsied as she was ushered in by a royal aide for the first of what will be their regular weekly encounters.

Earlier on Saturday, senior ministers attended the Accession Council at St James's Palace, where Charles was formally proclaimed sovereign.

The king has also received the prime minister, members of the cabinet and opposition leaders at Buckingham Palace for an audience with the monarch.

A period of national mourning will last until the day of the Queen's state funeral on 19 September.

Ahead of the funeral, the new King will visit Scotland, Northern Ireland and Wales, and Ms Truss will accompany him.

Liz Truss introduced members of the cabinet to King Charles at an audience held in Buckingham Palace

A spokesman said: "The prime minister believes it is important to be present for what will be a significant moment of national mourning around the United Kingdom."