Boris Johnson made a surprise announcement on the proposals on Tuesday amid sleaze allegations about Conservative MPs.

Labour has been calling for a ban for sometime and tried to get MPs to back its plan which it said was tougher.

But the government ordered its MPs to vote against the party's motion, defeating it by 51 votes.

Under the government's plan any outside role, paid or unpaid, should be "within reasonable limits" and not stop MPs fully serving their constituents.

This is yet to be defined, but International Trade Secretary Anne-Marie Trevelyan has suggested 15 hours a week as a reasonable limit.

In a statement after the vote, the government said MPs had backed updating the code of conduct for MPs.

"This means that MPs will be banned from acting as paid political consultants or lobbyists and that MPs are always prioritising their constituents," it said.

"This will strengthen our parliamentary system and we will work on a cross-party basis to achieve this."

But Labour leader Sir Keir Starmer said the government had provided "warm words" instead of a "plan of action".

His party wanted the standards committee to draw up new rules by 31 January to implement the ban on MPs working as political consultants.

And if the government did not then offer MPs a vote on these rules within 15 days, backbench MPs would gain the power to force one.

Under the government's plan, the committee would come up with recommendations by the same date, but steps for implementing the recommendations are not set out.

Labour ordered its MPs not to take part in the vote on the government's amendment, meaning it was passed by 297 to zero.

'Insight and expertise'

The vote comes after Prime Minister Boris Johnson again admitted it had been a "mistake" to try and overhaul the standards system at the same time as potentially saving Owen Paterson from punishment for breaking the existing rules on second jobs.

But the PM stopped short of apologising for the debacle, during a grilling by select committee chairs at the Commons Liaison Committee.

Earlier, he was also involved in furious exchanges with Sir Keir Starmer at Prime Minister's Questions, with the Labour leader branding him a "coward" over his stance on second jobs.

In the debate on second job rules, called by Labour, Commons leader Jacob Rees-Mogg said it was important for MPs to "maintain connections to the world beyond so that we may draw on the insight and expertise that this experience offers".

But he added that MPs "should not be for sale", saying: "We are elected to Parliament on a promise to work for the greater good, not ourselves."

Labour MPs dismissed the argument that MPs need to be allowed to do extra work for real world experience, arguing that being an MP is a full time job.

The party's shadow Commons leader, Thangam Debbonaire, said: "There should be no MP taking money to be a political strategist, an assistant or some sort of corporate adviser. That should not happen."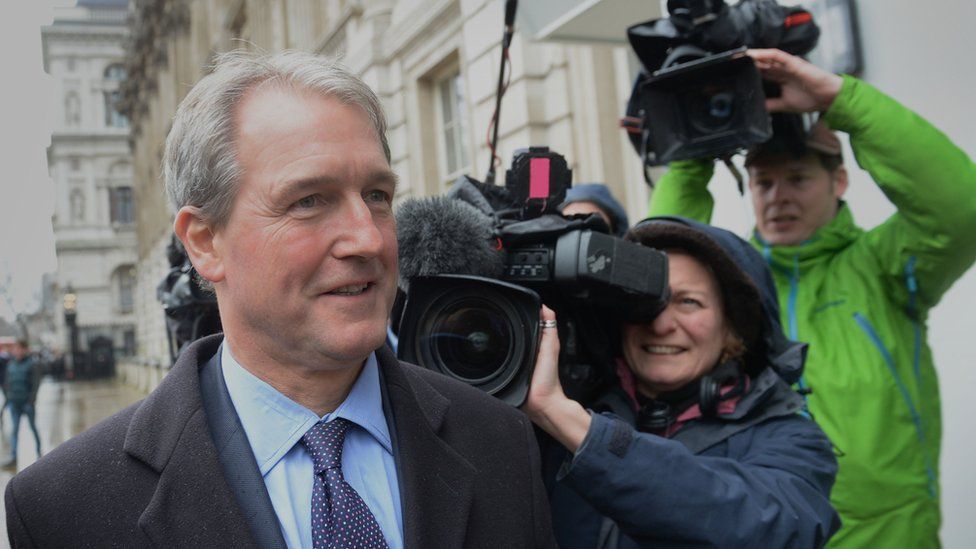 Owen Paterson, who has resigned as an MP, denies breaking Commons lobbying rules

Arguments over second jobs held by MPs outside of Westminster have intensified in recent weeks in the wake of the Mr Paterson's case.

The Conservative MP was found to have broken Commons rules by using his position to lobby for two companies paying him.

The government tried to block his suspension from Parliament and get the whole disciplinary process for MPs reviewed.

But it abandoned the plan a day later, after an outcry from opposition MPs and some Tories. Mr Paterson then resigned as an MP.

Appearing in front of the Liaison Committee, Mr Johnson said he believed the MP had broken the rules, saying it was "extraordinary" that some of his colleagues "behave in these ways".

What are the current rules about second jobs?

There's nothing to stop MPs - other than ministers - doing extra work on top of the job they were elected to do.

The rules do not prohibit them earning money - in addition to their £81,932 salary - or gaining greater experience of the world beyond Westminster.

So, MPs can continue to work in professions like the law or medicine. Or they can work as consultants for companies, offering advice on strategy.

But they must not lobby - try to alter government policy - for firms, individuals or organisations who pay them, or use Commons facilities to do work on behalf of employers or clients.

MPs have to register their outside earnings and if they take part in a debate or other parliamentary activities in which their employer/client is involved, they have to declare an interest.

Any breaches of Parliament's code of conduct can result in punishment, including a suspension from the Commons.