The appointment of Leung Ka-wing once raised hopes his leadership at Hong Kong's public broadcaster would bring professionalism instead of bureaucracy when he started more than five years ago.

But the government and the pro-establishment bloc had grown increasingly impatient with his handling of some productions. These negative sentiments that only worsened after anti-government protests broke out in 2019.

Leung, the director of broadcasting, will step down by "mutual consent" in days, five months earlier than scheduled, with the official announcement coinciding with the release of a highly critical government report into its editorial processes.

The 68-year-old will be replaced by Deputy Secretary for Home Affairs Patrick Li Pak-chuen on March 1.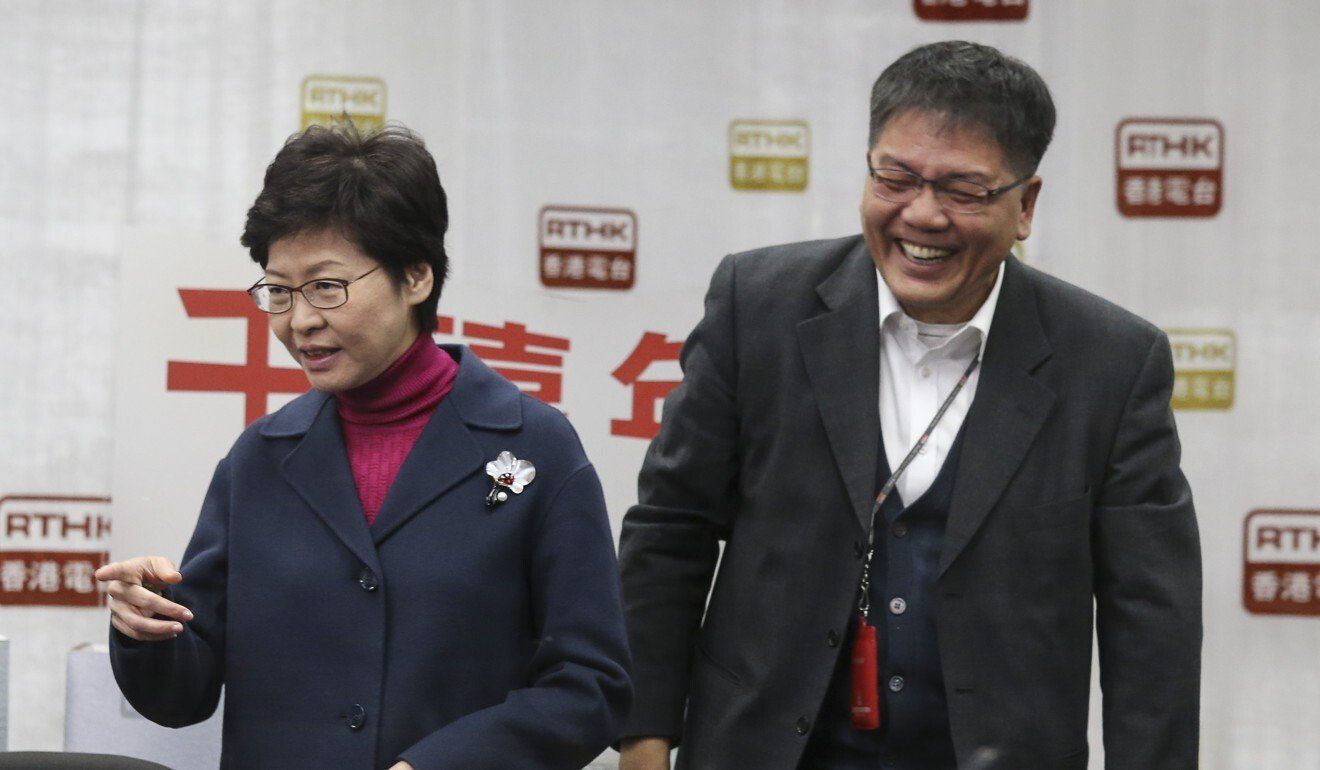 Carrie Lam (left) at a radio programme in 2017 during her bid to become chief executive, alongside Director of Broadcasting Leung Ka-wing at RTHK in Kowloon Tong.

Leung's career began at the Hong Kong Economic Journal in 1975 after he graduated from Baptist University's journalism school.

He moved to the now defunct Commercial Television the same year, and three years later he joined TVB, where he rose through the ranks over 12 years to become managing editor and then headed the newsroom of the city's biggest broadcaster as its news controller. As an evening news anchor, he also became a household name, and was known for his composure in front of the camera.

His later career at ATV news ended under a cloud. In July 2011, the station wrongly reported that former Chinese president Jiang Zemin had died – a decision widely believed to have been forced upon him by his station bosses outside the newsroom. But he took full responsibility and subsequently resigned.

When he was grilled by lawmakers over the saga and was accused of failing to uphold editorial independence, Leung refused to divulge the source of the death claim. This was an issue of a basic journalistic principle of not revealing sources, he maintained.

"Even if you put a gun to my head, I will still not reveal the name," he said.

When he took the helm of RTHK at 2015, staff in general took a wait-and-see approach, with some hoping his journalism background would keep the station on the right track, after it had come under increasing pressure from the pro-Beijing bloc over its critical stance in some of the programmes after the 1997 handover.

He aimed to create better synergy between the public broadcaster's radio and television operations as well as its online presence, so resources could be better allocated and RTHK could compete in a fast-changing media environment.

But as editor-in-chief, he was soon engulfed by major political storms, especially when the city became more divided amid the 2019 protests and the challenges arising from geopolitical tensions.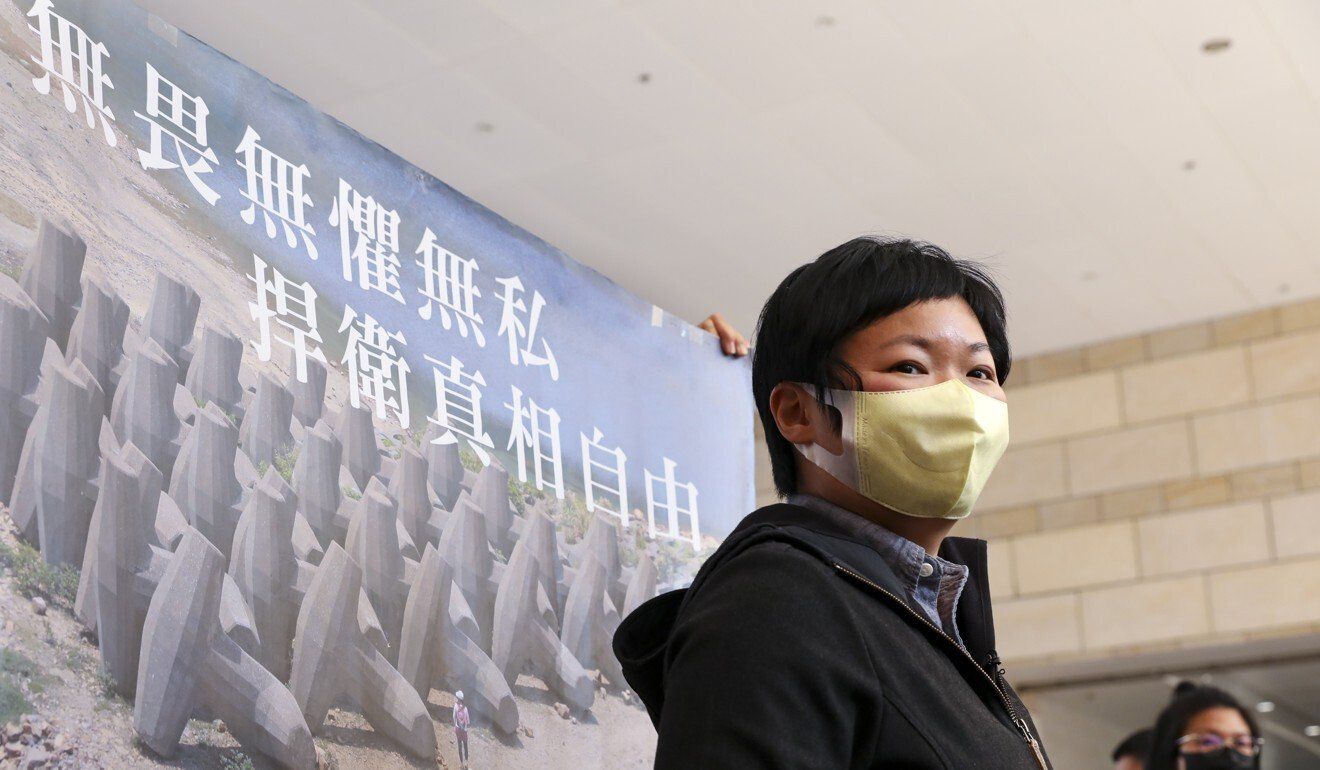 RTHK contributor Bao Choy was charged with violating a provision in the Road Traffic Ordinance.

Last November, RTHK contributor Bao Choy Yuk-ling was arrested over her work on a programme about the Yuen Long mob attack on July 21 in 2019.

Choy and colleagues had, in the episode of the documentary Hong Kong Connection, reviewed security camera footage taken on the night of the attacks when white-shirted thugs indiscriminately attacked passengers and passers-by in the MTR station.

The episode focused on the police response, and allegations at the time that police were slow to arrive at the scene, a charge the force denied.

Bao was charged with making a false declaration for her purpose when she checked a public database of personal details of car owners.

Leung at that time said he cared about the incident and the impact it might have on reporting.

Asked whether he would ask colleagues to hold back other investigative reporting, he said: "Why should they be stopped? I have to ask you back, why they have to be stopped … There has to be a reason to halt ongoing work."

He also firmly defended the outlet against allegations of bias when pro-government politicians accused the show Headliner of sympathising with demonstrators and undermining police.

"It belongs to the genre of satire, which taps into hot societal topics through jocular expressions," he wrote in a letter to staff.

But last year, the station suspended the city's longest-running satirical show, after being rebuked by the Communications Authority in May over an episode the industry regulator said had "denigrated and insulted" the police force.

Criticisms kept escalating, to the point that Chief Executive Carrie Lam Cheng Yuet-ngor weighed in.

In a Legislative Council meeting this month, pro-Beijing legislator Steven Ho Chun-yin accused RTHK of "biased reporting", disseminating "fake news" and smearing the police force.

The recent incidents cited by the lawmaker included an online report on January 25 in which the station published an article with the Chinese-language headline, President Xi Jinping vows to push forward multilateralism, and to engage in a new cold war and sanctions to divide the world. It was later corrected to say Xi had only hailed multilateralism and warned against a new cold war, and RTHK subsequently issued an apology.

At the Legco meeting, Lam was asked how she planned to address the network's perceived failings.

"As a public broadcaster and government department, in less than two years, there were seven substantiated complaints against it, including one serious warning and three warnings. This is certainly unacceptable," she said.

"There is a chief editor [at RTHK]. I expect the chief editor to spell out his stance on those incidents. And I am still waiting."

Leung remained silent. Eight days later, the outlet pulled the plug on programming from Britain's BBC after the mainland broadcast authorities banned the British public broadcaster from being available "within Chinese territory".

Even as pro-Beijing critics might not have expected it of him, the move turned out to be Leung's decision. Addressing staff concerns, he said in an internal meeting reported by RTHK that it was his decision and there was no pressure from the senior management of the government.

His reason was that it had nothing to do with news operations. Rather, the decision from the mainland authorities applied to the whole of China and therefore had to apply to Hong Kong too, as the broadcaster was a government department.

It was not just Leung, journalists working for the station faced pressure too. The broadcaster also terminated the probation contract of Nabela Qoser, who was known for her confrontational approach, and offered her a temporary agreement that effectively erased her more than three years with the outlet.

The move came amid an investigation into public complaints filed against Qoser, who was known for demanding Lam "answer like a human being" when asked about the police force's sluggish response to the incident in Yuen Long.

Bidding farewell to his colleagues on Friday, Leung wrote a poetic message that included several phrases from classical Chinese literature.

His last line from a piece by Su Shi, a scholar and politician in the Song dynasty (960–1279), roughly translated as: "There is neither windswept rain nor shine."

Former education lawmaker Ip Kin-yuen said the piece carried the "connotation of being magnanimous and sanguine", and implied carrying on regardless.

"Whether he is like Su and he has something like a demotion, only Leung can tell," Ip said. "His message also included the phrase 'in face of praises or attacks, [he] would not be affected', that expresses the same feeling."

Bruce Lui Ping-kuen, a senior lecturer at Baptist University's journalism department, said Leung's job to handle the expectations from both his staff and his bosses was destined to be tough because RTHK had to serve as both a public broadcaster and a government department.

"No matter how passionate he was and how hard he tried, it's difficult to satisfy both sides," Lui said. "But he is among top talents when it comes to handling news … in such a difficult situation, I feel he has tried his best to uphold the editorial independence to some extent."