Data shows that some areas now have almost 60% of residents working from home
The pandemic has forced many Londoners to adopt a working-from-home lifestyle despite some businesses pushing to get workers back in the office.

Due to family commitments and arduous commuting times, following the end of the lockdown, many across the capital have chosen never to return to the office again.

Data analysed by Reboot Online has now shown the boroughs where the highest and lowest proportion of Londoners are working from home.
Using figures from the 2021 census, the analysis showed that Richmond upon Thames has the highest proportion of people working from home at 58.75 per cent.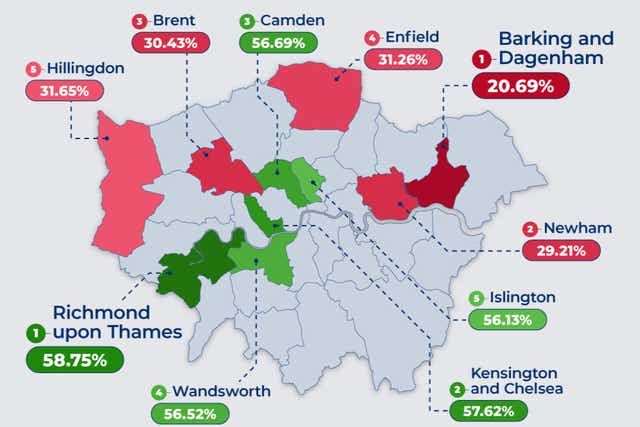 Reboot Online
Ten years ago, in 2011, just 8.94 per cent of people were working from home in the borough.
Kensington and Chelsea came in second with 57.62 per cent, which is a 47 percentage point increase in the last decade.
Camden (56.69 per cent), Wandsworth (56.63 per cent) and Islington (56.13 per cent), were the next highest boroughs in that order.
At the other end of the scale, just 21 per cent of the population of Dagenham and Redbridge work from home, meaning 79 per cent commute to work.
Newham came in second with 29 per cent, which is a 26 percentage point increase since 2011.
Brent, Enfield and Hillingdon finished third, fourth and fifth with 30, 31.2 and 31.6 per cent working from home respectively. In comparison with 2011, Brent saw a 26 percentage point increase while Enfield and Hillingdon saw a rise of 27 percentage points.