People have been coming to London from all over the UK and much further afield to queue for hours and pay their final respects to the Queen. BBC News has been speaking to some about what motivated them.
Mourners were warned to brace themselves for a very lengthy wait. But that didn't deter those gathering at the rear of the miles-long queue to pay their respects on Saturday.

As the crowds filed into Southwark Park in south-east London to begin their long procession to Westminster Hall, a large LED sign left them in no doubt what they were letting themselves in for.

"WAIT TIME FROM THIS POINT MINIMUM 14 HOURS," it read.

Compared to the previous day - when the park had been closed to new arrivals after reaching capacity and wait times had reached 24 hours - this would be, after all, a relatively brisk wait.

Assiya Khan from west London and Samir Dwesar from Croydon, both 32, joined the queue just after 11:00 BST on Saturday. They had originally planned to turn up in the middle of the night when they anticipated the queue would drop - but when they checked the official tracker at 02:00 and 04:00, the predicted wait time had not fallen.

"Then BBC News flashed up saying it had dropped to 14 hours," says Assiya. "So we just said, let's do it."

But neither mind how long they end up standing in line. "It's all part of the experience," says Samir.

It was, after all, a clear, bright, dry early autumn day - perfect conditions for standing outdoors for hours.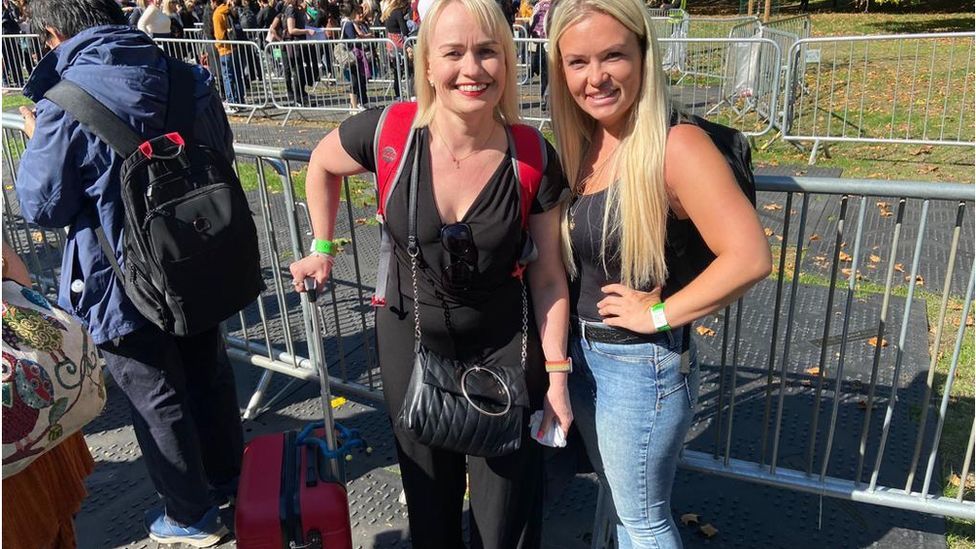 Friends Claire and Emma came from north-east England with a suitcase of body warmers and thermal leggings

And still the mourners kept coming at a rate of 2,000 an hour. Throughout the morning, the park grew visibly fuller.

Those arriving were clearly anticipating a long stay - most were in warmer clothes than would be expect for the daytime in London in mid-September, with lots of parkas, hats and big jumpers.

Claire Thomas, 46, and friend Emma Hughes, 29, travelled down from Newcastle and Sunderland respectively and with them was a wheelie suitcase full of body warmers, thermal leggings and the like.

Claire's rucksack was filled with provisions to keep their energy levels up - "fruit, sweets energy bars - lots of sugar and protein," said Emma purposefully.

But none would have prepared to stand until the early hours unless this was a meaningful occasion for them. Behind every face in the queue was a different story of some kind of connection to the late monarch, however great or small.

Jacqueline Pearsons said seeing the Queen evoked memories of her late mother

As she waited to collect the wristband that would give her access to the queue, Jacqueline Pearsons, 51, from north London, brushed a tear from her eye.

This was an emotional occasion for her, she explained. Her mother, who died two-and-a-half years ago, had been a great fan of the late Queen, having attended her coronation in 1953.

"So every time I saw the Queen, she brought back memories of my mum," said Jacqueline. "And now she's gone as well. So this feels like something I have really got to do."

As word reached the rear of the queue that the King and the Prince of Wales had made a surprise visit to mourners further down the line, those at the back were appreciative of the gesture.

"They're doing what their mum and grandmother did," says Sarah Mellor, 44, from Chorley, Lancashire. "I've got so much respect for that - it must be really hard when you lose your mum at 73."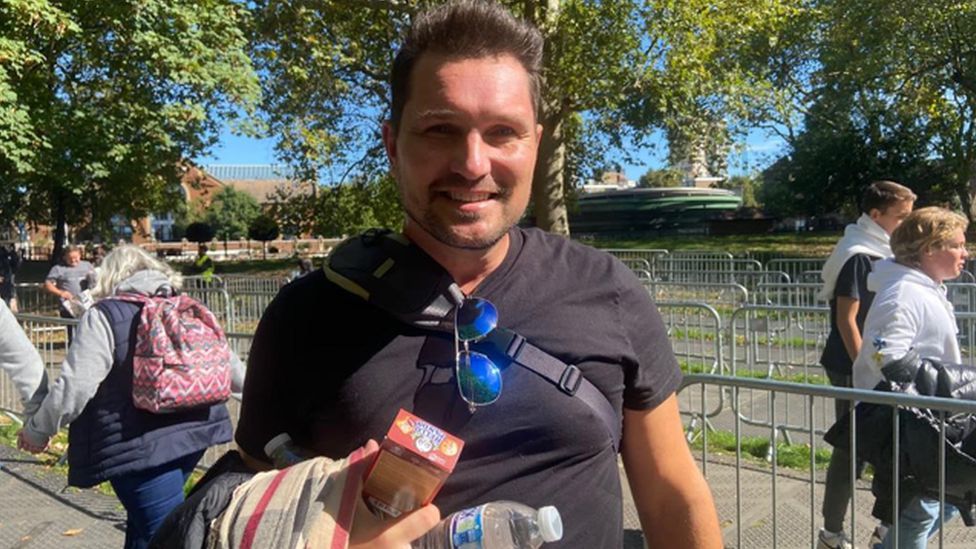 Michael travelled overnight from Georgia in the US to pay his respects to "the mother of this country"

And as they prepared to wait in line into the early hours, many of those standing in line said it was a small sacrifice to make.

Michael Tropp, a self-described Anglophile from Atlanta, Georgia, had arrived from the US in the morning on a nine-hour overnight flight. The Queen's death was a moment in history that he'd felt compelled to honour.

"For 70 years she's been the mother of this country," he said. "There will never be anything like this again in my lifetime."