A cross-community service of prayer and reflection has taken take place in Enniskillen to give thanks for the life and reign of Queen Elizabeth II.
The service began in St Macartin's Church of Ireland (Anglican) Cathedral and concluded in St Michael's Catholic Church.

The congregation retraced the Queen's footsteps during her visit to the County Fermanagh town in 2012.

At the time, the Queen crossed the street between the two churches.

It was the first time she had stepped inside a Catholic Church on the island of Ireland and it came a year after her historic state visit to the Republic of Ireland in 2011.

Those few short steps during the Queen's Diamond Jubilee were seen as a giant stride towards reconciliation in a town that had been devastated by the 1987 Remembrance Day bomb.

The following day, the Queen shook hands with the then Sinn Féin deputy first minister and former IRA leader Martin McGuinness in another iconic gesture of goodwill.

Dean of St Macartin's, the Very Reverend Kenneth Hall, and Monsignor Peter O'Reilly, the parish priest of St Michael's, said the visit to Enniskillen endorsed their cross-community work.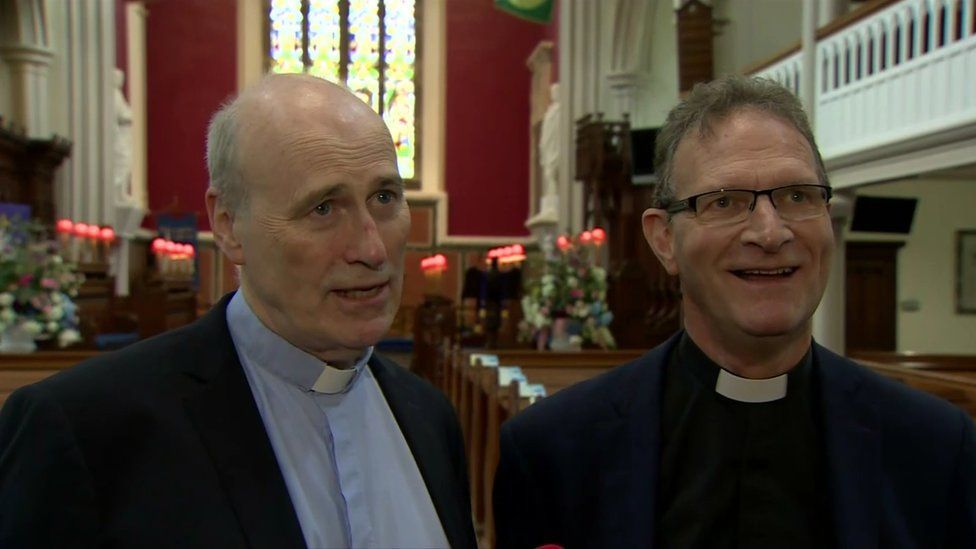 The Very Reverend Kenneth Hall and Monsignor Peter O'Reilly recalled being questioned by the Queen

"Her visit here was the kind of thing that other people are doing all the time," Monsignor O'Reilly told BBC News NI.

"She gave it a level of visibility and a level of credibility and in that sense gave fresh motivation to people for doing that kind of thing and building a sense of community and togetherness which of course again is rooted in her faith outlook."

Dean Hall added: "She didn't have to say words, just her actions spoke louder than words by actually crossing the street."

'Have you your homework done?'

The following year, the two churchmen were invited to Buckingham Palace where the Queen was keen to hear what progress had been made.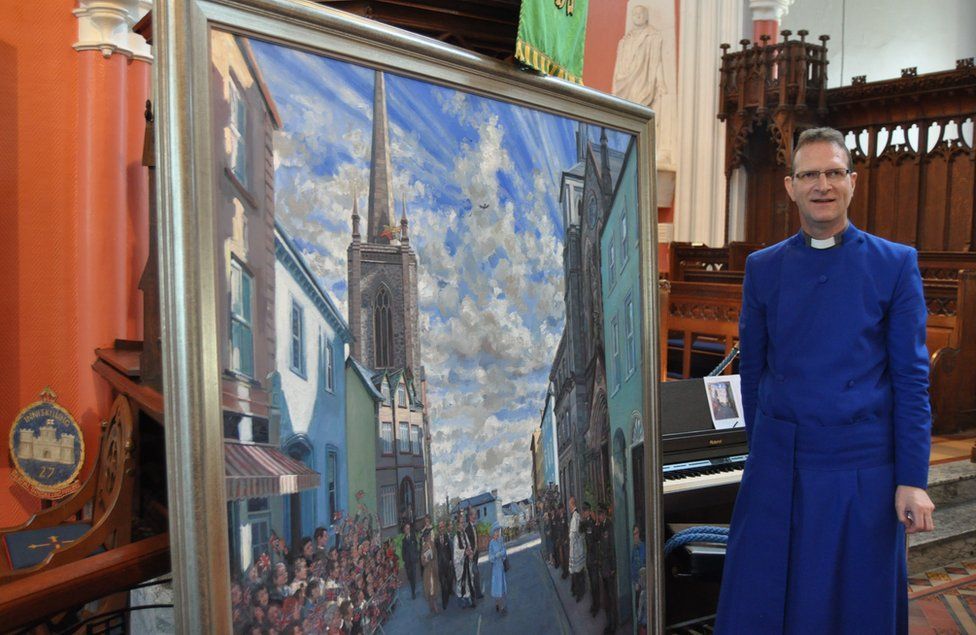 A painting of the Queen's cross-community visit, by artist Hector McDonnell, was unveiled a year later in 2013

"We had to file past the Queen and she looked at the both of us as we filed past and she said, 'Are you two still working together?' Of course we were," Dean Hall recounted.

"We had a private audience with her just a short space of time afterwards, probably for about five or six minutes.

"I remember she asked us that very bold question, she looked over the glasses and she asked us, 'What are you doing to further reconciliation work in Enniskillen?'"

Monsignor O'Reilly added: "It was a bit like your grandmother asking you have you your homework done, it was as direct as that."

Ahead of Sunday's service, they said that the service following in the footsteps of the Queen would be a fitting tribute in memory of Her Majesty.

The congregation sang the hymn Lead me, Lord on their short walk between the two churches

According to Monsignor O'Reilly reconciliation "is not a done deal" but they both believe their work in Enniskillen will continue to receive royal endorsement.

They met the future King Charles III when he visited Enniskillen Castle in 2014.

Dean Hall remembered: "He was very forthright in what he was saying, and just before he left he hit me a slap on the back like that and says, 'Keep it up, keep the community work up'.

"So obviously he was endorsing the work that his mother already had begun and I know for definite he's very keen on building on the reconciliation that Her Majesty started.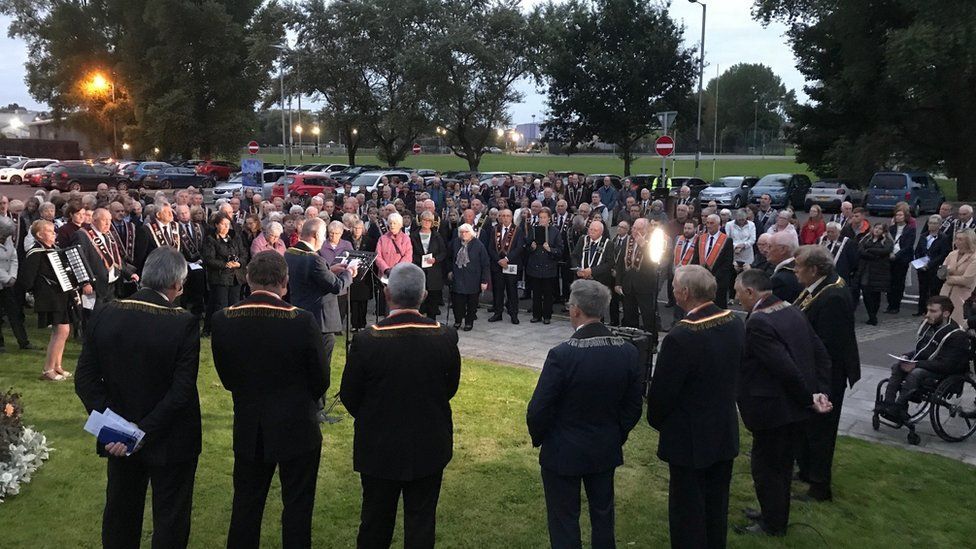 A minute's silence for the late Queen was observed at 20:00 BST

After the church services, a large crowd gathered at Enniskillen Castle to observe a minute's silence at a service organised by the County Fermanagh Royal Black Institution.