Marcelo Rebelo de Sousa makes rare acknowledgement of centuries of forced transportation of millions of Africans
Portugal's president, Marcelo Rebelo de Sousa, has said his country should apologise and take responsibility for its role in the transatlantic slave trade, the first time a leader of the southern European nation has suggested such a national apology.

From the 15th to the 19th century, 6 million Africans were kidnapped and forcibly transported across the Atlantic by Portuguese vessels and sold into slavery, primarily to Brazil.

But so far Portugal has rarely commented on its past and little is taught about its role in slavery in schools.

Rather, the country's colonial era, which subjugated countries including Angola, Mozambique, Brazil, Cape Verde and East Timor as well as parts of India, is often perceived as a source of pride by most Portuguese.

Speaking on Tuesday at Portugal's annual commemoration of the 1974 "Carnation" revolution, which toppled the country's dictatorship, Rebelo de Sousa said the country should go beyond just an apology, though he did not offer up any specifics.

"Apologising is sometimes the easiest thing to do: you apologise, turn your back, and the job is done," he said, adding the country should "assume responsibility" for its past to build a better future.

Rebelo de Sousa made the remarks after the Brazilian president, Luiz Inácio Lula da Silva, who was in Portugal on his first visit to Europe since assuming the office, addressed the Portuguese parliament. Brazil gained independence from Portugal in 1822.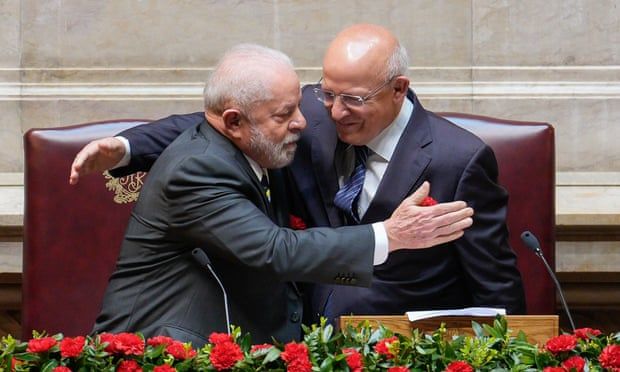 Brazil's president, Luiz Inácio Lula da Silva, (l) greets Augusto Santos Silva, president of the Portuguese parliament, on the last day of his state visit to Portugal on 25 April.

He said the colonisation of Brazil also had positive factors, such as the spread of Portuguese language and culture.

"[But] on the bad side, the exploitation of Indigenous people … slavery, the sacrifice of the interests of Brazil and Brazilians," he said.

Europe's top human rights group previously said Portugal had to do more to confront its colonial past and role in the transatlantic slave trade in order to help fight racism and discrimination today.