Travellers have been warned the gridlock in Dover, which has led to six-hour queues on roads to the port, could get worse over the weekend.
The Port of Dover declared a "critical incident" on Friday due to queues leading to the ferry terminal.

The port and government blamed France for not having enough border staff.

French authorities in turn blamed an "unforeseeable technical incident" in the Channel Tunnel - but Eurotunnel rejected this explanation.

Jack Cousens, AA roads policy chief, said the weekend could be busier.

He said: "As the schools closed their doors fully yesterday, Saturday could prove busier still this weekend.

"Drivers should continue to expect disruption and delays on major holiday routes to the south-west, eastern coast and ports of Dover and Folkestone.

"While many have decided to go at the start of the summer holidays, between now and the beginning of September when schools return, each Friday and Saturday will be busy on our roads."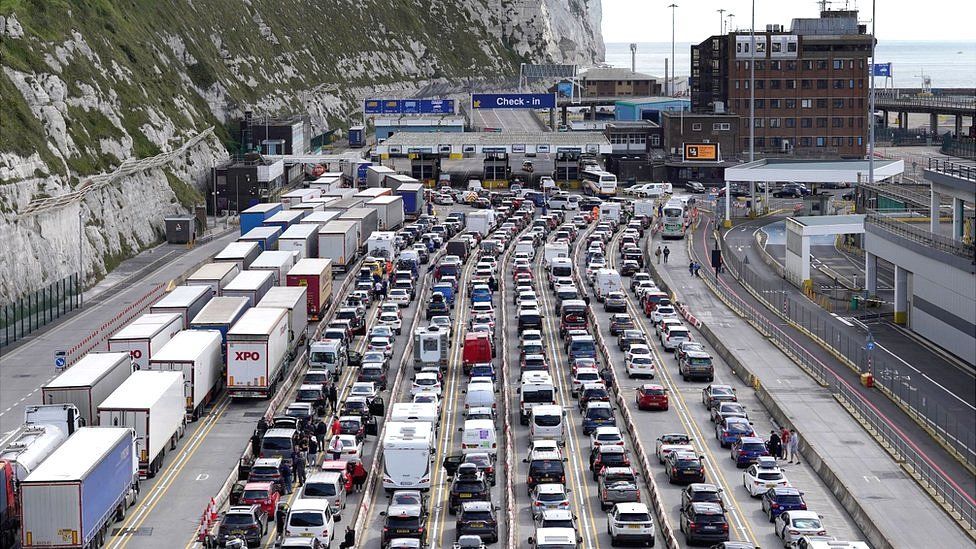 People are being advised to bring provisions because of the anticipated delays

With most schools in England and Wales breaking up for summer this week, the RAC said an estimated 18.8 million leisure trips were planned in the UK between Friday and Monday.

By Friday evening, traffic updates showed queues were four miles long on the eastbound M2.

Earlier, Dover's MP Natalie Elphicke claimed French border officers "didn't turn up for work" and this caused traffic to queue for miles.

She also tweeted on Friday evening that "further significant delays are expected over the weekend".
'Aftermath of Brexit'

In a statement, prefect for the Haut-de-France region, Georges-Francois Leclerc, said: "The increase in traffic for this weekend was fully anticipated and a suitable deployment was prepared.

"The plan was to have all the police booths manned at Dover by 08:30 BST.

"An unforeseeable technical incident in the tunnel meant that police had to push back their full deployment by an hour."

But Eurotunnel said that explanation was "absolutely not the case".

"The critical incident in Dover started overnight," said Eurotunnel in a statement. "The minor technical incident at the Channel Tunnel occurred at 7am, well after the critical incident.

"It was categorically not the reason for the difficulties at the Port of Dover."
Seven hours to get on a boat

Brothers Ben and Eric Janousek set off from Tunbridge Wells in Kent at about 05:00 BST on Friday - but told the BBC it took "seven or eight hours to get on a boat" at the Port of Dover.

Ben says they had "very little information" about delays to their trip and relied on BBC News and Twitter to find out what was happening.

It has been "pretty gruelling" and they're "pretty tired now" but he says they are pleased to have made it to France.

The family - who are driving their children for an annual trip to the Czech Republic - are now close to the Belgium border and Ben says they're planning to "enjoy the rest of their trip".

Another family said they moved about a mile and a half in over four hours:

Foreign Secretary Liz Truss said the delays were "unacceptable" and the situation was "entirely avoidable".

She said: "We need action from France to build up capacity at the border to limit any further disruption for British tourists."

But Pierre-Henri Dumont, Republican MP for Calais, said problems at the port would reoccur "because of Brexit".

He told the BBC: "This is an aftermath of Brexit. We have to run more checks than before."

Mr Dumont also said the Port of Dover was "too small" and there were too few kiosks due to lack of space.

Ferry operator P&O Ferries advised passengers to arrive prepared with snacks and water, warning of heavy traffic at border control.

Shortly after 20:00, P&O said queues were now easing and the time to reach border controls was around 90 minutes to two hours.

Earlier, people were urged to allow at least six hours to clear security checks.

The Port of Dover said it was doing all it could with ferry operators and local partners to assist with clearing the queues.

The port said it had increased the number of border control booths by 50%.

On the M20, extra traffic measures are being brought in, on top of Operation Brock which already queues lorries heading to Dover on one side of the motorway.

National Highways said it was closing the M20 coastbound between junctions eight and nine to reduce disruption.