Starting a family in Italy is becoming a "titanic effort" that only the rich can afford, Pope Francis has warned.
Addressing a conference on Italy's demographic crisis, he said pets were replacing children in many households.

Also on stage were dozens of young people, wearing t-shirts saying "we can do this" - alluding to convincing people to have more children.

Italy has one of the lowest fertility rates in the EU and births dropped below 400,000 last year - a new low.

In his speech in Rome, the Pope said the declining birth rate signalled a lack of hope in the future, with younger generations weighed down by a sense of uncertainty, fragility and precariousness.

"Difficulty in finding a stable job, sky-high rents and insufficient wages are real problems," he said.

Warning that pets were replacing children in some households, the Pope recounted how a woman had opened her bag and asked him to "bless her baby".

Except it was not a baby, but a small dog.

"I lost my patience and told her off: there are many children who are hungry, and you bring me a dog?" he added, triggering a round of applause from the crowd.

Birth rates are slowing in many places - such as Japan, South Korea, Puerto Rico and Portugal.

But a shrinking population is a major worry for Italy - the third-largest country in the eurozone.

The country could lose almost a fifth of its residents by 2050. At the same time, the population is ageing quickly - the number of centenarians in Italy has tripled over the last 20 years.

Italy is often dubbed "The country of empty cribs". Even Elon Musk tweeted last month: "Italy is disappearing!"

Experts warn the population crisis will lead to the impoverishment of the nation. Economy Minister Giancarlo Giorgetti said that by 2042, Italy's declining birthrate would end up reducing its gross domestic product (GDP) by 18%.

There are many reasons why women in Italy are having fewer babies.

Young people struggle to find stable jobs and the childcare support system is often inadequate, which makes it hard for mothers to juggle work and family life.

Six out of 10 mothers don't have access to nurseries, according to the charity Save the Children.

Many pregnant women are forced to resign, and some get sacked when they get pregnant.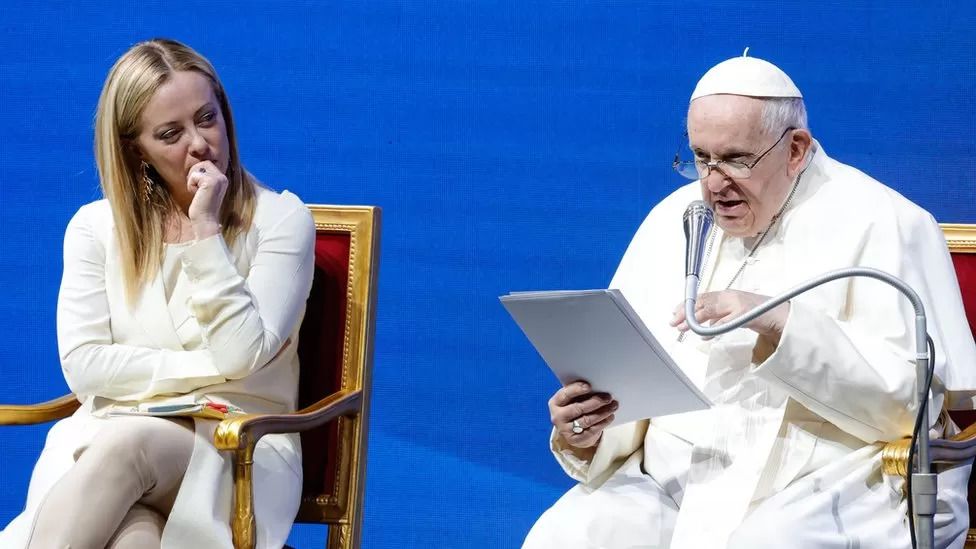 The Pope appeared on stage with Italian Prime Minister Georgia Meloni

Italy's plummeting birth rate "is a national emergency" said Prime Minister Giorgia Meloni, who was speaking alongside Pope Francis.

The image of the two leaders - both dressed in white head to toe - speaking together was very symbolic in Italy, as to show that the issue is so urgent, that it goes beyond politics or religion.

"Fixing the problem is an absolute priority. We want Italy to go back to having a bright future," she said.

Mrs Meloni, who won the largest share of the women's vote in September elections but does not consider herself a feminist, has made mothers and families a central part of her discourse.

She has created an ad hoc ministry to address the issue of declining birth rates and her government has hinted at encouraging people to have children by exempting them from paying income tax.

Pope Francis called for politicians to find "forward-looking solutions to avoid Italy degenerating into sadness".

At the end of his speech, several pregnant women queued on stage to have him touch their belly and give them a blessing.

Shortly after, a flock of children encircled the Pontiff in a group hug - something likely to have been orchestrated by the organisers of the event.