But the Petrol Retailers Association said there was a "distinct improvement" nationwide due to the "restraint" of drivers.

The association's survey of 1,000 petrol stations found 68% have both grades of fuel available, while 16% have no fuel at all.

The military is due to begin delivering petrol across the UK from Monday.

Speaking to broadcasters on a visit to a hospital in Leeds, Prime Minister Boris Johnson said: "You need to take all possible precautions but the supplies are getting in, they are getting to the forecourts, but people just need to be going about their business in the normal way."

He said he understood how "infuriating" it has been for people, but added the situation was stabilising and the problems had been driven by demand rather than supply issues.

A shortage of drivers and high demand plunged the UK into a fuel crisis that caused lengthy queues outside some petrol stations and led to the closure of many forecourts.

Brian Madderson, chairman of the Petrol Retailers Association, said: "While more fuel is being delivered to forecourts than is being sold overall, the situation remains critical in London and the South East where many filling stations remain dry."

There were fewer dry sites in Scotland, the north of England and parts of the Midlands, he said.

Mr Madderson, who represents 5,500 independent retailers among the 8,300 petrol stations in the UK, said the extension of the HGV visa cut-off to March next year was welcome, and military drivers would begin having an impact from the beginning of next week.

Almost 200 servicemen and women, 100 of them drivers, will provide "temporary" support to ease pressure on stations.

Large queues and closed forecourts have been reported across London on Saturday.

BBC Newsnight's policy editor Lewis Goodall tweeted that queues for petrol in one south London area were "even longer" on Saturday and were causing "considerable congestion".

Earlier, Mr Madderson told BBC Radio 4's Today programme the military drivers would be a "large help" but independent, neighbourhood filling stations in London and south-east England needed to be made a priority for deliveries "immediately".

He also warned drivers would see a rise in fuel prices next week - but because of "global factors" not because of profiteering.

Asked if the visas for foreign HGV drivers to work in the UK could be extended again, the prime minister said "we will keep everything under review".

But Mr Johnson said: "What we don't want to do is go back to a situation where we basically allowed the road haulage industry to be sustained with a lot of low-wage immigration that mean wages didn't go up and facilities, standards, the quality of the job didn't go up."

He said poor pay and conditions meant that people did not want to drive lorries for a living, but the government wanted to see more investment in facilities for drivers.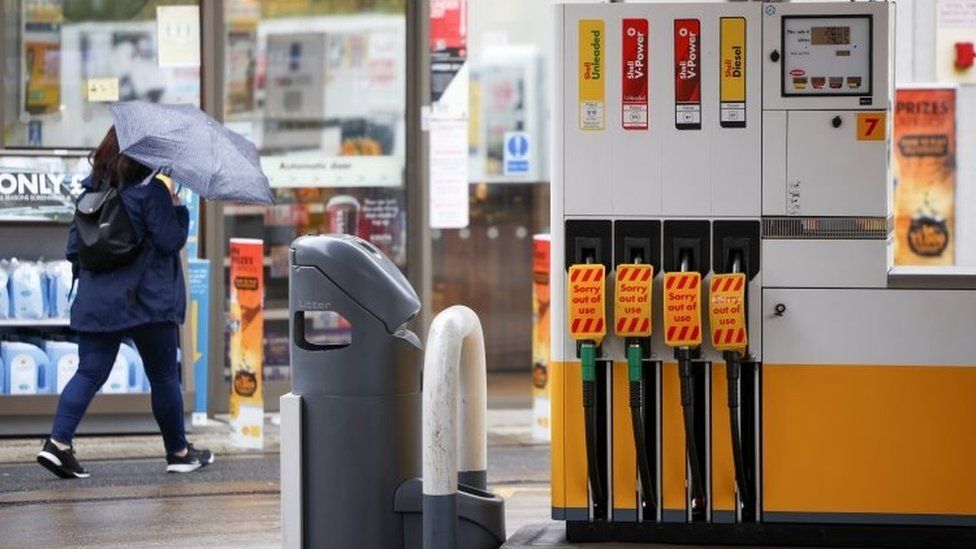 Large queues and closed forecourts were reported across London on Saturday
Military personnel are currently training at haulier sites and will be on the road delivering fuel supplies across the country to "help fuel stocks further improve" from Monday, the government said.

Defence Secretary Ben Wallace said personnel would be seen working alongside drivers this weekend following training this week.

Ministers have also announced that up to 300 overseas fuel tanker drivers will be able to work in the UK immediately until the end of March.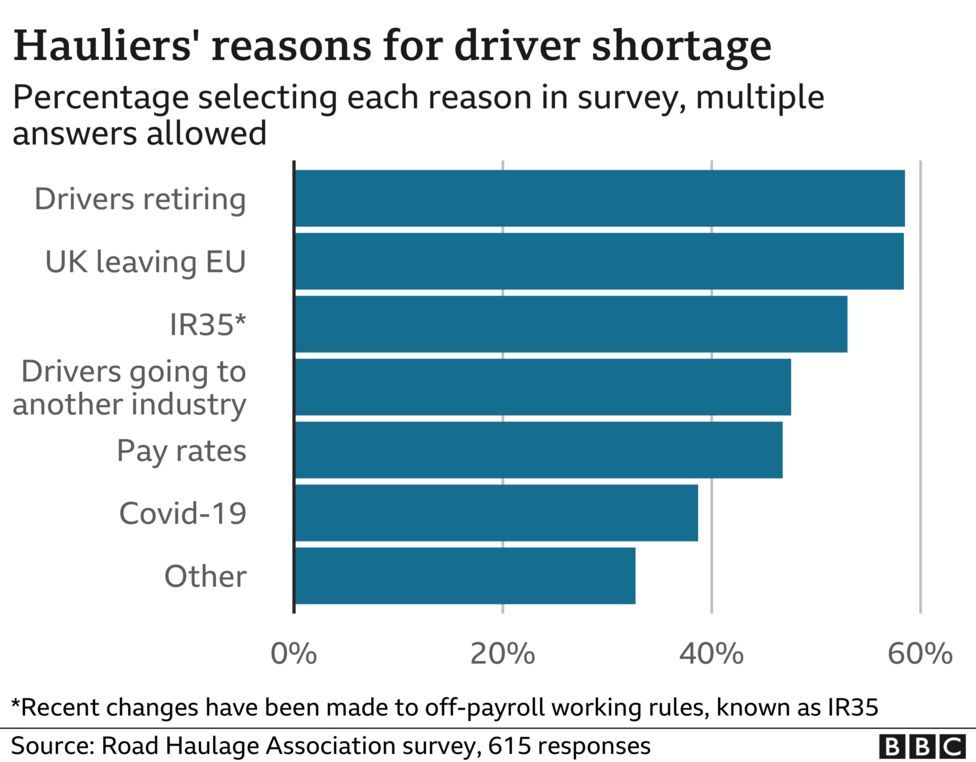 In addition to this, temporary visas are also being offered to 4,700 food haulage drivers who are able to arrive from late October and leave by 28 February 2022.

Visas are being offered to a further 5,500 poultry workers who can come from late October and stay until 31 December.

Previously, the government said these temporary visas would last until Christmas Eve.

In addition to offering temporary visas, the government last week set out a number of other measures aimed at limiting disruption in the run-up to Christmas and beyond.

These include increasing HGV (heavy goods vehicle) testing capacity, sending nearly one million letters to drivers who hold an HGV licence, encouraging them back into the industry, and offering training courses for HGV drivers.

Meanwhile, Chancellor Rishi Sunak has warned there is global disruption to supply chains in other industries, which could continue until Christmas.

"These shortages are very real," Mr Sunak told the Daily Mail.

"We're seeing real disruptions in supply chains in different sectors, not just here but around the world. We are determined to do what we can to try to mitigate as much of this as we can."

And the Financial Times reports that turkeys will be imported to the UK from France and Poland in the run-up to Christmas after farmers reared about one million fewer birds.

British Poultry Council chief executive Richard Griffiths told the paper that Brexit had cut off the industry's supply of cheap labour.