Patients are being warned to expect widespread disruption to services on Wednesday and Thursday, as nurses stage more strikes in England.
About one out of every four hospitals and community services will be affected by the walkouts, by Royal College of Nursing members, over the two days.

It comes after two days of strikes before Christmas in the pay dispute.

As required under trade union laws, emergency care will be covered during the walkouts from 08:00 to 20:00.

It will mean services such as chemotherapy, kidney dialysis and intensive care will be provided.

'Greater impact'

The biggest disruption is likely to be in pre-booked treatment such as hernia repair, hip replacements or outpatient clinics, along with community nursing. During last month's strike action, thousands of treatments and appointments had to be rescheduled.

But GP practices will run as normal, as nurses working in those services are not involved in the strike action.

Saffron Cordery of NHS Providers, which represents NHS services, said the scale of the walkout and the fact it was over two consecutive days meant it would probably have "greater impact".

"We're expecting widespread disruption," she said. "It will be felt on the day as well in the days that follow."

Matthew Taylor, chief executive of the NHS Confederation, warned that without a pay deal patients would face the effects of a "prolonged war of attrition between the government and the unions".

"We've been saying for weeks that the strike action couldn't have come at a more difficult time for the NHS," he told the PA news agency. "But we hoped a compromise would be reached by now to bring an end to the impasse."

What patients need to know

* People seriously ill or injured, and whose life is at risk, should call 999 as usual, or call 111 for non-urgent care

* Other services, such as some cancer treatments or urgent testing, may be partially staffed

* More routine care is likely to be badly affected, including planned operations such as knee and hip replacements, community nursing services and health visiting

* Anyone with an appointment not already rearranged should attend at their allotted time

* GPs, community pharmacies and dentists will be unaffected

RCN general secretary Pat Cullen said nurses regretted the impact.

But she added: "People aren't dying because nurses are striking. Nurses are striking because people are dying. That is how severe things are in the NHS and it is time the prime minister led a fight for its future.

"Today's record number of unfilled nurse jobs cannot be left to get worse. Pay nursing staff fairly to turn this around and give the public the care they deserve."

'I won't strike - but I back the fight'
Clint Cooper, a nurse for nearly 30 years, will cross the picket line on Wednesday to work on a heart-care ward at Scarborough Hospital, in North Yorkshire, while fully supporting his striking colleagues.

"I believe in the principle of what my colleagues are doing," he says, "but I voted 'No', as I cannot walk out and leave my patients.

'Last week, I had two patients who were very poorly and I wonder if I hadn't been there and escalated it, would they still be alive, if I had walked out - that's my conscience talking to me."

Nevertheless, the government needs to find the money for a bigger pay rise, Mr Cooper says.

'I'm a Tory voter - I have voted for them at every election apart from one - but I can't vote for them again," he says. "The NHS is in crisis.

'This is not just about pay, it is about the future of the NHS. Nurses don't want clapping. They want the resources to do their job. They are highly skilled and they are the backbone of the NHS.'

The RCN has asked for a pay rise of 5% above the Retail Prices Index (RPI) rate of inflation, which currently stands at 14%.

The governments in England and Wales have given NHS staff an average of 4.75%, with everyone guaranteed at least £1,400 - as recommended by the independent NHS Pay Review Body.

Despite optimism for a breakthrough after talks between unions and the health secretary last week, there are no signs of significant progress. No formal meetings between unions and ministers are currently scheduled.

Government sources said there would be no movement on this year's pay award but ministers are said to be considering backdating the 2023-24 rise to January. It would normally kick in, in April.

However, BBC chief political correspondent Nick Eardley said insiders in Downing Street and the Treasury said no formal proposals for such a move had been made.

This has already been tabled in Scotland, leading to NHS strikes being halted for further negotiations - although staff there received a 7.5% pay rise this year.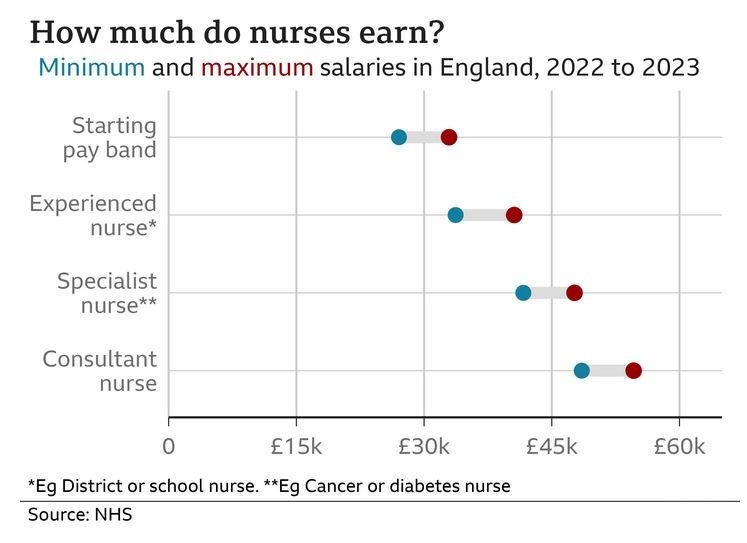 Mr Barclay said he had had "constructive talks" with the RCN and looked forward to continuing the dialogue.

The RCN, which represents about two-thirds of nurses, balloted more than 300,000 across individual NHS trusts and boards rather than in a single, national vote.

This means some nurses are not entitled to take industrial action, because the turnout in their local area was too low.

The RCN has a mandate in about half of the 209 services in England. The 55 affected this week are different from the 44 targeted before Christmas.

While this week's action involves nurses in England only, last month's included those in Northern Ireland and Wales.

The RCN has warned it will hold its biggest walkout yet on 6 and 7 February unless the government moves on pay, involving a third of services in England and all but one health board in Wales.

Ambulance staff and physiotherapists also plan to strike in the coming weeks.