Some of the first mourners to see Queen Elizabeth II lying in state in Westminster Hall have come away in tears, describing the sight of the cloaked coffin as overwhelming.
Roy Lee, who queued for 11 hours with his wife and teenage daughter, said the dignity and solemnity of it made the hairs stand up on the back of his neck.

He was one of thousands queuing to pay their respects to the late monarch.

The Queen's coffin will remain in the hall until 06:30 BST on Monday.

Mr Lee's wife, Teresa, came out of the hall bursting with pride.

"Entering the hall was overwhelming," she told the BBC.

"But being in there gave me such a feeling of pride. That she was the Queen of our country and she served us so amazingly. I felt proud to be British."

Asked what was going through his mind as he stood beside the coffin, Mr Lee said he was "saying a little thank you".

"I'm not sure if that was the right thing but we did it in gratitude," he said. Mrs Lee wished the Queen would rest in peace and silently told her: "You've done your job."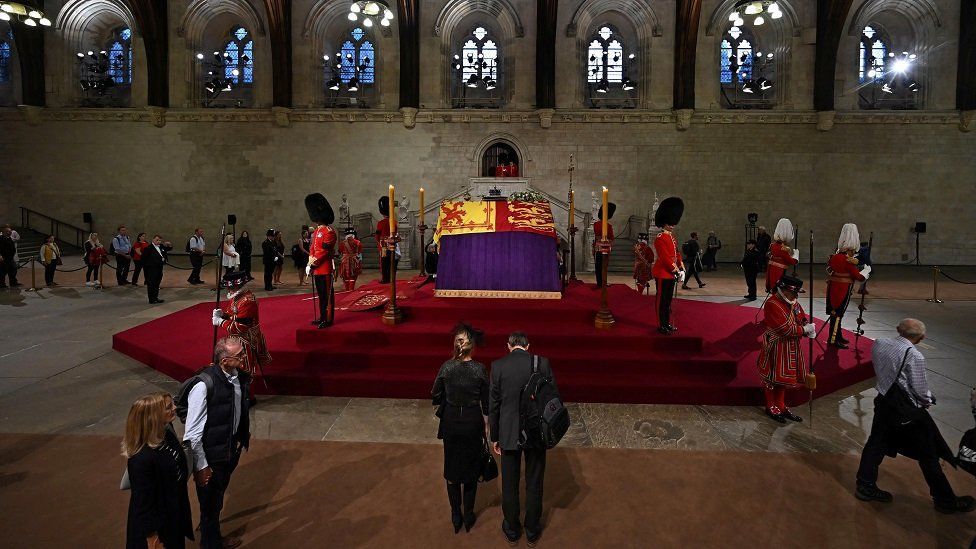 Thousands of people have queued to pay their respects to Queen Elizabeth II

Surrounded by statuesque soldiers standing vigil in vibrant uniforms and with four candles burning beside it, the Queen's coffin is lying in state on a raised platform in the centre of the hall.

The mood as the first mourners entered was sombre with some crossing themselves while others bowed or took off their hats to show respect.

Tears streaked the faces of many.

There were no signs asking people to be quiet yet a near-silent hum could be heard as people slowly walked through the 11th Century hall.

Old friends Jane Ward and Clare Lynas, from Newbury, said they got lucky as a changing of the guard in the hall gave them an unexpected extra couple of minutes with the Queen.

"It was stunningly beautiful, very emotional and beautifully orchestrated," said Clare, 61, a retired headmistress.

"I wanted to say a proper goodbye. She deserves that."

The friends said time flew while they spent 12 hours queuing to pay their respects. The highlight came outside Lambeth Palace when the Archbishop of Canterbury made an appearance.

"He was fascinated by our wristbands," said Jane, 62, a former lawyer. He joked that he hoped his robes and cross would get him access to the Queen, she added.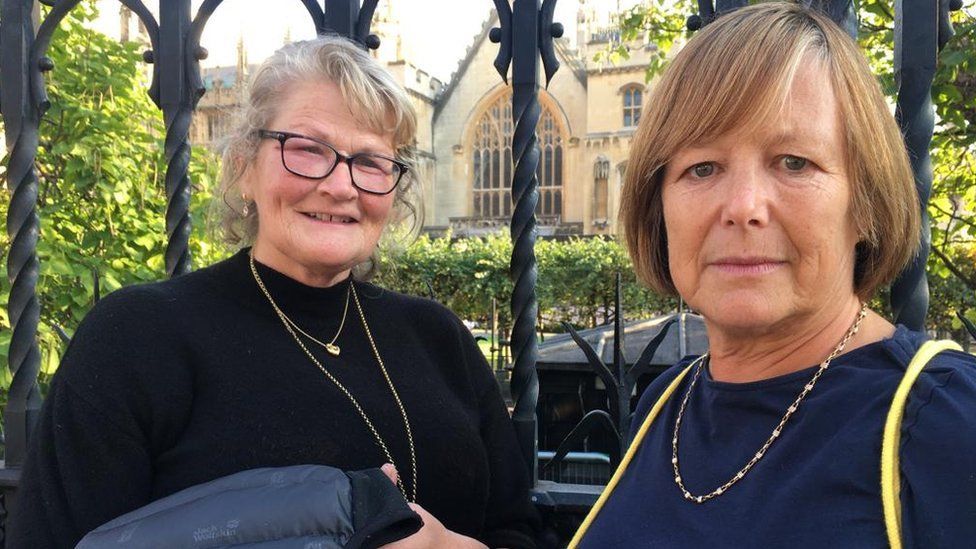 Friends Jane Ward and Clare Lynas said the 12 hours they waited just flew by

For Natalie Gladin, a 47-year-old mum from north Essex, the sight of the Queen lying in state was so overwhelming her tears were still falling as she spoke to the BBC.

"It's like losing your own family. I lost my dad last year, and my mum," she said.

With Violet, her 11-year-old, holding her hand tightly, she explained: "In the queue it was really friendly and quite jovial. The minute you get to the doors, it changes.

"It's total silence and really, really sombre."

She said she was prepared to queue for days but they set off at 03:30 and by 17:30 they were filing very slowly, one by one, through the hall.

Her daughters said they bowed their heads and curtsied when they reached the end of the coffin.

As she bowed her head, Ms Gladin said she wished the Queen well in the next life and to be reunited with those she has lost.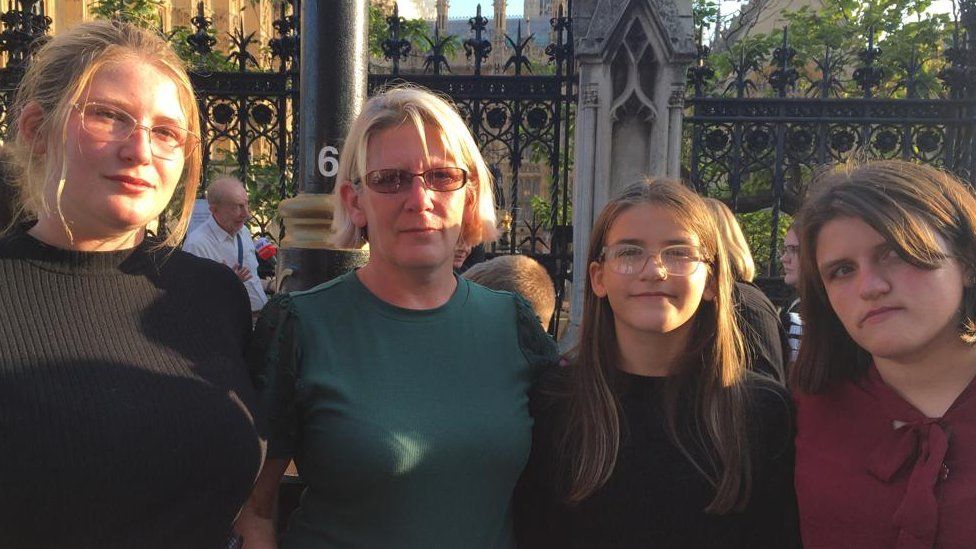 Natalie Gladin, with her daughters, said she would have queued for days to see the Queen

With thousands of people expected to want to be part of the historic moment, a queuing system has been set up, which currently stretches more than two miles along the south bank of the River Thames.

Fences have been set up all the way to Southwark Park, some seven miles away, in case the queue stretches that far.

As night fell there were still thousands of people queuing towards London Bridge, with a respectful but cheerful atmosphere as people waited to witness a moment in history.

While those who camped out overnight into Wednesday had to contend with heavy rain, those waiting tonight are forecast to see a drier night.

The government has warned that people could end up queuing for up to 30 hours to witness history. The first people to enter the hall for the lying-in-state on Wednesday had been waiting overnight.

The government has published a live queue tracker for people to follow on YouTube - which shows the queue currently runs from Westminster to near London Bridge.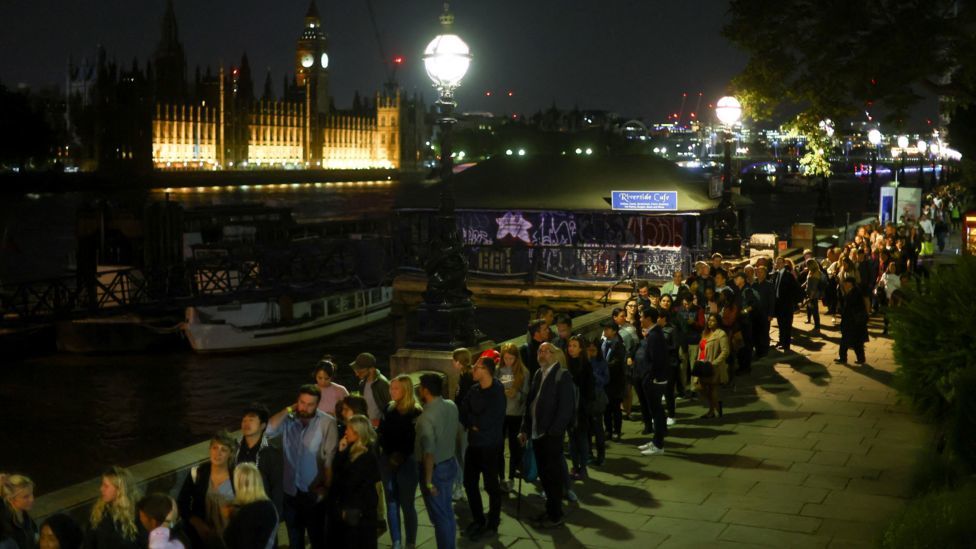 The queue to enter the Queen's lying-in-state has stretched more than two miles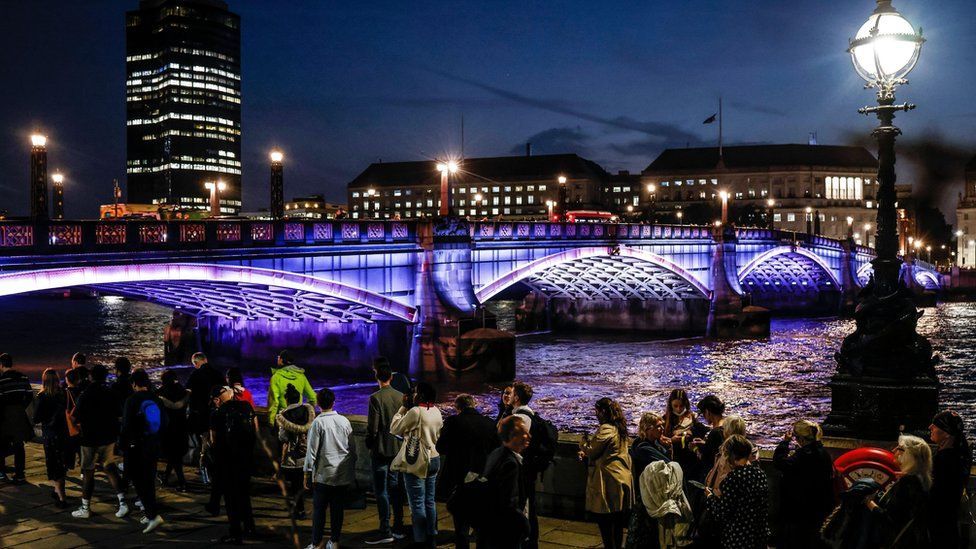 People queue in Victoria Tower Gardens to pay their respects to the late Queen

The Queen's coffin was brought to Westminster Hall in a sombre procession from Buckingham Palace, followed by the King and other members of the Royal Family.

After a short service the first mourners were allowed in to pay their respects just after 17:00 BST on Wednesday.
Watch: First mourners to see Queen lie in state speak to BBC
Watch: First mourners arrive to pay their respects to the Queen