"The jigsaw pieces are well known. They've been on the table for a while," a key EU figure recently told me. "It's a case now of both of us being brave enough to hold hands and jump."
Rishi Sunak and the European Commission President are both described by their teams as preferring not to sign a deal, rather than go for (another) one they believe is doomed to fail.

So will this work?

Brussels describes Rishi Sunak as a pragmatist. Yes, a Brexiteer but also a practical politician, solutions-focussed, rather than an ideologue.

EU diplomats compare him favourably to his predecessors Liz Truss, who they say "didn't dare touch the post-Brexit agreement on Northern Ireland" (you might question if she had the time in her short premiership?), and Boris Johnson, who EU leaders widely believe signed the agreement "in bad faith".

They insist he knew the protocol deal involved checks on goods travelling between Great Britain and Northern Ireland, although he denied that fact in public.

But why would Mr Sunak attempt to solve this thorny and contentious post-Brexit issue with so much at stake - not least the politics and stability of Northern Ireland as well as of his own Conservative Party.

He already has plenty of other problems on his plate: strikes, a difficult upcoming budget, local elections in May with the Conservatives trailing in national polls.

But the EU understood the prime minister had a number of clear reasons to go for a revised Northern Ireland deal: both economic and political.

First and foremost, Mr Sunak hopes for improved relations with the US and the EU.

The Biden administration made it clear that previous UK government talk of unilaterally overriding the current Northern Ireland Agreement would not be "conducive" to a trade deal between the UK and US.

Additionally, this April sees the 25th anniversary of the Good Friday/Belfast Peace Agreement.

The prime minister is keen for President Biden to come. But first he needs to revise the protocol sufficiently to persuade the Democratic Unionist Party to join and therefore restore the power-sharing government in Northern Ireland.

Sunnier relations with the UK's biggest trade partner, the EU, is also advantageous for Mr Sunak.

Importantly, if this revised deal falls through, he would be forced to continue with a Bill to unilaterally override key parts of the protocol which could lead to a costly trade war with Brussels - something the prime minister very much hopes to avoid.

A revised agreement and improved bilateral trust could ease future deals with the EU - on the UK joining the attractive Horizon research programme for example, as well as on forging a post-Brexit deal on financial services and making it easier for UK musicians to travel throughout the EU.

It would also improve relations with France, just ahead of a big Franco-UK summit where combatting people-smuggler boats across the Channel will be a big topic of conversation.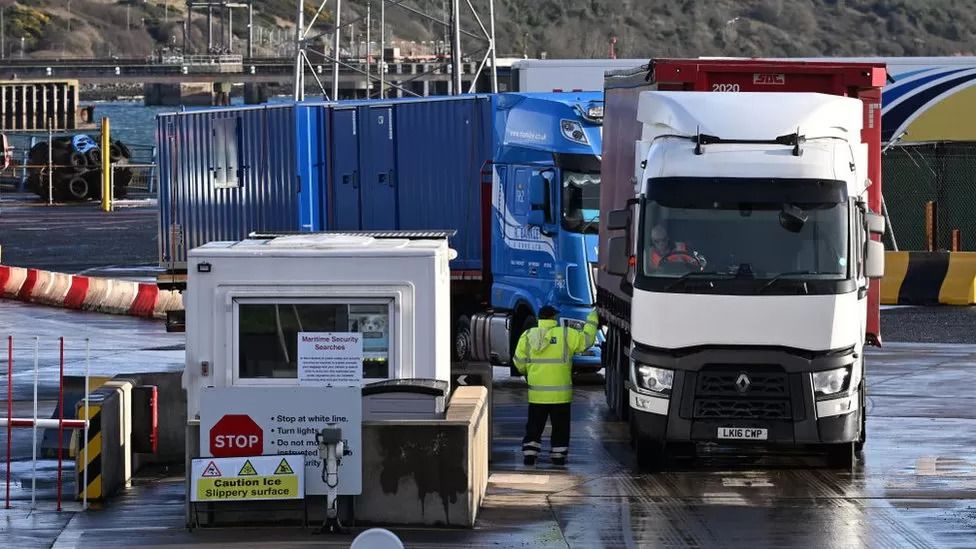 EU-UK relations are already much improved since the fractious days of initial Brexit negotiations.

Russia's invasion of Ukraine reminded both sides of the values and priorities they share. They've worked closely on sanctions against Russia as well as on a country-by-country basis inside Nato.

There's much hope in the EU that rows over the Northern Ireland Protocol can now become a thing of the past.

The EU says it accepts the risk to its single market of reduced customs checks as a price worth paying.

So the ball has been in the UK's court for a while.

The challenge: how to package and present a deal in order to make it workable and acceptable to the key "stakeholders" - public and political in the UK.

Ursula von der Leyen travelling to the UK on Monday is seen as the last piece in the presentation puzzle, but back in Brussels EU diplomats mutter that they're not counting their chickens.

As one EU figure put it to me: "We know negotiations with us [the EU] are only part of a UK prime minister's journey. Brexit caused deep internal divisions in the UK. We have tried to negotiate a revised Northern Ireland deal. Now we watch and wait."