Angela Wang has no qualms when it comes to splurging on her two cats. Being single and financially-independent, she has spent some 50,000 yuan (US$7,650) on her exotic shorthair and a British blue over the past two years, treating them to food and toys on most days, and haircuts and spa visits on occasional weekends.

"My pets are my family here," said the 31-year-old marketing manager with a fashion retailing company, who moved to Chengdu in southwestern Sichuan province four years ago after breaking up with her boyfriend. "They have been with me through my ups and downs, and I just want to give the best to them."

Wang is part of 240 million mainland Chinese singles without the trappings of family life like children and mortgages, according to the Ministry of Civil Affairs. They make up the largest pool of singles globally, while the number of marriages slumped to a 13-year low of 9.47 million in 2019. Not too long ago, hashtags like "people born after 1990 do not want to marry" took Weibo – China's Twitter-like social media platform – by storm.

That makes the footloose and fancy-free generation a prime target for businesses like Petkit, Miniso Group, Pop Mart International and Little Bear Electrical Appliances, which have benefited from their rising purchasing power. Chinese singles are self-indulgent and enjoy splurging on cosmetics, filling their wardrobes and shoe racks with the latest fashion, collecting trendy toys and eating one-person portion meals.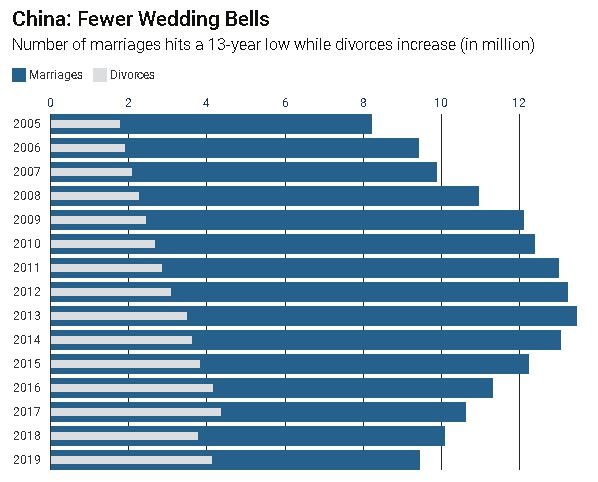 Fair to say, they contribute a large chunk to sales of domestic consumer goods, a market worth US$6 trillion, according to an estimate by New York-based consultancy Oliver Wyman. Singles born after 1990 spent foremost on fashion and apparel, personal care products, and snacks and drinks, according to a November survey by online dating portal Zhenai.com and JD.com.

Petkit, a Shanghai-based company focused on smart pet products, is no stranger to the target market, since its line-up of items including automatic pet feeder became hot sellers. The company expects to generate 490 million yuan of sales in 2020, up from 100 million yuan in 2017.

After securing a US$20 million funding in 2019 from Qiming Venture Partners, Petkit has expanded its plant to produce freshly cooked pet food, a premium product to entice the likes of Wang. A pack of its beef or chicken meat costs as much as 299 yuan, more than double the average daily meal in China.

"We see more people staying single for longer," said Guo Weike, the Shanghai-based co-founder and chief executive officer of Petkit. "Singles keep pets as their families. They are like our children or families. As such, there is an explosive growth market for pet-care products."

Ince Capital, which closed its first fund of US$352 million in October 2019 and an investor in PetKit, said businesses focused on so-called millennials would be its new investment targets.

"More of those from Generation Z have chosen to stay single and this has become a phenomenon now," said Shanghai-based founding partner JP Gan, whose previous investments included video-streaming portal Bilibili and food review portal Dianping.com. "Without marriage or children, they have no large financial burden at all. As they grew up without suffering war or poverty, they spend confidently instead of saving."

Ince Capital's other bets include KKV, a marketplace for fancifully packed products such as toys, snacks, stationery, make-up sets, and flowers and plants.

According to a Nielsen report published in May, more than half of Chinese singles are willing to pay more for high-quality products. About 52 per cent of these individuals are willing to spend money on whatever makes their life easier and comfortable, compared with only 39 per cent among couples in the survey.

"[The singles] are less willing to save and more keen to live in the moment," said Alex Shutter, a Shanghai-based partner with Oliver Wyman. "They do not worry so much about planning for their future. Instead, they spend on new and fun experiences. You will see more businesses getting excited about this group of people" and their spending behaviour, he added.

The falling number of marriages represents a challenge to China's policymakers seeking to sustain consumption in big-ticket items like property, cars and education. At the same time, the country is facing an ageing society problem, with about a quarter of the nation's 1.4 billion population expected to be over 60 by 2030.

It is something China is worried about. In November 2013, the government announced a decision to relax its one-child policy, partly to rejuvenate the birth rate. Families could have two children if one parent, rather than both parents, was an only child.

Still, many are not willing to get married or have children at this point due to a lot of reasons "such as skyrocketing cost of raising a kid, long working hours and less social occasions", said Zhang Zhen of Fudan University's Center for Population and Development Policy Studies.

"It is impossible to change through quick-fix policies," Zhang added. "But staying single can still contribute to the economy."

Consumers queue up to pay for designer toys at Miniso's new specialty store, Top Toy, in Guangzhou.

Miniso Group, a New York-listed Chinese variety lifestyle goods retailer, has also latched onto the trend by opening a new concept store with new ideas, such as designer toys for collection, to meet their demand. More than 40 per cent of its buyers are single, according to chief marketing officer Robin Liu.

On December 18, the retailer kicked off its specialty trendy toy store in Guangzhou in southern Guangdong province called Top Toy, setting it apart from its flagship Miniso variety stores. The store, which focuses on selling "art toys" – some priced as high as 10,000 yuan each, raked in some 1.08 million yuan of sales within three days.

"We hope to open more than 10 stores in first-tier cities like Shenzhen by February, to grow our presence in this growing market," Liu said.

Miniso, which used to retail toys for children, is keen to harness the purchasing power of single working adults, following the huge success of the "blind box" phenomenon. Blind boxes, as its name suggests, contain undisclosed toys that's helped propel sales at rival retailers such as Pop Mart International.

The market for blind boxes is expected to surge to 25 billion yuan in 2025 from the 3 billion yuan in 2019, consultancy Qianzhan Intelligence said in a report in September.

Little Bears Electric Appliance has seen its shares triple since they began trading on the Shenzhen Stock Exchange a year ago. The firm, founded in Foshan in 2006, produces mini-sized appliances with pretty appearances, such as one-litre capacity rice cookers, compared with traditional sizes of up to five litres for family use.

The manufacturer does not only design its appliances just for families, but also cares for individuals, a spokesperson said. Half of its 40-odd product categories offer singles-friendly options, in the hope that its mini appliances can be "silent companions" to its customers.

Little Bears had 2.5 billion yuan of revenue in the first three quarters through September this year, a 45 per cent increase from a year earlier. Earnings almost doubled to 322 million yuan, according to its latest quarterly report published in October.

Wang, the marketing manager in Chengdu who saves only about one-fifth of her 180,000 yuan annual pay, is already planning to pursue her next hobby. She spent 5,000 yuan on a coffee-brewing class in November and has signed up for an advanced workshop slated for next year.

"If I meet someone and the relationship works out, then it's great. If not, I can still enjoy my life on my own," she said. "I still have a long to-do list, such as travelling, learning another language and resuming my piano lessons."