On Monday, the French Right lost its Bonaparte. The deafening silence that followed Judge Christine Mée's verdict against the former French presidentNicolas Sarkozy will be recorded in history books.

So too will Carla Bruni's comment on Instagram, posted moments later under a picture of the couple embracing: "What senseless harassment, my love. The fight goes on, the truth will out." Bonaparte may have lost his honour, but at least he didn't lose his Joséphine. The supermodel-turned-singer-turned-first lady never enjoyed the brutality of politics.

The severity of the sentence did, however, astound many observers, not only his wife Bruni but even Sarkozy's fiercest critics. The former president was sentenced to three years in prison, two of them suspended, for having offered a cushy job on the French Riviera to a senior magistrate in exchange for some information on a separate (and later dropped) investigation into political donations.

This "corruption pact", in the judge's words, was however never carried out: the magistrate never got the job and it is not clear Sarkozy ever received any confidential information. Still, the conversations between Sarkozy and his lawyer, tapped by French detectives, offered "serious and concurring evidence" that the three men — Sarkozy, his lawyer and the magistrate — were "actively" intent on "breaking the law". As the president, Sarkozy was expected to behave in an exemplary manner. He clearly failed, and thus was harshly sentenced, so goes the logic of the judge.

The news travelled around the world and American newspapers, obsessed by their own cultural and political wars, were quick to draw parallels between Sarkozy and Donald Trump, with the hope that Sarkozy's judicial fate foretold that of the former US president.

The online magazine Slate wrote: "Sarkozy represented a toxic brew of ethnic nationalism, anti-elitism, celebrity culture and corruption. It all sounds familiar." Familiar and deceiving. Comparaison n'est pas raison, as goes the French saying. What is happening to Sarkozy, who immediately appealed his sentence, is actually a very French affair.

After decades of latent corruption, cowed judges and a general lack of supervision of politicians' actions, France finally equipped its justice system with the laws, regulations, institutions and means needed to control the probity of political life.

This is how another former president, Jacques Chirac, could finally be investigated for embezzlement. While serving as mayor of Paris, Chirac hired members of his political party and gave them "ghost jobs" — in other words he used the civic payroll to employ his own campaign staff. In 2011, he was found guilty, handed a two-year suspended sentence and his party paid back the mishandled public funds. This historic ruling heralded a new era in France, one in which even presidents are not immune from scrutiny. It looks as if Sarkozy did not pay enough attention at the time.

Today, Sarkozy, who ran France from 2007 and 2012, is involved in 12 different investigations and potential court cases, ranging from influence peddling to over-spending on his re-election bid; the trial for which starts on March 17. It sometimes seems to the French that he has spent most of the last nine years in investigative magistrates' offices, answering their questions. There has never been any love lost between Sarkozy and the judiciary, even before Monday's drama. Sarkozy has often tried to discredit judges, claiming they are ideologically motivated. He even once called them "small peas". Now that the National Financial Prosecutor's Office, created in 2013, has the mission and proper means to investigate sophisticated financial crimes whenever and wherever it sees fit, it is not going to stop, even at a former president's door.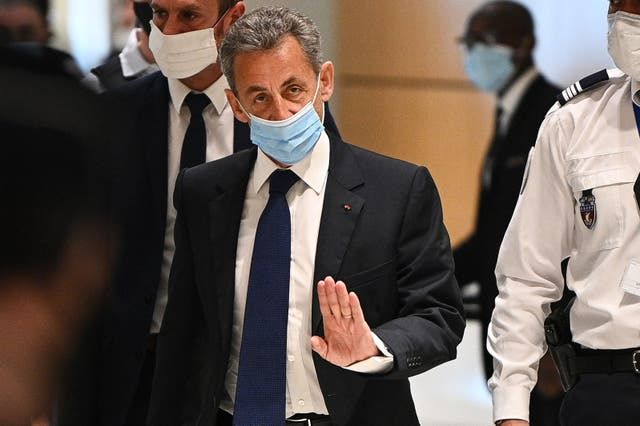 In the last two years, the hyper-active Sarkozy had found time to pen two best-sellers, his reflections on politics and life. Passions was published in 2019, followed a year later by The Time of Storms. Each sold half a million copies. Their success had nourished the hopes of both his supporters and political family that he might be tempted to come back to the forefront of political life. However, Monday's court ruling has quashed all hopes for the foreseeable future. For the political scientist Pascal Perrineau, "the French Right will have to exist in a different manner and perhaps stop looking for a strong leader. The French are tired of Bonapartes. It is an opportunity for the next generation of centre-Right politicians to emerge at last. For many on the Right, the figure of Sarkozy was proving too overwhelming to the point of suffocation."

One person will be happy at the prospect of his staying away from politics: Bruni. While she may be happy to see her husband spend more time at home, the rest of us look worryingly at next year's French presidential election. Sarkozy's judicial downfall should directly benefit Marine Le Pen, whose strategy for 2022 is to occupy as much space on the Right as possible. Her tone has recently changed. She is trying to sound less brutal and more amenable, has suddenly forgotten all about Frexit and even says nice things about the European Union. She knows that if she can sound more convincing on the economy, she will be in a strong position to win over some of Sarkozy's political orphans.

If many of us may rejoice at seeing a strong justice system in action, others fear its political consequences.