The health safety watchdog has said that doctors, ambulance dispatchers and other NHS staff in England have faced "significant distress" and harm over the past year as a result of long delays in urgent and emergency care.
The Healthcare Safety Investigation Branch (HSIB), which monitors safety in the health service in England, said many staff it interviewed for a national investigation "cried or displayed other extreme emotions" when asked about their working environment.

"The bad sides [of my job] give me nightmares, flashbacks and fear, but they can also make me hyperactive, sleepless and sometimes not care about the danger I put myself in," one paramedic told the BBC.

Sarah, not her real name, has worked in the ambulance service for more than a decade, but describes the last 12 months as the most difficult she can remember.

"Over the winter I have witnessed and helped with cardiac arrests in the corridors of hospitals and in the back of ambulances," she said.

"I spent four hours with an end-of-life patient. There was no hospice or district nurse available, so I had to make the choice to give them meds for a peaceful, expected death and prepare the family.

"I felt ashamed that I could not stay till the end, but I had to move on to the next job as I had done all I could."

The HSIB found NHS staff were reporting increased levels of stress, worry and exhaustion because they were not always able to help the sickest patients.

For an interim study, it spoke to doctors, nurses, and other emergency workers, as well as taking evidence from the NHS and other national organisations.

It had to change the way it carried out the investigation after hearing the "emotionally charged feelings" of people working in the system.

In interviews and focus groups, staff working in A&E described making "challenging decisions" about which patients in queuing ambulances to take into the hospital building for treatment.

Staff working on wards talked about the impact of being unable to discharge patients into social or community care "resulting in further medical intervention and an extended stay in hospital".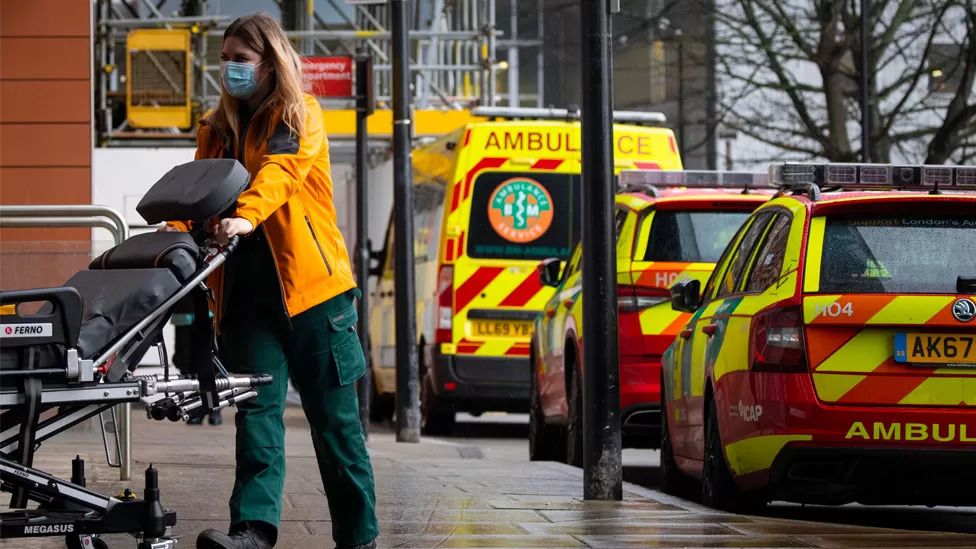 An ambulance crew outside The Royal London Hospital

Emergency call handlers described answering repeated 999 calls from the same sick patients waiting for an ambulance.

Those dispatchers told the investigation that it was common to worry "how many people are we going to kill today?", because they were not always able to send out ambulances quickly enough.

"One call that really stuck with me was a man ringing for his wife who had fallen over 50 hours ago," one 999 call handler told the BBC.

The handler wanted to remain anonymous as he did not have permission from his employer to talk to the media.

"They'd been waiting so long that he had decided to move her around the house by dragging her on a rug, so when she eventually wet herself, she would be on a tile floor instead of the living room floor," he continued.

"I've had people breaking down to me, crying on the phone, begging me to send an ambulance, and I just have to tell them it will most likely be several more hours, at least."

He described the amount of abuse received by his team as "phenomenal" over the winter, including death threats and being "called every name under the sun".

"I've seen colleagues try to calm someone down and apologise for the wait time only to be hit with a wall of abuse. I've seen colleagues cry after finishing these calls," he said.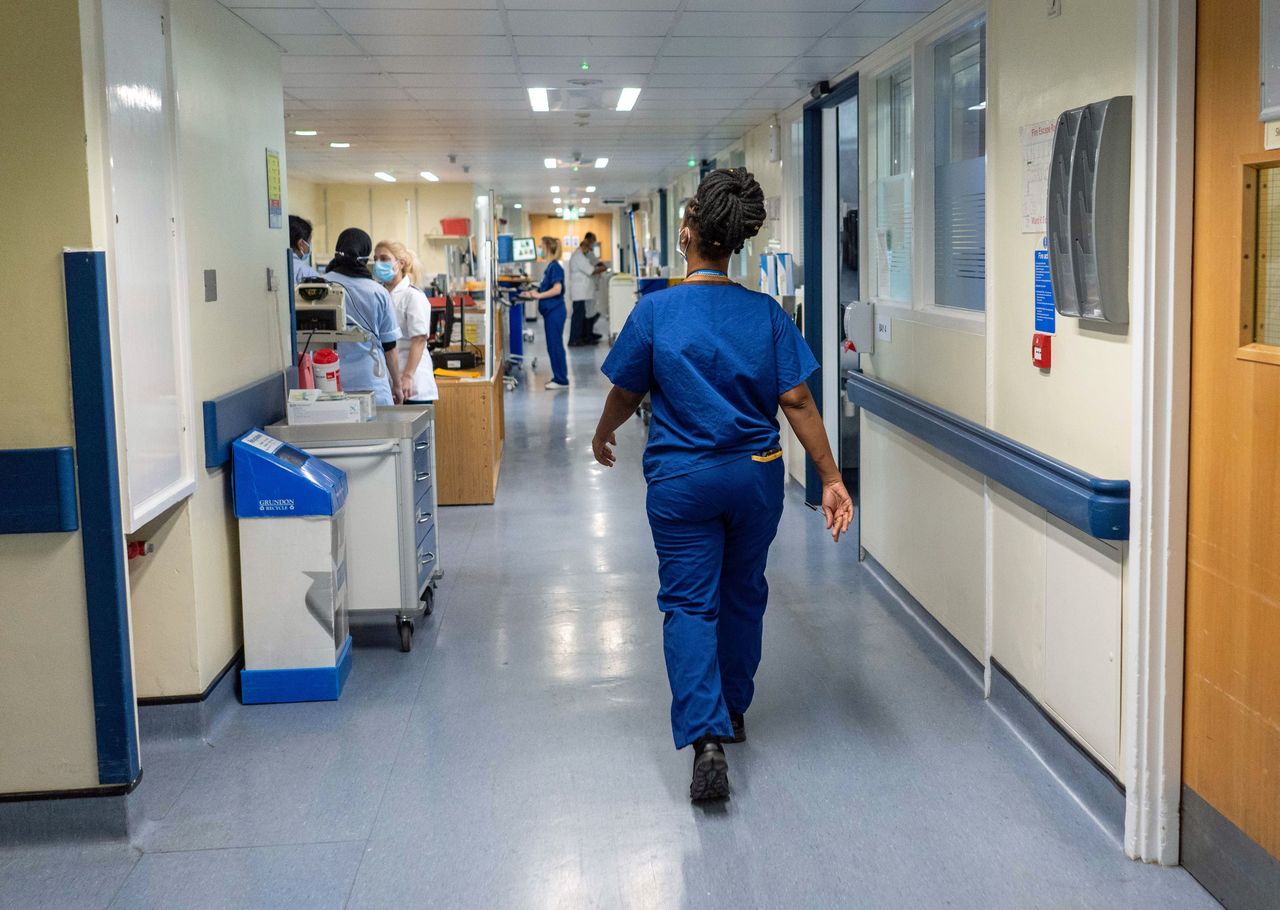 The HSIB said its investigation found evidence of "strong links" between the wellbeing of NHS staff and patient safety.

It said anxiety, stress and depression, and other forms of psychiatric illness were consistently the most reported reason for staff sickness in the health service.

The latest figures for September 2022 show that category alone accounted for almost 500,000 full-time days lost in a single month and about 25% of all unplanned absence.

"We heard words like 'demoralising', 'powerless', 'hurt', 'relentless' during our interviews with staff," said the HSIB's national investigator Neil Alexander.

"If staff are unwell, they are unable to be at work. That means other staff have to cover for them, which again increases the pressure on the system so teams are not able to function as efficiently and safely as they could do."

Staff also told investigators about how the pressure was affecting them outside work, with many struggling to interact normally with friends and family. Some who lived alone reported feelings of isolation and despair after difficult days.

The watchdog said it heard reports of "significant waiting lists" for employee assistance schemes, occupational health, and other support services.
Dr Salwa Malik, an A&E consultant, says all doctors could do at some points over the winter was "firefight," given the pressure on the system.

Dr Salwa Malik, 38, an A&E consultant and vice-president of the Royal College of Emergency Medicine, said: "I would say we give exemplary care and we do keep our patients safe. But there does come a point when the pressures are so bad, that you can't guarantee it, and that's the scary bit.

"If you're on edge for 10 or 12 hours a day then, at the end of the shift, you can kind of crumble... and you can't always switch off," she added.

"I've had nights where you go over the scenarios in your head and it can be very difficult to sleep, then you wake in the middle of the night and look for any distraction to not think about it."

A spokeswoman for NHS England said there was "no doubt" that NHS staff have faced "significant challenges" this winter with record demand for urgent and emergency care.

"The safety of both patients and staff is vital, and the NHS takes staff health and wellbeing incredibly seriously with a range of support including dedicated helplines, wellbeing apps and coaching, as well as the option of flexible working," she said in a statement.

The Department of Health and Social Care said it made an extra £750m available in England to speed up discharges from hospital and free up beds over the winter.

"We've published an urgent and emergency care recovery plan to further reduce pressure on hospitals by scaling up community teams, expanding virtual wards, and getting 800 new ambulances on to the roads, and funding for staffing to go alongside that," said a spokesman.