A new HK$47 billion (US$6.1 billion) road project connecting the New Territories to north Lantau and Hong Kong International Airport will open to the public on Sunday morning, with the city's leader on Saturday marking the launch of the route from the open top of a double-decker bus.

Chief Executive Carrie Lam Cheng Yuet-ngor celebrated the project's completion alongside transport secretary Frank Chan Fan and other officials, who gathered to ride the 5.5km link from the Lantau side, heading north to Tuen Mun.

The toll-free journey will slash the travel time between southern Tuen Mun and the airport from 30 minutes to just 10, and eliminate some 22km of extra driving when it opens at 8am on Sunday. In conjunction with the new opening, the core Lantau Link highway will also become toll free starting Sunday.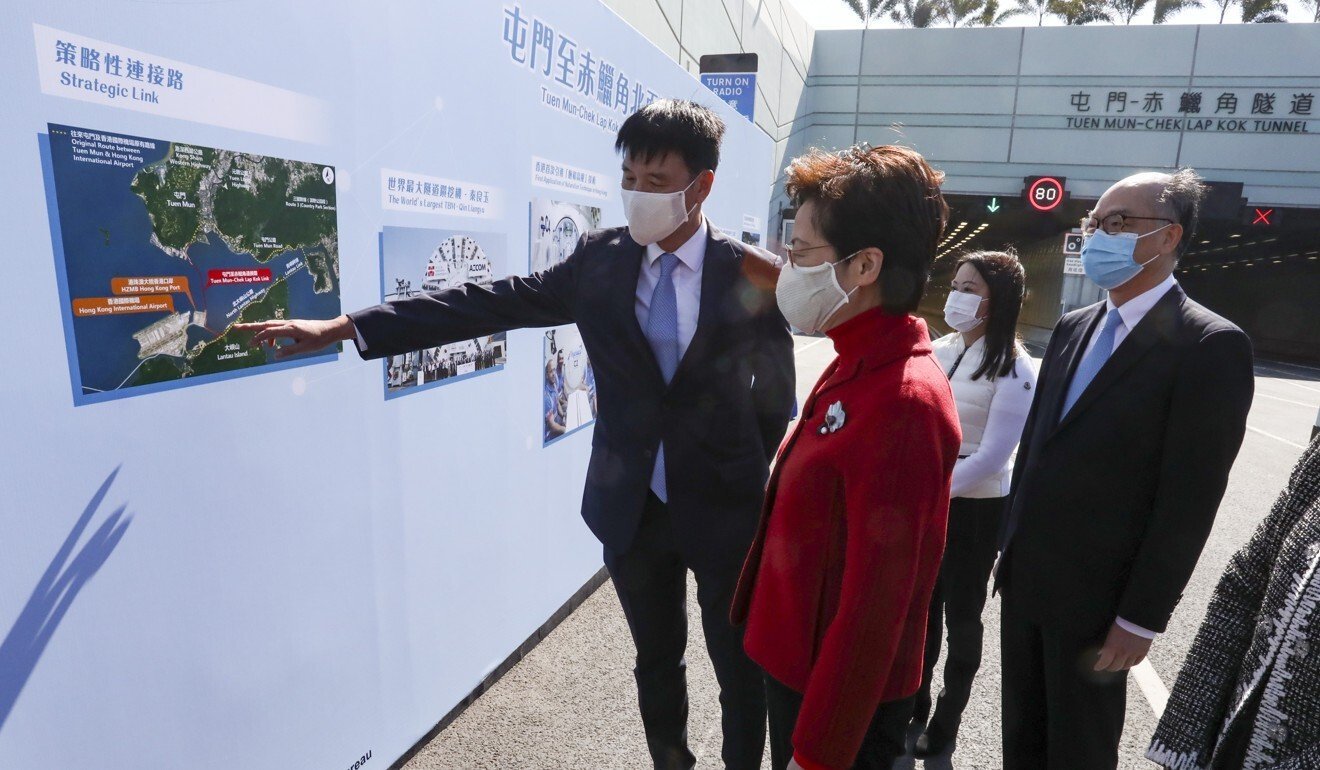 Chief Executive Carrie Lam (centre) and Secretary for Transport and Housing Frank Chan (far right) attend the opening ceremony for the Tuen Mun-Chek Lap Kok Link.

Lam, meanwhile, hailed the "better and more reliable" transport infrastructure, flagging the benefit of the "aviation and land transport 'double gateway' connecting Hong Kong to other parts of the world, and the mainland cities of the Greater Bay Area, thereby reinforcing Hong Kong as an international and regional hub".

The reduced journey is a boon not only for the communities and industries in southern Tuen Mun and north Lantau, but also for the aviation industry and the substantial number of airline and airport workers living in more affordable parts of Hong Kong without easy access to the travel hub.

The new Tuen Mun-Chek Lap Kok Link is the longest and deepest sub-sea road tunnel in Hong Kong, with its completion capping nearly a decade of construction, and coming more than 20 years after the idea was first floated as far back as the 1990s.

The opening also brings to an end years of delays – the tunnel was supposed to be ready in 2016, and was initially projected to cost less than half as much.

The southern portion of the Tuen Mun-Chek Lap Kok Link joins up with the Hong Kong-Zhuhai-Macau Bridge artificial island, which connects to the airport.

Transport officials have previously projected as many as 2,200 southbound cars per hour could use the dual-carriageway sub-sea link during peak times, easing traffic woes and diverting as much as one-fifth of rush-hour traffic from the existing Lantau Link.