Hong Kong customs officers seized 224 tonnes of frozen meat worth HK$35 million in first half of this year.
Brazen cross-border smugglers have made a comeback and are suspected of moving more than 100 tonnes of frozen meat every night from Hong Kong to mainland China, the Post has learned.

Customs officers have kept up pressure on them, confiscating 224 tonnes of frozen meat worth nearly HK$35 million (US$4.5 million) in the first half of this year, almost two-thirds more than in the same period last year.

Over the past four weeks, police and customs officers foiled three smuggling operations, seizing 139 tonnes of meat worth HK$16 million and arresting 16 people.

Law enforcement sources said the illegal activities aimed at evading mainland Chinese tariffs and import restrictions have recently emerged in Hong Kong's southern waters, away from an area patrolled by two Chinese coastguard gunboats.

Mainland authorities deployed the gunboats to patrol the area near the city's western and northeastern waters since February to deter smugglers and discourage people from sneaking across the border.

Smugglers suspended their activities in February and March, but in April, police and customs officers seized 48 tonnes of frozen meat worth HK$9.2 million and arrested three men on a mainland-bound fishing boat intercepted off Po Toi Island, south of Hong Kong.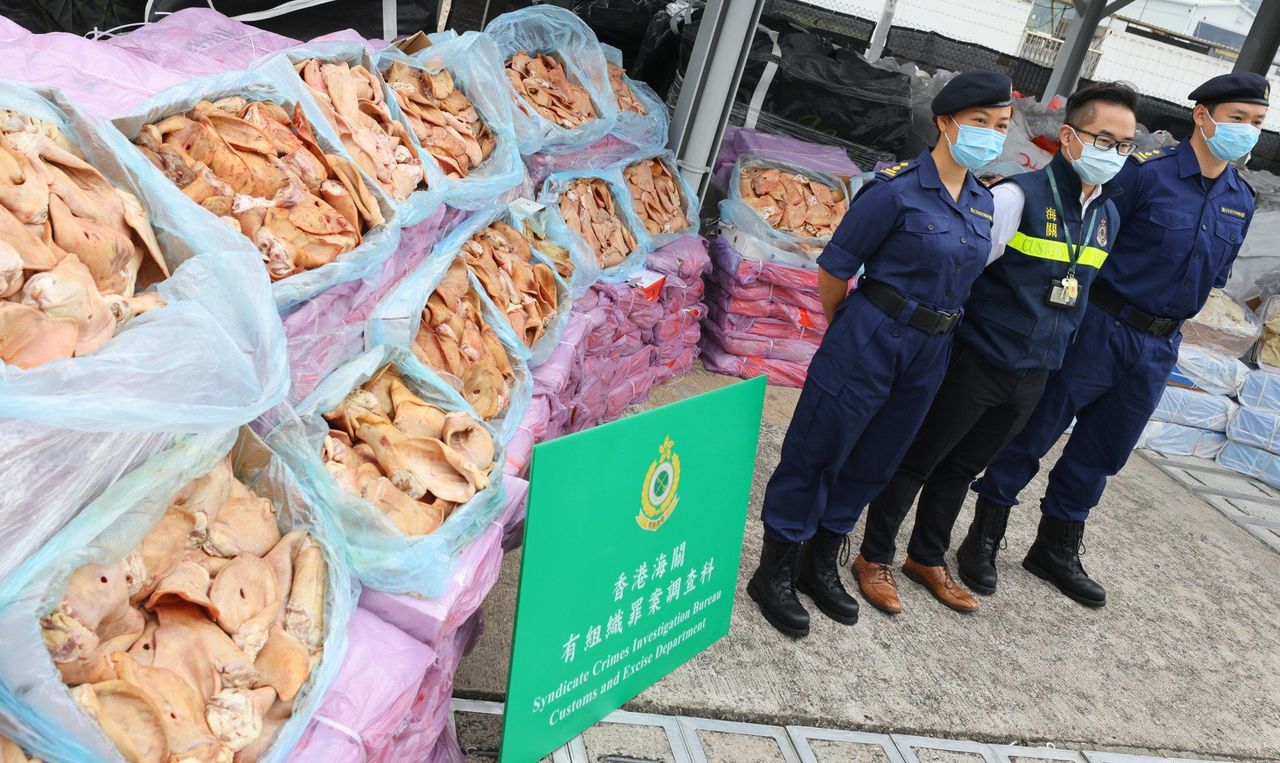 Customs officers display 35 tonnes of smuggled frozen meat seized in January.

In June, the smugglers were back in action, this time using cargo vessels equipped with cranes as floating warehouses.

"We believe they can pocket hundreds of thousands of dollars from a single night's smuggling operations," a source said.

The Post learned that recent smuggling jobs usually involved three vessels equipped with cranes, which were first packed with bags of frozen meat at public cargo loading areas in Tsing Yi, Tsuen Wan or Yau Ma Tei.

Each 30-metre cargo boat can carry 50 to 60 tonnes, and the smugglers use different loading areas to evade detection.

The laden vessels then wait along Hong Kong's southern waters at night for speedboats to arrive from the mainland and pick up the goods.

"At least five speedboats are deployed as lookouts and carry out counter-surveillance against law enforcers," the source said.

Speedboats powered by four to six outboard engines then pick up the frozen meat from the cargo vessels, with each speedboat able to take 10 to 12 tonnes.

Another source said it took about 20 minutes for a speedboat to enter Hong Kong waters, get loaded and leave.

"In our recent surveillance operations, about 10 speedboats were seen crossing into the city's waters in one night to pick up goods," he said.

He said the smugglers usually worked between 11pm and 1am on several days each week, and Hong Kong authorities were investigating if the same syndicate was behind the illegal activities.

Both sources said the smugglers were now operating on a smaller scale than in 2020 and last year, when more than 100 speedboats and 20 to 30 barges were involved every night and more than 1,000 tonnes of frozen meat was moved daily.

Incidents of smuggling by sea surged during the coronavirus pandemic, as multiple land border checkpoints have been closed since 2020 and mainland shoppers could not visit Hong Kong.

The frozen meat comprises mainly beef, pork and offal from South America, North America and Europe.

Customs officers seized 3,344 tonnes worth HK$149 million in 2020, up 232 per cent from 1,005 tonnes worth HK$66 million in 2019. The seizures dropped to 347 tonnes last year amid stringent enforcement action.

The death of a female police officer during a high-speed pursuit of smugglers at sea last September also prompted Hong Kong and mainland authorities to step up action against cross-border smugglers.

After lying low for several months, the smugglers reappeared in January, and were using cargo vessels in two operations foiled by local authorities who seized more than HK$17 million worth of frozen meat.

The smugglers suspended their illegal activities in February and March, after Chinese authorities sent the two coastguard gunboats to patrol mainland waters near Hong Kong to deter people crossing the border illegally.

The second source said smugglers kept changing tactics in a cat-and-mouse game.

The Customs and Excise Department said its officers conducted checks on passengers, cargo, postal packets and conveyances at various control points and at sea to combat the smuggling of contraband, including frozen meat, and pledged to keep up stringent enforcement of the law.