Existing members or anyone seeking to join the powerful committee that will vote Hong Kong's next leader into office and approve candidates for legislative elections must declare if they or their spouses hold foreign passports, including British National (Overseas) status.

Chief Executive Carrie Lam Cheng Yuet-ngor's confirmation on Tuesday of the new requirement for the freshly expanded 1,500-member Election Committee has triggered anxiety even among pro-establishment politicians, several of whom have questioned the need to involve their families.

Asked if the condition amounted to an invasion of privacy, Lam said it was necessary to support the work of the candidate eligibility review committee, which was created under Beijing's drastic overhaul of the city's electoral system to screen out "unpatriotic" hopefuls.

Reports of the new arrangement emerged earlier in the week after ex officio members of the Election Committee – including delegates to the national legislature and the country's top political advisory body – were sent forms asking them to declare if they or their spouses held foreign national status.

The four-page document also requires them to state if they have a BN(O) passport or the right of abode in Taiwan, and any other travel documents, and to detail their job history over the past three years, including the nature of the work and employer information, according to those who received the form.

"This is to us an entirely new system," Lam said, referring to the responsibilities of the new vetting committee. "We have taken a fresh look at how we can seriously implement this requirement in terms of reviewing the eligibility of candidates … including ex officio members.

"Somebody may feel that since they are ex officio, for example by virtue of their status as National People's Congress or Chinese People's Political Consultative Conference (CPPCC) members, it should be taken for granted they will fulfil the patriotic requirement.

"But to ensure equity ... everyone who will have a seat in the 1,500-member Election Committee will have to go through the same process."

Lam said the forms were delivered to members as part of fact-gathering conducted by the vetting committee, which meets for the first time this week.

However, two pro-Beijing veterans, who asked to remain anonymous, said they did not expect to expose their spouses to such scrutiny on account of their Election Committee membership.

The obligation was a source of anxiety, according to one of the politicians, saying he only retained his foreign nationality for business reasons.

A former lawmaker said the new requirement would put many committee hopefuls and their spouses in a difficult spot, several of whom worked in the business sector and carried an overseas passport.

"One major concern is whether the declared information will be made public. They fear they will be caught in an embarrassing situation as many do not wish to reveal that they have foreign nationalities for business purposes," he said.

"But if they hide it from Hong Kong authorities, they may risk being sanctioned by foreign governments."

Confusion also reigned among some members of the pro-establishment camp over the requirements for declaring travel documents.

For instance, lawmaker Leung Che-cheung, a member of the CPPCC, the country's top advisory body, revealed he had disclosed on the form a travel visa that he previously obtained from Taiwanese authorities.

But Liberal Party leader Felix Chung Kwok-pan argued there should be no expectation to declare those types of single-trip visitor permits that were only valid for a relatively short period of time.

"The declaration form is quite unclear as it does not mention the consequences [of non-compliance] and its purposes," Chung said.

"But I guess the answers regarding spouses' nationalities are just for reference as Mrs Lam's husband also holds British nationality and she can still serve as the city's leader."

Pro-establishment lawmaker Michael Tien Puk-sun, a delegate to China's legislature, described it as "quite strange" that the government would request the personal details of spouses, given that was not listed among the criteria for candidate eligibility.

"But I believe the form aims to let the vetting committee, as well as the national security authorities, know more about candidates, as there will be a lot of new faces this year," he said.

"If someone is worried that their privacy will be exposed, then perhaps he or she should not participate."

Last week, Lam appointed Chief Secretary John Lee Ka-chiu to chair the seven-member vetting committee, with other members including constitutional affairs chief Erick Tsang Kwok-wai, security minister Chris Tang Ping-keung, home affairs chief Caspar Tsui Ying-wai, and three pro-Beijing politicians.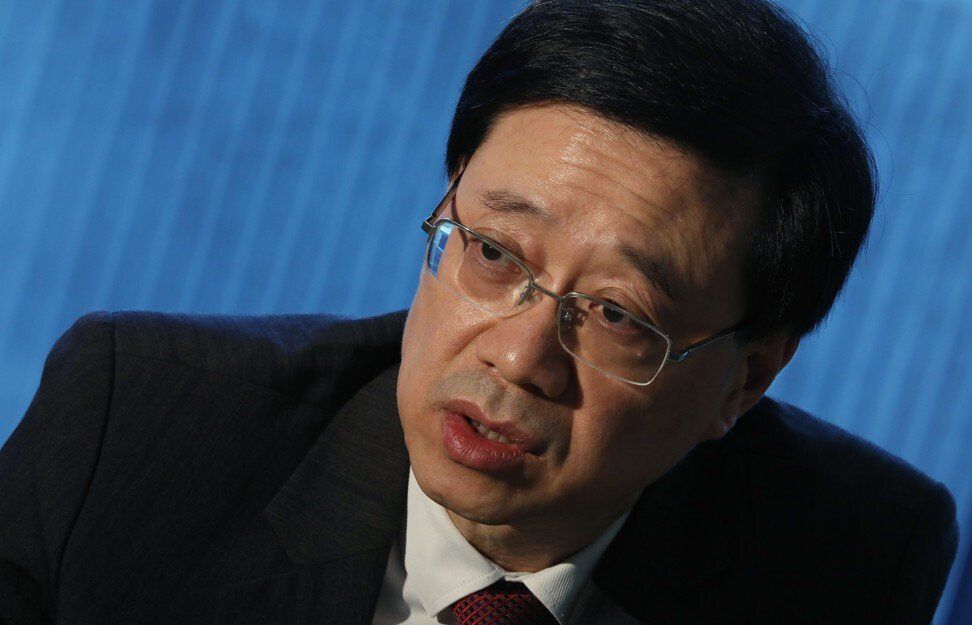 Hong Kong's No 2 official John Lee.

Under Beijing's shake-up in March of Hong Kong's electoral system to ensure only "patriots" could hold key positions of political authority, the Election Committee, traditionally tasked with picking the city's leader, was expanded and empowered to also nominate lawmakers and field representatives of its own to the legislature.

Also on Tuesday, Lam pledged to unveil details of a new oath-taking arrangements for district councillors as soon as possible, following a wave of resignations from the opposition bloc.

Nearly 200 pan-democratic members have stood down over the past week in a pre-emptive attempt to avoid the threat of bankruptcy, following warnings that those failing to satisfy the oath requirements might have to return their salaries and other expenses received during their time in office.

As part of the authorities' drive to align local legislation with the Beijing-imposed national security law, the legislature in May approved an amendment bill extending oath-taking rules that applied to senior officials, judges and lawmakers to district councillors.

Government sources last week told several media outlets that district councillors who did not meet the requirements faced disqualification and possible demands to repay up to HK$2 million (US$257,500) per person in salary and allowances.

Lam warned that the government would strictly enforce the legislation, regardless of the impact on local services from unseating a large number of district councillors.

"Some said if there is a mass disqualification, it will be very difficult for the district councils – which only have few members remaining – to function," she said. "But this is not our consideration."