Parliament's watchdog received dozens of complaints about former Health Secretary Matt Hancock's appearance on reality TV show I'm A Celebrity.
The parliamentary commissioner for standards Kathryn Stone said the issue was not something she could investigate as it did not break any rules.

But she said it raised "important questions" about what MPs did when they should be representing constituents.

Her role investigates alleged breaches of the Commons Code of Conduct.

There has been widespread criticism of Mr Hancock for appearing on the show while he is a serving MP and he has been suspended from the Conservative parliamentary party.

Ms Stone told MPs on the Standards Committee: "It raises really important questions about members' proper activities while they're supposed to be fulfilling their parliamentary duties and representing their constituents.

"One member of the public contrasted the dignity of veterans on Remembrance Sunday with a former secretary of state... waiting for a buffet of animal genitalia and they wondered what had happened to the dignity of public office."

She added that "there is no job description for MPs but we have to think very carefully about the conflict between public and private interests, bringing the House into disrepute and so on".

Ms Stone said she was also frustrated by the number of complaints she received about ministerial behaviour, which she is not responsible for investigating.

The prime minister does not currently have an independent adviser on ministers' interests, who would normal provide advice on alleged breaches of the ministerial code.

The role has been vacant since Lord Geidt resigned as Mr Johnson's adviser in June and Ms Stone said a decision needed to be made soon on his replacement.

Prime Minister Rishi Sunak has pledged to appoint a new ethics adviser shortly.

Ms Stone told MPs the largest number of complaints to her office - almost 1,500 - were over Partygate fines given to then-Prime Minister Boris Johnson and his then-Chancellor Rishi Sunak.

Mr Johnson and Mr Sunak were both fined for breaking lockdown rules when they attended a birthday gathering in Downing Street in June 2020.

She said the issue was "outside my remit" but people felt they had "nowhere else to go".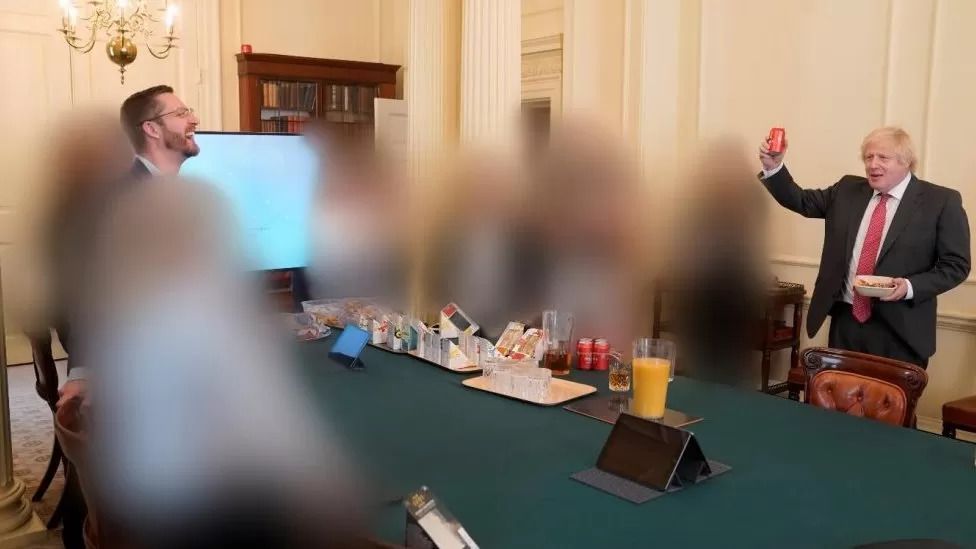 Then-prime minister Boris Johnson was fined along with Rishi Sunak over a birthday celebration in June 2020
During her appearance in front of the committee, Ms Stone suggested that former cabinet minister Sir Gavin Williamson could be investigated over his past conduct.
She was asked about claims that as chief whip, responsible for party discipline, Sir Gavin had instructed that when a cheque was given to an MP in financial difficulty to make sure "he knows I now own him".
In response, she said: "I have to consider very carefully any live case and I don't want to prejudice or undermine any investigation into a live case."
Sir Gavin resigned from Mr Sunak's cabinet last week, after allegations of bullying emerged, and said he wanted to clear his name "of any wrongdoing".
Ms Stone, who is soon to leave her role, said she had been subject to death threats in the job and had separately received abuse from a "minority" of MPs over her investigation of Owen Paterson.
Last year she found the then-Conservative MP had been responsible for "serious breaches" of lobbying rules.
Mr Paterson subsequently resigned after a backlash at the government's decision to block his suspension from Parliament.
Ms Stone said the abuse she received over the case did not affect her decision-making.