A major incident has been declared due to a spate of fires across London, where temperatures have exceeded 40C for the first time.
More than 400 firefighters have been battling at least nine blazes that began on Tuesday afternoon.

The number of casualties and houses destroyed is not yet known.

London Fire Brigade (LFB) assistant commissioner Jonathan Smith said it had to investigate every incident before it could give an "accurate picture".

He said Tuesday night into Wednesday morning would be "critical" in ensuring the fires were kept under control.

London Ambulance Service has said the total number of people taken to hospital may not be known until Wednesday.

Homes in Wennington, east London, were evacuated after a grass fire spread to properties and left several gutted by flames.

Two people were also taken to hospital following a fire in Dagenham.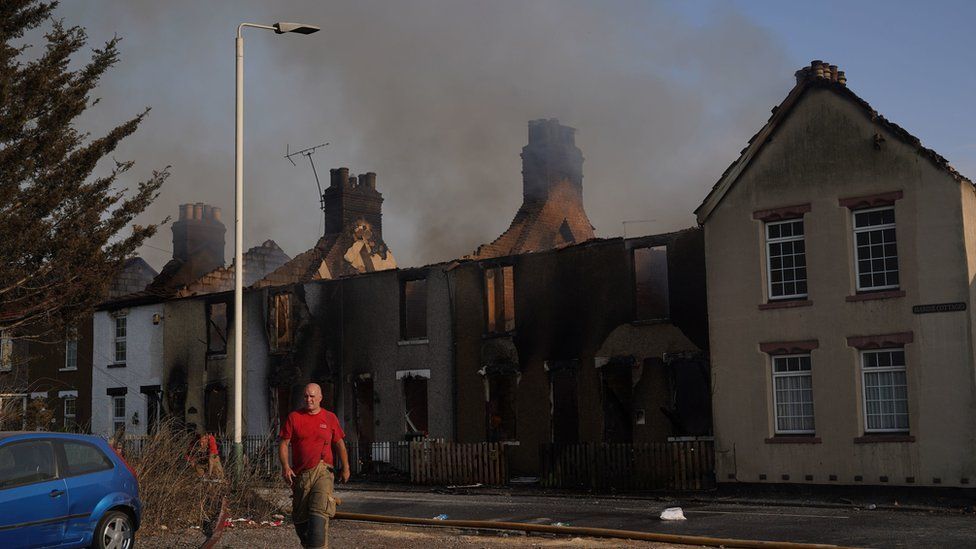 Homes have been left damaged by the Wennington fire

LFB is asking people to only call 999 if there is an emergency or if there is an immediate risk to life.

It has also urged people not to have barbecues or bonfires in public parks or at home due to the scale of the challenge facing crews.

The Met Police, which has provided vehicle support to the firefighters, said some of the fires would require an ongoing presence through the night.

Mr Smith said: "We've had a range of incidents today, obviously a number of which have been the result of the tinderbox dry woodland and grassland both in central London and in the suburbs.

"This has caused rapid fire spread which has impacted on properties, people's homes, schools, churches and other types of buildings.

"At the moment, because of the sheer number of incidents we've been attending, we will be pulling all of that information together and making sure every incident is thoroughly investigated.

"Once we've done that we'll be able to give an accurate picture of exactly the incidents we've attended, how many homes have been affected and if there have been any casualties."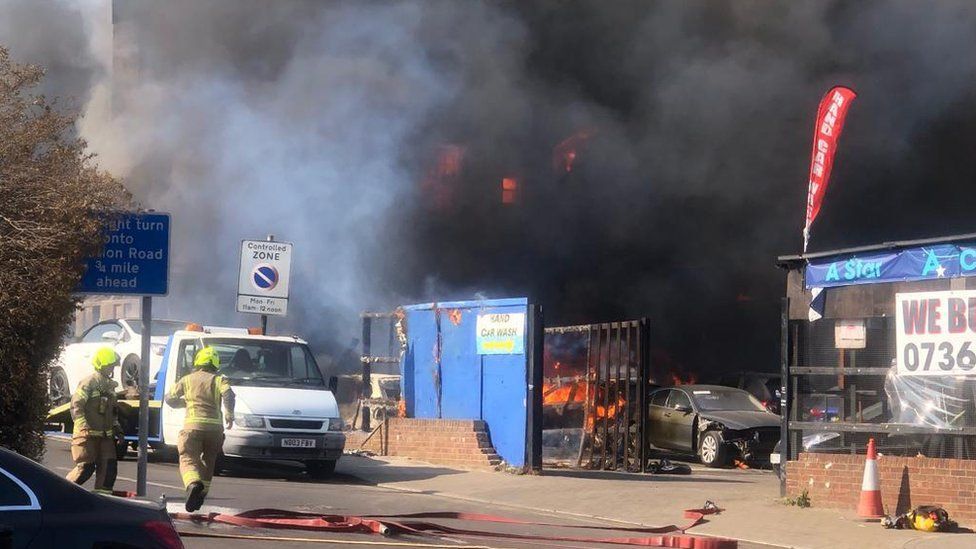 Two houses, a car wash and several vehicles caught fire in Kenton

As temperatures in the capital soared to above 40C, LFB sent:

*  Thirty fire engines and 175 firefighters to a grass fire on Pea Lane in Upminster, where smoke billowed over the M25 motorway
*  Twelve engines to Uxbridge Road in Pinner to tackle a fire involving garden fencing and trees
*  Ten engines to a restaurant fire on Green Lanes in Southgate, where about 70 firefighters remain at the scene
*  Eight engines to a grass fire on Oaks Road, Croydon
*  Eight engines to a grass fire on Ballards Road, Dagenham
*  Twelve engines to a fire at The Broadway, Wembley
*  Six engines to a grass fire on Sunningfields Crescent, Hendon
*  Four engines to a grass fire over an area of about one hectare (2.5 acres) of woodland and undergrowth on Chapel View in Croydon
*  Four engines to a fire on Sidcup Road, Eltham
*  Ten fire engines to Hawthorne Avenue, Kenton, where a car wash, two semi-detached houses and nine vehicles are completely alight

Firefighters had the fire in Upminster under control by 15:07 BST, the LFB said.

Some 200 people were evacuated from a nearby caravan site and 60 gas cylinders were removed to a safe area as a precaution, as some cylinders can explode when exposed to heat.

The blaze in Wembley, where a shop with flats above was alight and about 50 people were evacuated, was later brought under control.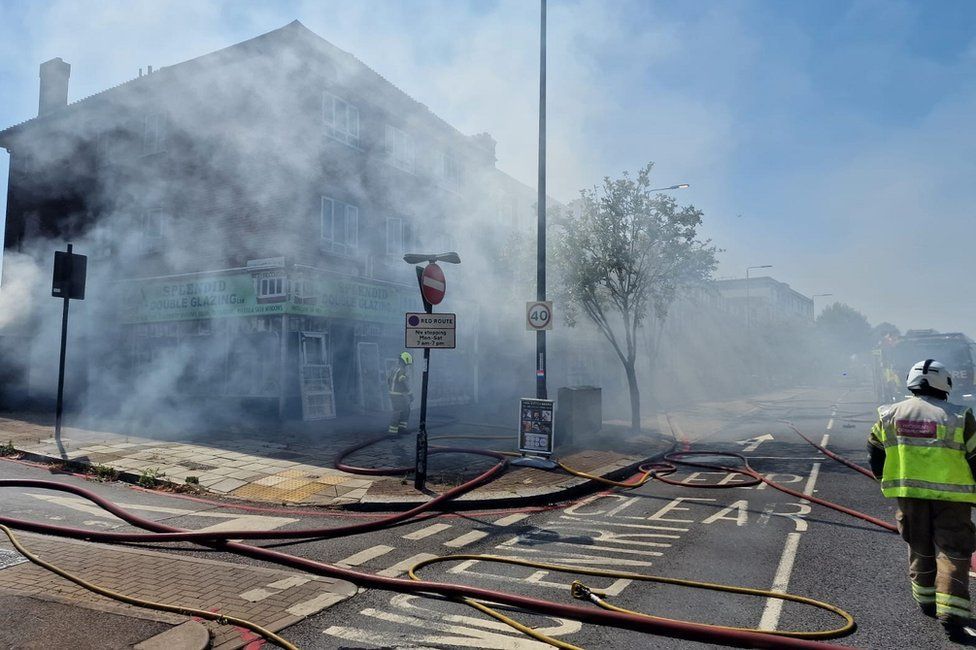 The ground floor of a shop in Eltham was destroyed in one fire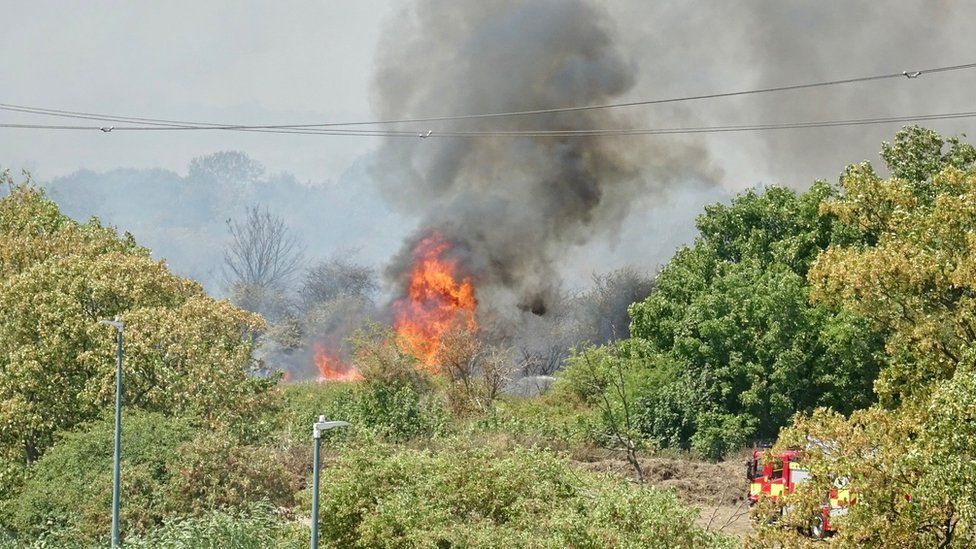 Firefighters attended a fire on Dartford Marshes

Residents in Wennington told the BBC about eight homes and possibly the local church had been destroyed in the fire.

One woman was seen crying hysterically saying: "Oh my God - the house is gone", while her family tried to comfort her.

Janet Hickey, 70, who has terminal pancreatic cancer, said she was forced to leave all her cancer drugs behind when they were evacuated.

She said: "I'm terminally ill so it's not great to lose all that. I'm also an artist and all my paintings are there."

Mrs Hickey shared the home with her husband Patrick, 71, for 50 years.

He said: "We're hoping against hope that our house is still there."

Timothy Bassett said the fire was thought to have started in the back garden of one home.

"Literally within no time at all, with the winds and everything, it just got horrendous," he said.

One woman said her uncle had been stuck in a home and had started digging a trench to protect it from the flames. Emergency services have since rescued him.

A firefighter working at the scene described the conditions as being like "absolute hell".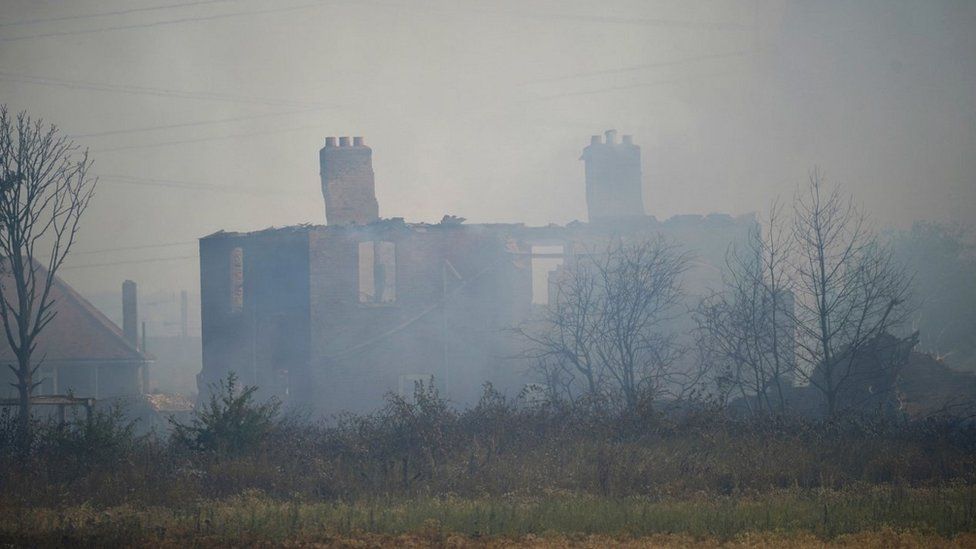 Residents in Wennington said they believed about eight homes had been destroyed

The blaze in Ballards Road, Dagenham, began as a grassfire before spreading to a range of properties and a workshop.

LFB said a man and a woman had been treated in hospital for smoke inhalation.

Firefighters' leave and training was cancelled in order to maximise the brigade's response to the surge in emergencies, it said.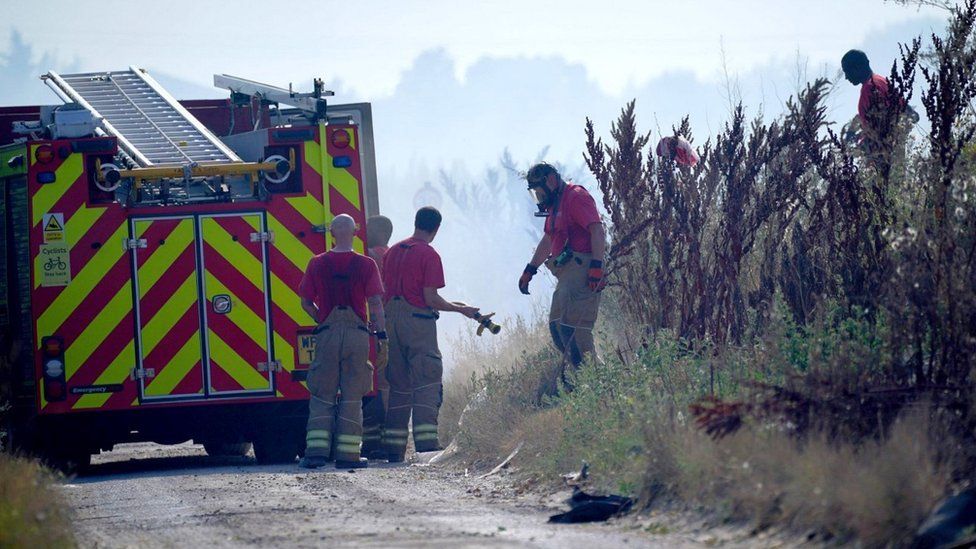 Fire crews in Wennington described conditions as being "absolute hell"

Borough Commander Paul McClenaghan said tackling the fire in Wennington had been an arduous task.

"Our firefighters are working in incredibly hot, difficult conditions.

"There are cylinders involved in the fire which is adding to the challenge for crews.

"The fire is creating lots of thick smoke and we would advise local residents to close doors and windows."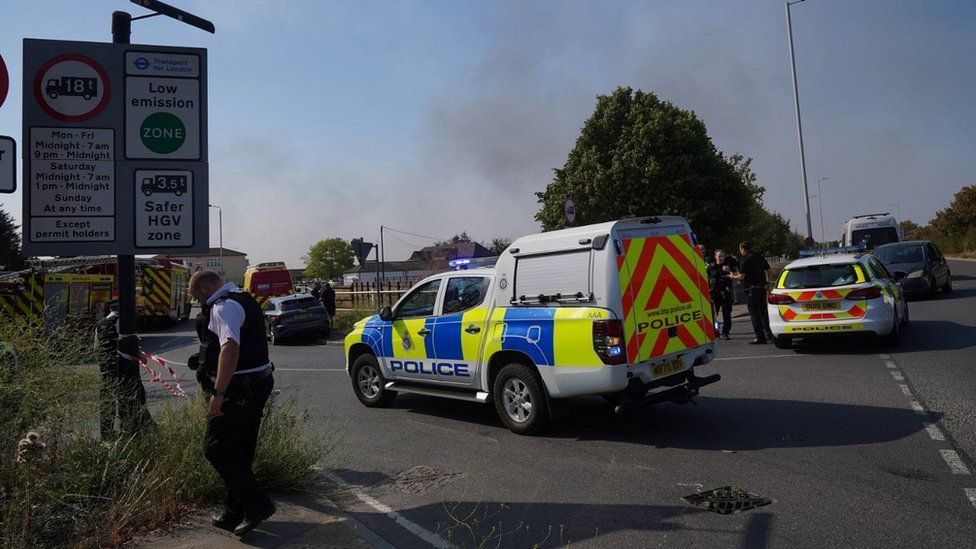 Numerous emergency services are at the scene in Wennington

Firefighters are also tackling a blaze on Dartford Marshes, near the border of Bexleyheath.

BBC News reporter Harry Low, who was at the scene, said much of the land in the surrounding area had been scorched.

Euston Station was evacuated following a trackside electrical fire earlier.

There are also no trains out of Euston following a trackside fire.

Train services running out of London King's Cross and London St Pancras International have also been cancelled due to the heat.

Prime Minister Boris Johnson paid tribute to firefighters and frontline workers, tweeting: "My thanks go to all the firefighters and frontline services who are working incredibly hard to keep us safe on this scorching day.

"I urge everyone to continue to follow the advice from emergency services - including LondonFire as they respond to incidents."

Sadiq Khan, the mayor of London said: "My message to Londoners is please, please, please do everything you can to avoid a fire happening.

"The number of incidents the fire service has responded to today exceeds sixteen hundred.

"On a normal day the London Fire Brigade responds to between three and four hundred incidents.

"The fire service could be pivoting towards responding to flash flooding tomorrow, which occurred this time last year.

"So please do what you can to take some of the pressure off of the fire service by not inadvertently creating more work."

Mr Khan said LFB had received more than 1,600 calls for assistance by late Tuesday afternoon.
Watch: Fields and buildings ablaze in London and south-east
A grass fire is seen spreading smoke around Shirley Hills