Plan will put city on par with other common law jurisdictions, improve transparency and boost public confidence, according to chief justice.
Hong Kong's legal community has hailed a proposal by the judiciary to start live broadcasting court proceedings this year, saying the move will increase transparency, and boost public confidence in the city's legal system.

The idea, proposed by Chief Justice Andrew Cheung Kui-nung, would put Hong Kong on a par with other common law jurisdictions such as the United States, Britain and Australia, which already broadcast court proceedings online. Cheung revealed on Monday a working group had been formed to examine guiding principles as well as implementation practicalities.

The top judge said not all trials, particularly those involving a jury and vulnerable witnesses, were suitable for live broadcasting, arguing appellate proceedings would be a good starting point. He said he aimed to introduce it this year.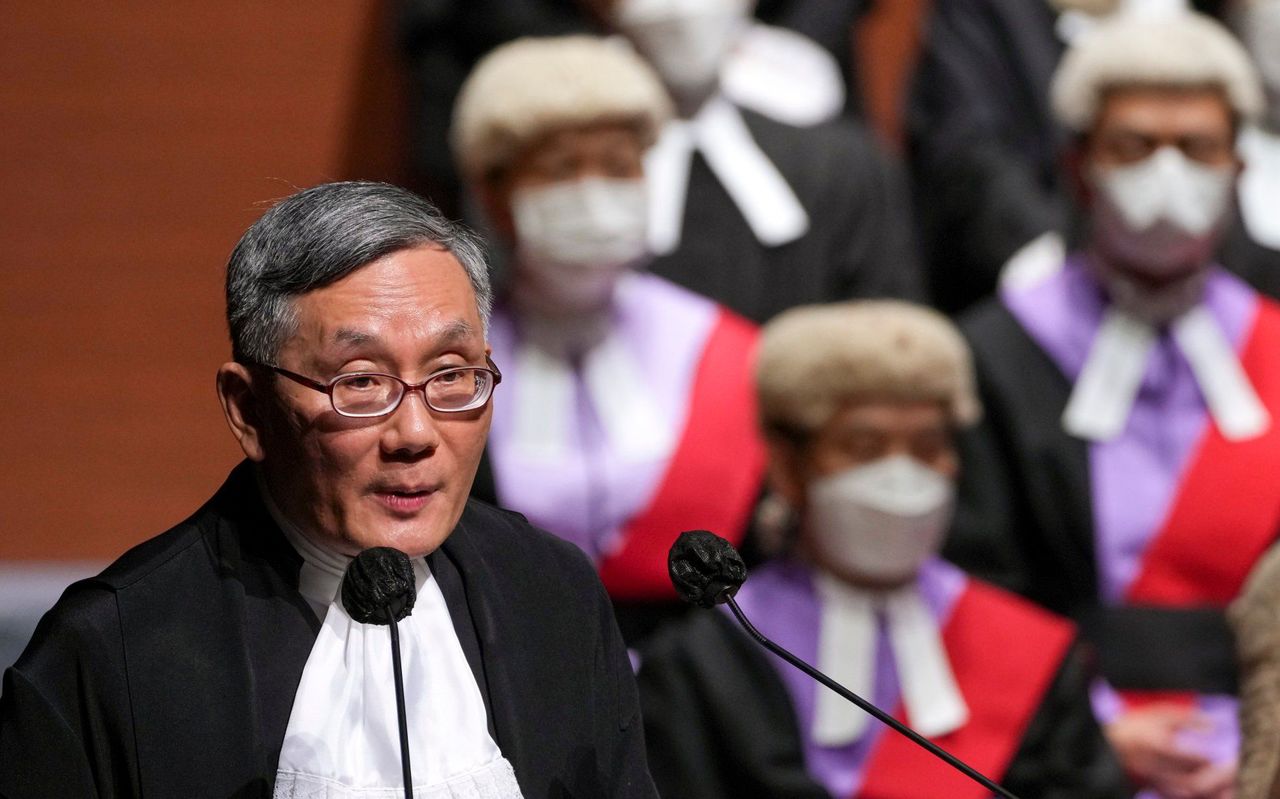 Chief Justice Andrew Cheung at the opening of the legal year on Monday.
Professor Simon Young Ngai-man, associate research dean of the University of Hong Kong (HKU) law school, backed the introduction of online broadcasts, which he said could allow residents and those overseas to gain a better understanding of how justice was delivered in the city. It would also allow them to see the rule of law in action.
"The other benefit is that it is great educational material for learning about oral advocacy in the courts. This is especially important for young lawyers and law students," he added.
Young also agreed with the approach of starting with Court of Final Appeal hearings, which were mostly about the law and not so much about evidence and facts, before considering if other lower court proceedings could be broadcast.
Dr Evan Rosevear, a postdoctoral fellow at HKU who researches court operations, agreed the move would be a "net positive".
"Making these materials available increases the transparency of the judicial process," he said. "Not only is this a good thing in and of itself … but provided that the judiciary continues to live up to the high standards it sets for itself, it would almost certainly lead to increased public trust in and support for the institution."
Rosevear said some had argued that the current narrow audience of court proceedings was beneficial in the sense it allowed focused and efficient debate given legal professionals were not required to explain well-understood ideas to a non-specialist audience.
A wider audience, he said, could lead counsel to alter the content of their arguments to include such explanations, which might impose a significant burden on court resources or yield lower-quality legal debate.
"At the extreme, it may even lead counsel to present either their clients or themselves sympathetically in an attempt to secure a favourable ruling based on emotional responses rather than sound legal reasoning or perhaps to achieve some sort of public notoriety," Rosevear said.
"While judges would be unlikely to be moved by such efforts, such a change in the tone of debate could harm the perception of the judicial system more generally by blurring the line between political and legal argument."
But he said such issues were substantially less likely to occur at appellate proceedings than in a trial court where a jury was acting as a finder of fact.
Countries such as Canada, Britain, Australia and the United States broadcast proceedings in their apex courts.
Unlike other jurisdictions, the US Supreme Court only posts audio recordings of the arguments it hears because it upholds its ban on cameras in the courtroom. The High Court of Australia, on the other hand, only provides video recordings a day after it finishes sitting.
Young called on the new working group set up by Cheung to consider whether to allow applications by the media to film court proceedings of high public interest. He cited some cases of sentencing in England and Wales that had been filmed and broadcast by major media outlets.
In July last year, the sentencing of a man convicted of manslaughter became the first criminal case to be broadcast live on television in England and Wales.
Filming was limited to the judge's sentencing remarks, with only the judge appearing on camera. The British government said the move would give the public a greater understanding of the judicial process.
Bar Association chairman Victor Dawes noted there were "obviously pros and cons" for streaming hearings online.
The advantage of increasing transparency and educating the public provided good justifications for the new initiative, Dawes said.
It would be difficult to implement in criminal trials in the early days and that other measures should be considered to safeguard the public interest, he added.
During his speech at the opening of the legal year on Monday, Chief Justice Cheung called live broadcasting of proceedings "a natural way forward" to take advantage of technological advancement to enhance transparency in the face of limited seating capacity of the city's courts, and public health considerations.
But he also noted the need to carefully study legitimate concerns that arose, such as the possible misuse of the broadcast material, or doxxing of judges and legal representatives.