Just Stop Oil has hit the headlines in recent months after a series of protests.
The group is campaigning for more action on climate change but their tactics, which include blocking busy motorways, have faced criticism.

What is Just Stop Oil?

Just Stop Oil is an environmental activist group founded after Extinction Rebellion and Insulate Britain with organisers from both at the helm.

The movement first came to attention following a series of protests in March. This included pitch invasions at several Premier League football grounds, with one activist tying himself to a goalpost.

After the protest during the Everton home game, presenter Gary Lineker said in a tweet whether "you approve of this young man's methods or not, he's right, his future is perilous".

There have been other notable protests since then, including disruption at oil terminals and on some of the country's busiest motorways.

What does Just Stop Oil want?

The group wants an end to the use of oil and other fossil fuels.

It describes itself as "a coalition of groups working together to ensure the government commits to halting new fossil fuel licensing and production."

The government plans to licence more than 100 new oil and gas projects by 2025.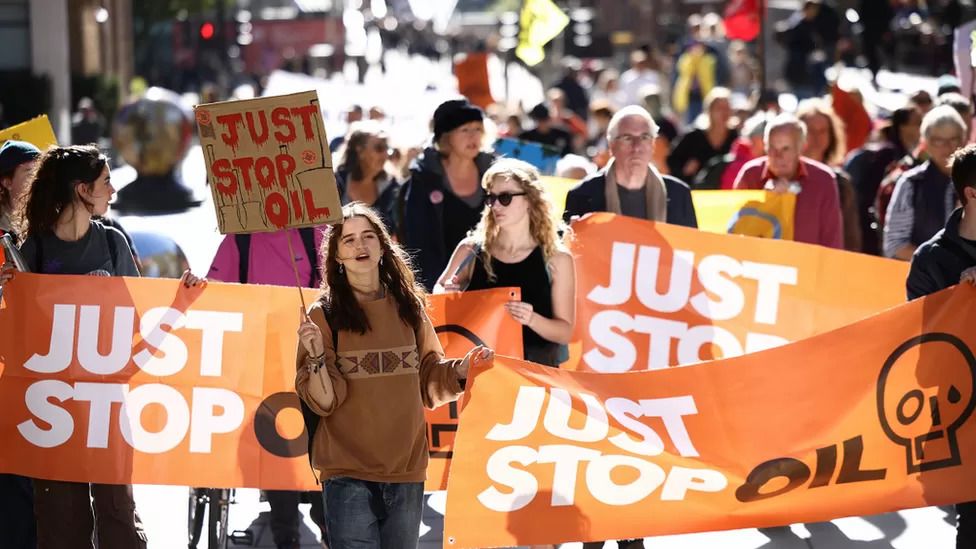 A protest in London

Unlike Extinction Rebellion, which campaigns on the single big issue of climate change, Just Stop Oil's protests have a more specific focus.

As well as calling for an end to fossil fuels, the group also wants renewable energy investment and for better building insulation to avoid energy waste.

What are Just Stop Oil's tactics?

In the past few months, protesters from Just Stop Oil have thrown soup at Van Gogh's Sunflowers at the National Gallery, attempted to disrupt the British Grand Prix and caused the closure of the M25 with a series of demonstrations.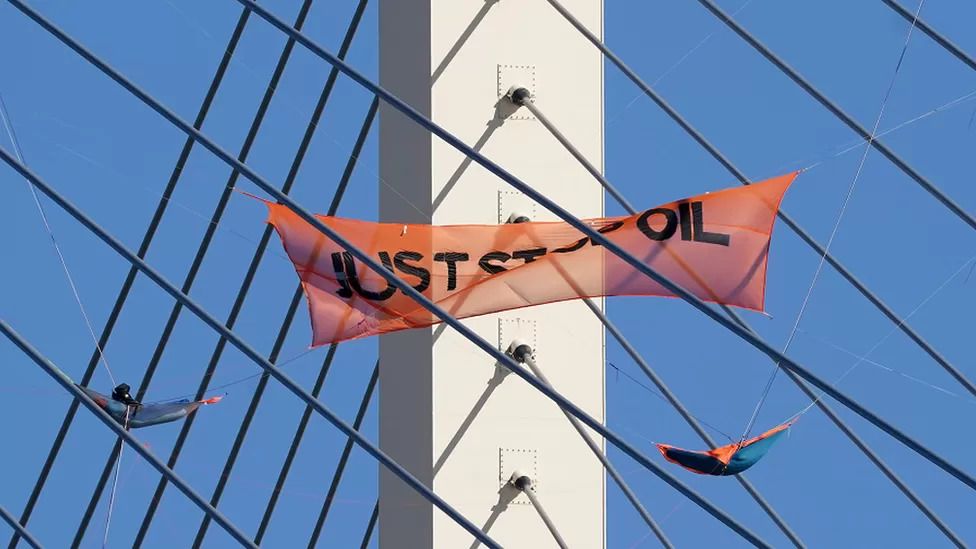 A Just Stop Oil banned hangs on the QEII Bridge between Kent and Essex

Like Extinction Rebellion and Insulate Britain, Just Stop Oil activists claim to be willing to use "non-violent civil resistance" to make their point in public spaces.

According to Just Stop Oil, its supporters have been arrested nearly 2,000 times since April, with five of their supporters currently in prison.
Who funds Just Stop Oil?

According to its website, most of the funding for Just Stop Oil comes from the Climate Emergency Fund - a US network set up in 2019 to fund climate activism.

The Climate Emergency Fund, is in turn part-funded by Aileen Getty, a US philanthropist whose grandfather was petroleum tycoon J Paul Getty.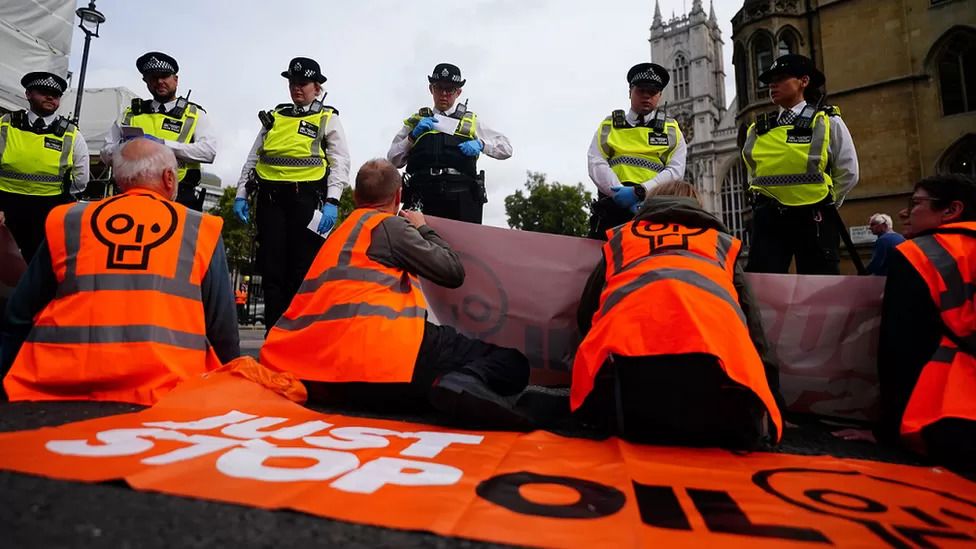 Just Stop Oil protesters in London in October
Is it legal to block roads?

Put simply - no.

The maximum penalty for the wilful obstruction of a highway is 51 weeks in prison, under an amendment to the Highways Act of 1980. Offenders can also receive a fine.

The government is also trying to put through new legislation to crack down on these types of protest.

The Public Order Bill, which is currently going through Parliament, would grant new powers to prosecute someone who interferes with the operation or use of key national infrastructure in England and Wales - whether on the roads, railways, or air transport infrastructure.

High Court injunctions have been sought by several transport bodies, including National Highways and Transport for London, to prevent protesters disrupting major roads.

Those in breach of an injunction can be held in contempt of court and could face imprisonment, an unlimited fine and seizure of assets.

But activists point to a Supreme Court ruling in 2021 which found there should be a "certain degree of tolerance to disruption to ordinary life, including the disruption of traffic" caused by non-violent protest.

Dealing with these protests is proving very difficult for the authorities, despite arrests and court action. Just Stop Oil has said it will demonstrate "every day" until the group's demand for no new oil and gas in the UK is met.

What have critics said about Just Stop Oil?

Their activism has been welcomed by some, but others have objected to the group's tactics, including those directly affected.

Videos on social media over the past few months have shown irate motorists stopped from driving by Just Stop Oil activists sitting in the road.

Recent disruption at several points along the M25 motorway was described as "completely outrageous" by Business Secretary Grant Shapps.

"Don't go disrupting other people's lives," he said during an interview with LBC.

The Metropolitan Police said it had dedicated more than 10,000 officer shifts to policing Just Stop Oil protests since the start of October.

"These are officers who would otherwise be dealing with issues that matter to local communities, such as knife crime, safeguarding and responding to burglaries," Assistant Commissioner Matt Twist said.