A Hong Kong court has barred media tycoon Jimmy Lai Chee-ying and his companies from challenging the legality of the search warrants executed in a series of raids at his offices last year and refused their applications for an injunction against the police chief.

The nine plaintiffs first filed a series of private legal actions against the commissioner of police last year to recover some materials seized by officers during investigations into allegations of fraud and national security law violations.

They sought to amend the scope of their case last month to include a challenge to the lawfulness of the warrants, with a new injunction application seeking to restrain police from accessing, reviewing or using certain seized materials.

But on Thursday, Mr Justice Wilson Chan Ka-shun of the High Court found he had no jurisdiction to entertain the proposed amendment, which he deemed an abuse of process and "clearly devoid of merits".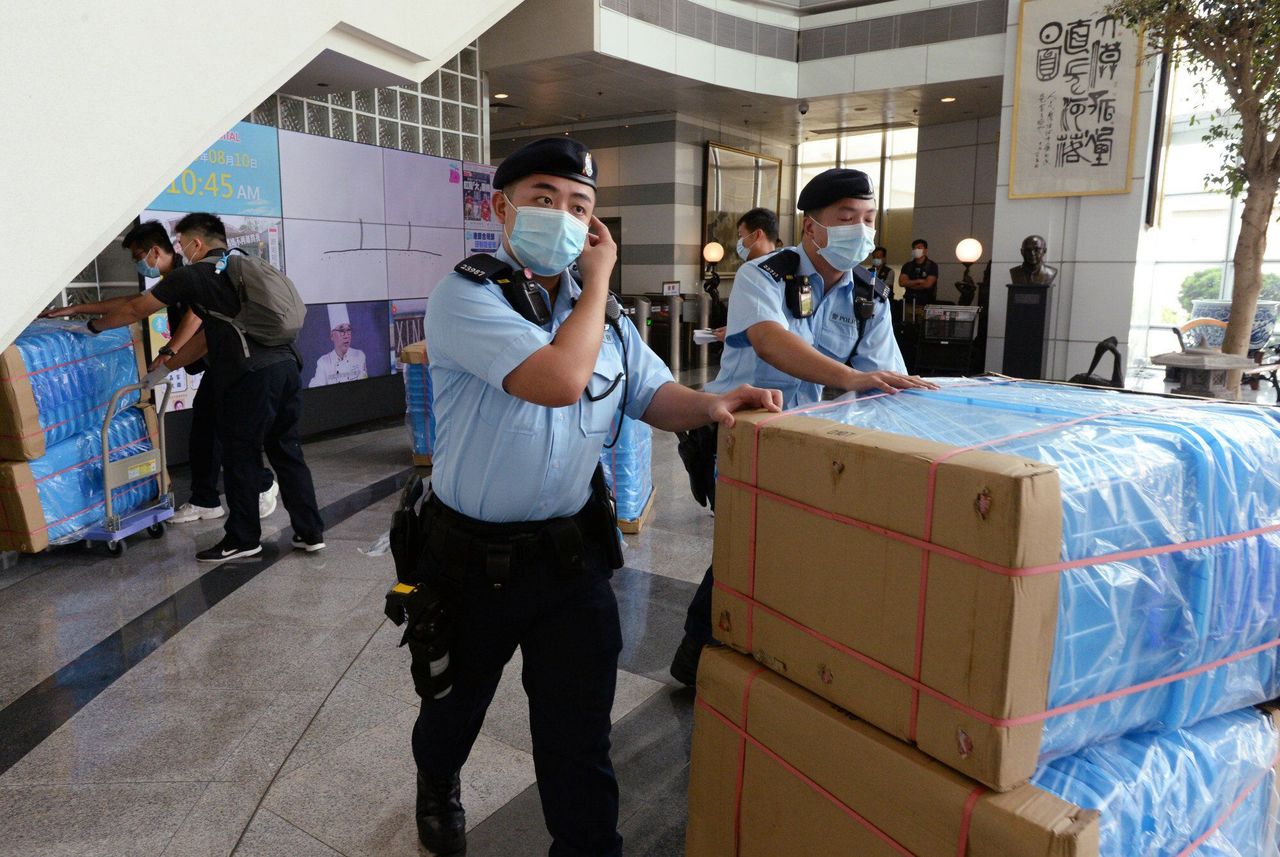 Hong Kong police raided the offices of the Apple Daily newspaper at the Next Digital Limited building in Tseung Kwan O.

Chan also said he could not grant any injunction relief against the commissioner when he was acting in his official capacity, noting that section 16 of the Crown Proceedings Ordinance precluded the court from granting any form of injunctions against the government, at least in private law proceedings.

Lai is awaiting trial on allegations of fraud, foreign collusion and perverting the course of justice, after police conducted multiple raids, which included a high-profile search of his Apple Daily's Tseung Kwan O headquarters on August 10, 2020. The other plaintiffs include his two sons, Timothy Lai Kin-yang and Ian Liu Yiu-yan, as well as Next Digital and Apple Daily.

In a 66-page judgment, Chan said the issuance of the warrant was clearly a public law act and it was well-established that any challenge against the lawfulness of such a warrant was within the exclusive purview of judicial review.

He said it would "wreak havoc to law enforcement in Hong Kong" to allow a legal bid almost a year after the issuance and execution of the warrants, adding that the plaintiffs should have pursued their concerns within the first three months through an application for a judicial review.

But, even if the proceedings were properly brought by way of judicial review, the judge believed the court would "in all probabilities" refuse to grant leave as the application was "short on merits".

Chan said police were vested with power both under the Police Force Ordinance and the national security law to investigate offences of secession, subversion, terrorism and foreign collusion.

Responding to the complaint that the warrant was applied by an officer with the commercial crime bureau and not the national security unit, the judge said it was incorrect to think the national security law only conferred powers on officers posted in the unit.

Chan also agreed with the commissioner that the suspected fraud offence was "part and parcel" of an ongoing investigation into possible national security crime, and police in executing a warrant were empowered to seize items they reasonably believed to be material evidence in some other crime.

"There is a distinction between what is desirable to be included in a warrant and that which if absent renders a warrant invalid," he said. "Once such distinction is recognised, it is clear the relevant plaintiffs' proposed contentions are doomed to fail."