It is claimed that a Russian ship picked up weapons in South Africa last year - an act which would represent a breach of Pretoria's declared neutrality in the Ukraine war.
White House National Security Council spokesman Admiral John Kirby has described reports that a Russian cargo ship transported weapons from a port in South Africa to Russia in December as a "serious issue".

Speaking to Sky News, he said: "We have consistently and strongly urged countries not to provide any support for Russia's war.

"We don't believe that anybody should be making it easier for Mr Putin to kill innocent Ukrainian people, period.

"We've had multiple conversations at multiple levels, with multiple countries about those concerns, but obviously I'm not going to get into the diplomatic conversations themselves.

"It's a serious issue."


Supplying weapons
America's ambassador to South Africa said on Thursday that he was confident a Russian ship, the Lady R, had picked up weapons in the country last year, which would represent a breach of Pretoria's declared neutrality in the war.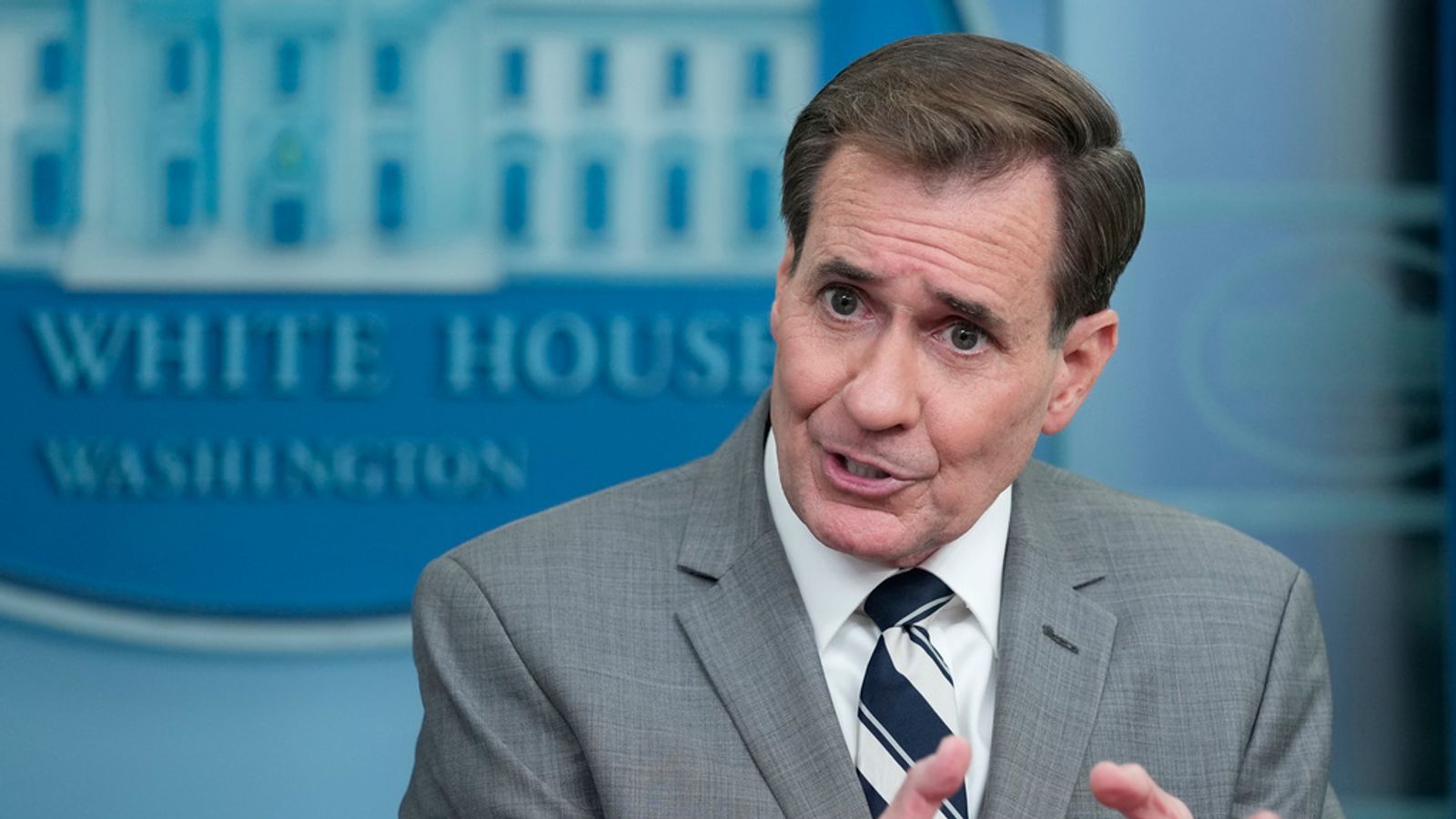 "We are confident that weapons were loaded on to that vessel, and I would bet my life on the accuracy of that assertion," Ambassador Rueben Brigety told journalists in South Africa.

South African President Cyril Ramaphosa responded, saying his government would open an inquiry.

"The matter is being looked into and in time, we'll be able to speak about [it]," the president said.


Phone call

The development comes as both President Ramaphosa and President Putin spoke by phone in a call, which the Kremlin claimed was initiated by the South African side.

In a brief summary of the call, released by the Kremlin, the two "expressed their intentions to further intensify mutually beneficial ties in various fields".

According to the Kremlin, Mr Putin told Mr Ramaphosa that Moscow had never refused the "diplomatic track" to resolving the conflict in Ukraine.

Kremlin officials said that President Putin supported President Ramaphosa's peace proposal, which involves African leaders in an initiative to bring about peace.


Summit in August

Russia and South Africa are both members of the BRICS group of nations including Brazil, India and China.

The next BRICS summit is to be held in Durban, South Africa, on 15 August. It is not clear if President Putin will defy sanctions on his travel to attend the summit.

Both Russia and China have placed a significant focus on Africa in recent years. China especially has a significant economic footprint in counties across the African continent.

Joe Biden has not yet visited Africa as US president and his administration has been accused of neglecting the continent.

The consequence, geopolitically, has been a pivot for many African nations towards both Beijing and Moscow.

During the Putin-Ramaphosa phone call, the Russian president repeated an offer to deliver Russian grain and fertilisers free of charge to African countries.

At the White House, Admiral Kirby would not be drawn further on the issue of the Lady R cargo ship, but added: "No other nation should be looking for ways to make it easier for Mr Putin to kill the Ukrainian people, they [Russia] are the aggressor.

"They need to leave. They shouldn't be there in the first place.

"And nobody should be looking for any way to make it easier for him to conduct this war and leave it at that."